PORTLAND FASHION WEEK 2007
Portland Fashion Week had its share of showstopping moments: Emily Ryan's architectural honeycomb dress, IDOM's black trapeze cocktail dress with an open back cut down well below the waist, Kate Towers' cascading floor-length rose tulle gown, Sameunderneath's runway theater. The first sustainable fashion week in the US,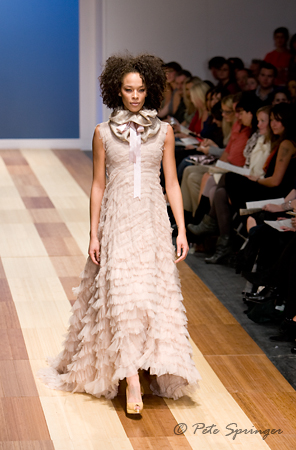 Portland Fashion Week 2007 was six nights of runway shows in a shipyard on the Willamette River (with 5-10 designers each night) plus panel discussions, and pre- and after-parties. It featured dozens of Portland designers as well as sustainable fashion labels like Del Forte Denim from San Francisco and Lara Miller from Chicago.
Portland has hundreds of independent fashion, jewelry, and accessories designers and many small boutiques. There are high-end designers like Anna Cohen, Liza Rietz, and Jess Beebe for Linea, streetwear lines like Sameunderneath and Hecklewood, and avant-garde designers like Emily Ryan and Leanimal. Portland has a remarkably vibrant and intertwined community of independent fashion designers who are mutually supportive.

On the runway there were some lines that were more mainstream than high-end: t-shirt dresses, a-line skirts, and standard cotton sundresses. But there were many designers making strong, directional statements.
Many of these designers are part of a loose collective called The Collections. Most produce very limited edition or even one-of-a-kind pieces (often tailored to the wearer) with influences ranging from Chloe under Phoebe Philo to Threeasfour to Buckminster Fuller. Their work ranges from a rigorous minimalism to a nostalgic and naive femininity.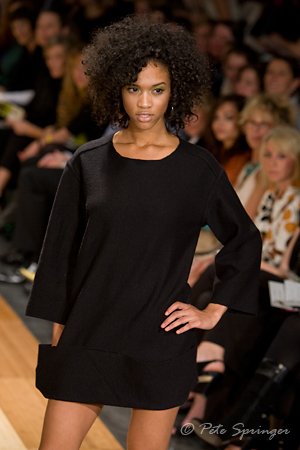 A few of The Collections designers showed fall 07. Linea by Jess Beebe did a brilliantly minimal collection, her only flourish the exposed (inside-out) brass zippers on stripped-down boiled wool jumpers and mini-dresses like the mini-dress in black whose cuffed six inch hem formed great pockets.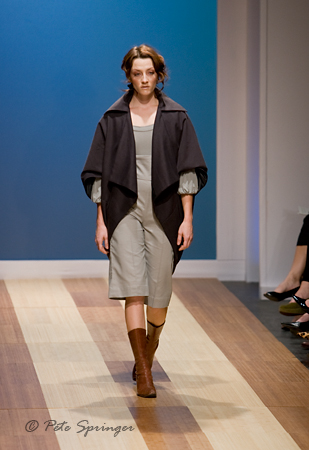 Liza Rietz showed elegant statement-making pieces like a long, dove-grey high-waist suspendered skirt with oversized, draped pockets and a great charcoal circle coat that looked like a kimono jacket.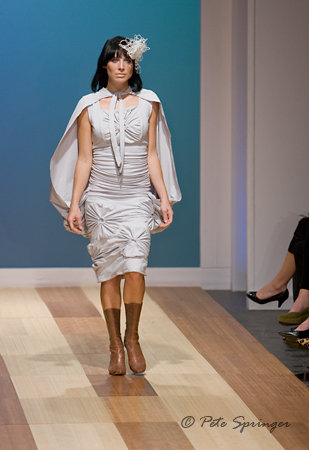 Two designers, Emily Ryan and Leanne Marshall for her line Leanimal, create sculptural pieces with innovative surface details. Emily Ryan's horizontally-smocked rigid charcoal trapeze gathered circular insets on a caped dress (with the cape attaching at the waist… a PFW theme of sorts) took surface detail and turned it into structure. Leanimal showed complex dresses with puffed skirts, gathered insets in organic shapes, and jabot-like flounces at the neck.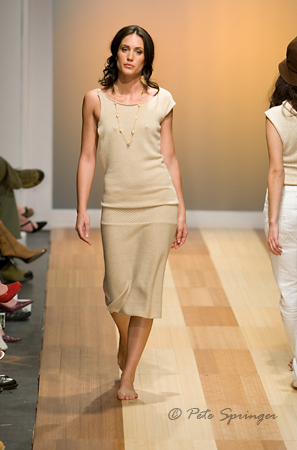 Suzi Johnson's delicious cashmere line Souchi looked as fitting for spring as for fall. She showed great tanks and shorts and wrapped cardigans and some extraordinary Helmut Lang-esque deconstructed dresses.
For men, a broken spoke by John Blasioli (who costumes the Decemberists) showed quirky sweater vests, crisp jackets, and well-cut denim with the kinds of details and cuts that you expect from a women's line like three fabric covered buttons at the back neck of a seafoam sweater vest or another cream-colored sweater vest cut almost like a jumper.
Emily Katz does perhaps the most wearable modern line—clothes that will be first out of the closet—with a great ruffled fleece raincoat called "Wow," and smart basics like organic cotton wrap and cowl-neck dresses.
Anna Cohen, who has worked at a number of Italian fashion houses is among the designers most fiercely committed to sustainability. Her spring collection was very strong a meeting of artful draping and crisp tailoring with superbly cut jeans and trousers and trim little jackets.
The organizers of Portland Fashion Week attempted to make the whole event sustainable with a bamboo runway, recycled fabrics and materials, low-energy lights. The hair team used eco-friendly Sidlab hair products (based in Portland), and all the food and wine was organic.
With luck Portland Fashion Week will itself prove to be sustainable over the long term, serving as a spotlight for the city's growing community of fashion designers.
Portland Fashion Week
Date: 19th – 24th October, 2007
Place: Vigor Industrial
Address: 5555 North Channel Avenue, Portland, OR 97217
Text: Lisa Radon
Photo: Pete Springer
[Help wanted]
Inviting volunteer staff / pro bono for contribution and translation. Please
e-mail
to us.