FNAC bought Kader Attia's work after Kader moved on some galleries in Paris, then he finally arrived at Galerie Anne de Villepoix. FNAC (Fonds Nathional d'Art Contemporain which buys huge amount of works on every FIAC, bought about 40 works this year. The budget of FNAC for FIAC is probably 400.000 euro, so why they can buy this amount is said that Anne de Villepoix maybe sold them on half price or not.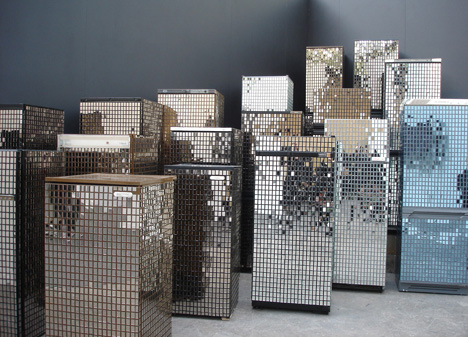 Kader Attia
Galerie Emmanuel Perrotin was very nasty booth as I thought. They have galleries in Paris and Miami, and they have Japanese artists from Kaikaikiki and Mori Mariko.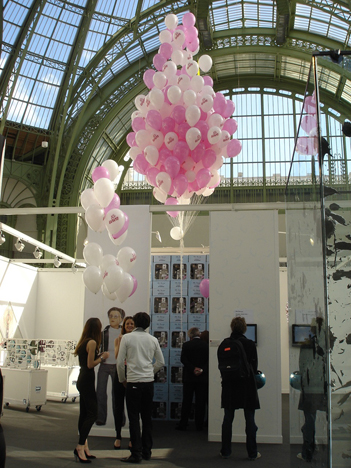 Wim Delvoye
They made stained glass of genital or X-ray photo of a scene of having sex, or tatoo on a pig from their farm in country side of China and they made a work with his skin when he died, or making sit maker etc.. Belgian artist Wim Delvoye who should make us laugh went over too much this time.
Pink and white balloons are handed to visitors by beautiful twin sisters from an audition which took 2 months, to sell hundreds of Wim Delvoye doll which is similar to Barbie doll. We know that this is a place to sell arts as products but his unenjoyable, vulgar way wasn't appreciated by French art scene.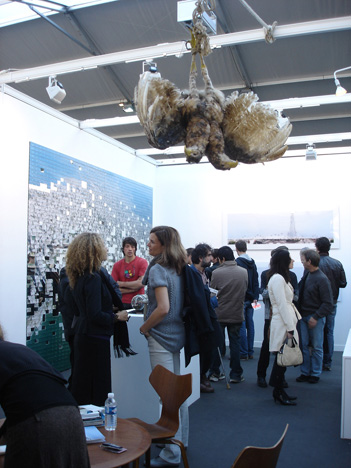 Louvre
Basically, galleries which have permission to exhibit at Grand Palais during FIAC are asked their rough history and international reputation of their artists or good quality of exhibition. On the other hand, galleries which have booths under tents in garden of Louvre are comparatively young and they have artists who had just started to spread their names around the world. There are many galleries which seem like trying to be bigger with other young artists. Compared to Grand Palais, we couldn't deny the difference of their quality, but we can meet many interesting works while hearing words like "Is this an ART?" or "What is an ART?".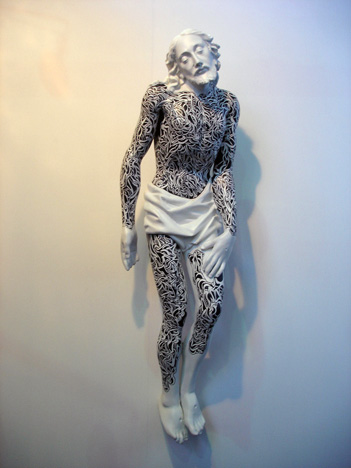 Jean-Luc Moerman
Also you will find pieces of Jean-Luc Moerman or John Armelder who built up their positions of star in art scene.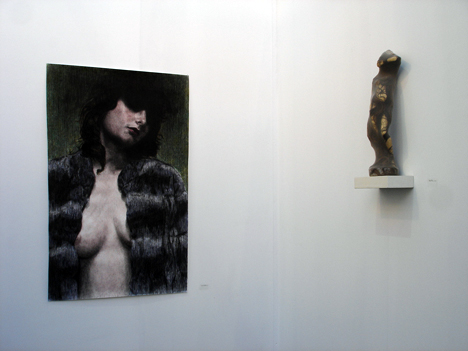 Iris van Donghen and Amie Dicke
I occasionally found good works on the way, even they look complicated in a small booth.
These days modern art fair is held in every city and every season I just got surprised by power of buying modern arts in the world. Famous art fair such as FIAC, Frieze, Art Basel, and The Armoly Show have the best opportunity to see "today's art" which we can't see in museum or not on "art history" yet. No matter how the queue is long, how expensive the admission is, how you tired of crowd, it would be a great idea to feel the wave of modern art with saying like "God, I'm so full up with art!".
One thing I would like to mention is an art fair is not an exhibition. There is no theme, or curator. It is a place where essential people who live in art world show their works. Sometimes they leave their works on the floor, probably after business talks with collectors. Things we think it's amazing or something appeals to us will jump in your eyes naturally without theme or curation, no matter how many people are there, the space which you and one work meet will be there. So how about going to an art fair to get some kind of encounter with works like that? And I would like you to ask the price of the works, too. Being able to ask artists from around the world the prices openly, and to have a friendly conversation are the zest of art fairs.
FIAC 2007
Date: October 18th – 22nd, 2007
Place: Grand Palais, Cour Carré de Louvre
Address: 3 Av. du Général Eisenhower, 75008 Paris
Tel: +33 (0)1 4413 1717
http://www.fiacparis.com
Text: Kana Sunayama
Translation: Junko Isogawa
Photos: Kana Sunayama


1
2
[Help wanted]
Inviting volunteer staff / pro bono for contribution and translation. Please
e-mail
to us.