Olle Cornéer is a DJ/producer and electronic artist. He is behind projects such as Dibaba (Gigolo Records, Plong!, and more) and Dada Life (Breastfed, Pickadoll, and more). He also writes articles and other stuff, but tries to avoid music journalism.
Recently, Olle created together with Christian Hörgren and Martin Lübcke the Bacterial Orchestra, a a self-organizing evolutionary musical organism.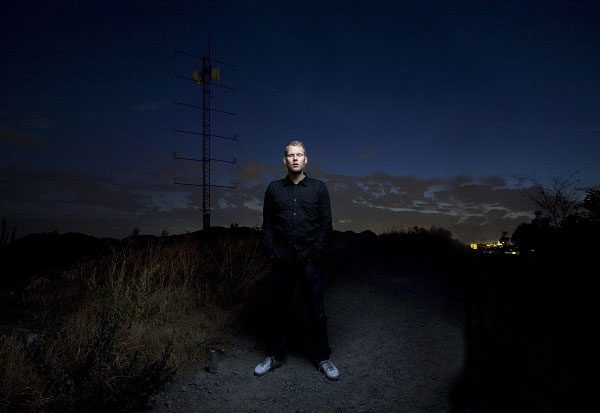 Tell us a bit about yourself and your background.
I'm a electronica/techno-producer and DJ. I have released records for a couple of years now. All in all maybe 20 or so… Before that I also played in band. But I've always been interested in the art-side of concepts and sounds. Right now I'm involved in other art projects as well. For example I write contemporary chamber music for three musicians and two 303:s.
What are exactly Dibaba and Dada Life. Do the names mean something special to you?
No. Not really. My solo project Dibaba is a little bit more experimental, where Dada Life (with Stefan Engblom) is all about having fun. More or less. That's what Dada Life means: don't care, have fun, destroy traditions.
When did you start to work with the Bacterial Orchestra and how did you came up with the idea?
We started talking about it 2-3 years ago and also discussed with some galleries, but somehow never realized it. I have been thinking for many years about sound and art and concepts (I studied musicology among other stuff at university) but have focused on my electronic music instead. It's hard to tell exactly where the idea came from, but one thing is sure. We couldn't have come up with it if we weren't this mix of people. Martin is a PhD in theoretical physics, Christian is an architect. It's been a collaboration.
How long did it take to have a first working prototype?
It took several weeks to program the patches. Now we know how to do it, so for the next installation it will go quicker. Then it also took a couple of days for Martin and me to connect all the wires, microphones and so on.
Could you tell us a bit more about the organism?
It's a musical installation – a self-organizing system. It's built around several audio cells that communicate through audio creating what we call a musical organism. The idea is that every cell has a simple function, but together they create a really complex whole. Like music, and life.
Read more ...

1
2
[Help wanted]
Inviting volunteer staff / pro bono for contribution and translation. Please
e-mail
to us.