Olle Cornéer is a DJ/producer and electronic artist. He is behind projects such as Dibaba (Gigolo Records, Plong!, and more) and Dada Life (Breastfed, Pickadoll, and more). He also writes articles and other stuff, but tries to avoid music journalism.
Recently, Olle created together with Christian Hörgren and Martin Lübcke the Bacterial Orchestra, a a self-organizing evolutionary musical organism.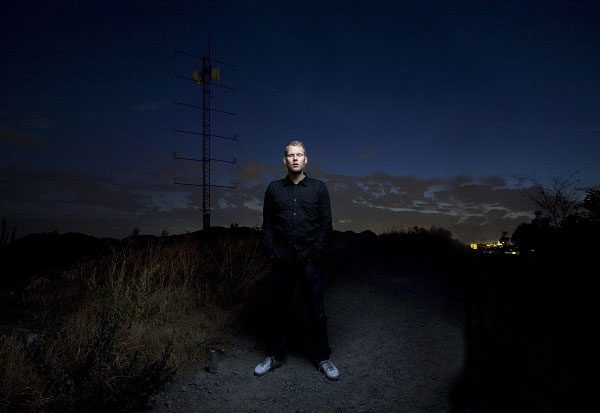 Tell us a bit about yourself and your background.
I'm a electronica/techno-producer and DJ. I have released records for a couple of years now. All in all maybe 20 or so… Before that I also played in band. But I've always been interested in the art-side of concepts and sounds. Right now I'm involved in other art projects as well. For example I write contemporary chamber music for three musicians and two 303:s.
What are exactly Dibaba and Dada Life. Do the names mean something special to you?
No. Not really. My solo project Dibaba is a little bit more experimental, where Dada Life (with Stefan Engblom) is all about having fun. More or less. That's what Dada Life means: don't care, have fun, destroy traditions.
When did you start to work with the Bacterial Orchestra and how did you came up with the idea?
We started talking about it 2-3 years ago and also discussed with some galleries, but somehow never realized it. I have been thinking for many years about sound and art and concepts (I studied musicology among other stuff at university) but have focused on my electronic music instead. It's hard to tell exactly where the idea came from, but one thing is sure. We couldn't have come up with it if we weren't this mix of people. Martin is a PhD in theoretical physics, Christian is an architect. It's been a collaboration.
How long did it take to have a first working prototype?
It took several weeks to program the patches. Now we know how to do it, so for the next installation it will go quicker. Then it also took a couple of days for Martin and me to connect all the wires, microphones and so on.
Could you tell us a bit more about the organism?
It's a musical installation – a self-organizing system. It's built around several audio cells that communicate through audio creating what we call a musical organism. The idea is that every cell has a simple function, but together they create a really complex whole. Like music, and life.
What is actually a cell and which is its function?
Every cell has a microphone and a loudspeaker. That way every cell can listen as well as play. Simply put every cell listens to it's surroundings and picks up sounds and then try to play them back in a musical way together with what it hears. And that can be sounds from other cells as well as background sounds from visitors.
Do cells talk to each other?
I wouldn't say "talk" but rather "play". We insist that this is a musical installation. Music – opposed to sounds – are controlled and organized. And these sounds are even self-organized. So it's definitely music.
Do Cells somehow grow and learn from their own experience? Do they have memory?
The organism grows and evolves in several ways. First every cell has a unique DNA which controls how good it is on playing back sounds. If the cell fails, it dies and get a new set of DNA. Hopefully it will function better then. That way the whole installation evolves according to Darwinist principles. But every cell also learn from the notes it hears. It picks up pitches and uses that information when it plays back phrases.
What does it happen when somebody wants to spend 99,95 EUR on adopting a cell?
Right now the installation consists of 16 cells, but since they only communicate through audio there's no limit on how big the installation can be. The idea is for it to grow and grow. This is one way, while sponsorship or similar is another one.
What are your future plans for the bacterial orchestra? Any schedule?
This autumn we're showing it on a festival for electronic arts in Bergen in Norway. Then we'll see. We're talking to a lot of people. Would be nice to show it in Japan…
What do you think has been your biggest contribution to the project?
It's hard to say. The installation is really a result of talking and discussing.
Will you guys work together in a new project anytime soon?
Martin and me are working on new projects already. But it's too early to speak about them. But they will probably deal with self-organization, music and interactivity. And they will be computer-based in the same way Bacterial Orchestra is. That is, it's a computer that does all the calculations, but it's not seen to the audience. The computer itself is not important. It's just an aid to realize our ideas.
Could you please mention three names which are influencing or inspiring your work?
John Cage, Alvin Lucier and all the people working right now with lo-fi / diy – electronics.
Thanks a lot for your time. Good luck, and have a nice day.
Thanks!
Text: Eduard Prats Molner
[Help wanted]
Inviting volunteer staff / pro bono for contribution and translation. Please
e-mail
to us.