In recent years, Singaporean Design Firm Ministry of Design [MOD] is gaining both local and international recognition for its projects. SHIFT speaks to MOD's up and coming principle designer Colin Seah who shares his thoughts on being trained in the States and his experience on being based and having taught in his home city, Singapore.
Ministry in Singapore connotes government agencies. Why the name Ministry of Design?

There are several layers to the name Ministry Of Design. There was an intense desire not to see one layer of form, but rather be all encompassing. Not just focusing on architecture, interior or graphic design but to leave it as design. It was also a pun on the local and the world, just as how government agencies are called Ministries, along with the more hipper places like Ministry Of Sound. Lastly it is a personal reflection. I am a Christian and it reflects my beliefs and not just secular concerns.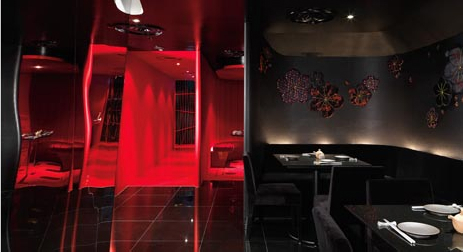 Shou U restaurant © MOD
What is the design philosophy at MOD?
Question, Disturb, Redefine. To have an understanding and not just to be different for the sake of being different.
What is a typical working day in MOD like?
You never know. Academia was a conscious decision of mine. The process, the way things are taught. A typical day would be like being in the school studio. We have about twelve people, roughly the same as a class in school. With me acting as the design tutor. To give and take. What is right? It could be quite crazy. We never know what we want to do.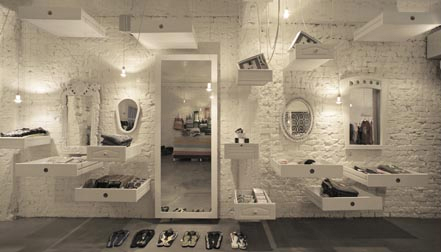 Actually Boutique © MOD
While having taught at the Department of Architecture at the National University of Singapore influenced the process which projects developed, what were your initial influences?
I never consciously wanted to be a spatial designer. My primary interest was in the two dimensional plane of photography and language, for example poetry. Their ability to impact wasn't strong enough, the temporality.
What was it like working for Star architects like Rem Koolhaas?
How has it influenced MOD's design philosophy?
The first root was Rem Koolhaas as an early influence, with his search for the spirit of the day, an expression of now. Not just its expression, but also programmatically. Rem excited the brain, but didn't do much for the soul. The second root was Peter Zumthor, a shaman of architecture in materiality and light. He dealt with quiet and pure elements, challenging how people use the space.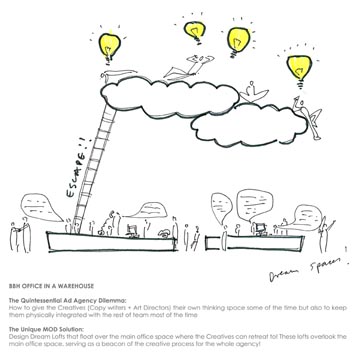 BBH Office sketch © MOD
MOD recently designed an office for advertising agency BBH Asia-Pacific in a warehouse. Tells us more about MOD's current works.
MOD is working on its first commercial building. We had previously done residential buildings and we are currently working on a six storey building along New Bridge Road. It is a purely urban context as opposed to working on residential buildings and it is quite exciting to be working on it. This project challenges the notion of a building as art or as architecture.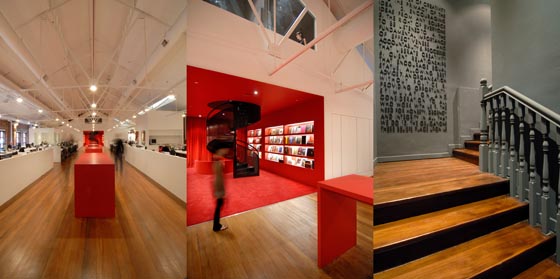 BBH Office © MOD
What is your impression of the Singaporean design scene and how Singaporean is MOD?
Collages. To come back after having been trained overseas, it could be best described as being a Singaporean local at heart, the spirit of being local at heart. Although we have many friends in the industry, I don't feel a closeness to the local fraternity.

New Majestic Hotel © MOD
There is an open and welcomed competition. Ever since the New Majestic Hotel Project, there has been an international thrust. For the New Majestic Hotel Project, the brief was hotel designs for the future. MOD conceptualised the brief with the consideration of the new generation Singaporean hotel user who see hotels as places to party. It was not a question of cultural, but the revering of the local. Addressing the way people live.
Hence since, MOD believes in mile stoning the local world at the world level. We have two major projects in China and in Bombay and there is a desire to transfer that approach of understanding the local situation. It is challenging.
Please leave a message for our readers.
Question, Disturb, Redefine.
Ministry of Design
Address: 16b Trengganu St. 058470 Singapore
Tel: +65 6222 5780
studio@modonline.com
http://www.modonline.com
Text: Fann ZJ
[Help wanted]
Inviting volunteer staff / pro bono for contribution and translation. Please
e-mail
to us.