Attic is a venue for various events, which opened in Sapporo in April 2007. It has a capacity of 25 to 30 seats or 50 standing, and the location is close to both the Odori and Susukino districts. The venue has all sorts of basic lighting and sound equipment, providing for a variety selections of events from exhibitions and live events to lectures.
Cinematic, the first filming event organized by Attic, was held on 22nd and 23rd July 2007. Among the films shown at the event were "Cain's Descendant", the latest film by Shutaro Oku, who also participates as an image planner in many theatrical plays such as Otonakeikaku, along with other past films including "Labor Cop", "Japanese Naked Tribe" and "Aka-sen".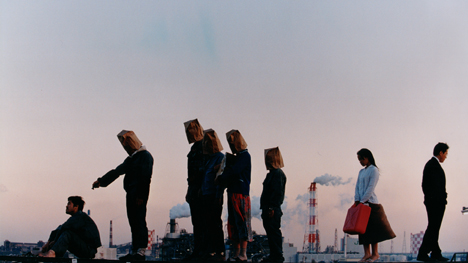 Before the screening, there was a half-hour talk by lead actor Kazushi Watanabe. Since the talk occurred before the screening, he didn't talk about the film's story but about the discussions he had with the director during the shooting and how he got into the business as he also directs films himself, so it turned out to be a very good, humorous talk. An interesting footnote was that Watanabe started making films because his friend at high school asked him if he wanted to make a film with him.
Then, it was time for the screening. The story began with the main character, Munakata (played by Kazushi Watanabe), having spent 10 years in a medical institution for juvenile offenders for killing his own mother. He got out of the institution and started living and working at a small electronic components plant in Kawasaki. There he meets a priest (played by Tomoro Taguchi) who asks Munakata to make remote controlled guns. Here the story started to unfold.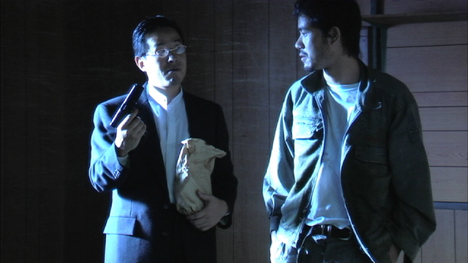 The opening sequence started as the leading character visits a town in Kawasaki. The scenery was a pre-modern industrial landscape. I was impressed with its somewhat stoic scenery. Then, out of the blue, it turned into a graphic car-sex scene. I liked this first scene as a whole as it seemed to sum up what the outlook of this film was about. When films have a good opening sequence they usually are good ones.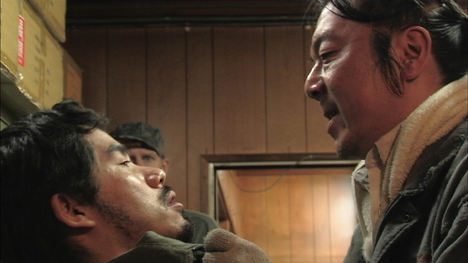 The other characters that surrounded Munakata, including a fellow employee at the factory, the owner and his wife and the priest all had peculiar personalities. They were naturally portrayed so that it felt almost real. Plus, the film did not allow you to judge whether they are good people or bad people, just like what people are in real life. This is perhaps what society really is, I think. There's no one who's purely good or evil, that's why society is complicated.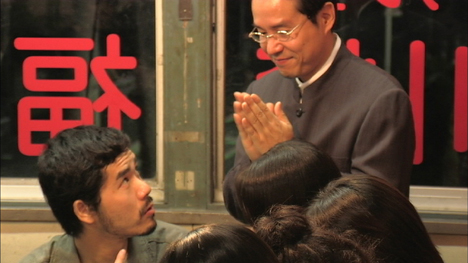 The vivid realness that I have just described above doesn't mean that the film was about facing unbearable truth, or a sense of failure where there are a lot of emotions. Those are familiar subjects in Japanese classic films, which this film was not. This might still be a tragic story but the way it was shot was very dry as opposed to very emotional. Surreal sequences eventually evolved into one fate. I would like to stress once again how dense and real these characters were portrayed, even the small part of a child.
The girl was one of a couple new talents who played the opposite role. She came across as being very innocent and gentle in contrast to the others in the film, but she somehow blended in with them, and she was not just being a supportive role to the leading character. Thanks to the thoughtful casting, it made the audience wonder what her intention was.
By setting the location at a small factory, the background and the way the main character lived in his place, it felt that the way their life was leading was completely different from mine. But the core themes of this film were religion, sex, and death, which was something that summed up our society.
What happened in Cain's Descendant mirrored the reality in which our society lives.
This film was submitted for the 27th Berlin Film Festival. It would be very interesting to know how this film will be perceived overseas.
Cain's Descendant
Direction and Script: Shutaro Oku
Casts: Kazushi Watanabe, Tomoro Taguchi, Shinta Furuta, Shungiku Uchida, Sachie Yo
http://www.cains.jp
Text: Shinichi Ishikawa
Translation: Kyoko Tachibana

[Help wanted]
Inviting volunteer staff / pro bono for contribution and translation. Please
e-mail
to us.