In Sapporo, cold is the severest February. I can say at the same time it is the month that is full of events. Scheduled to hold "Sapporo Snow Festival" to enjoy a image in snow, and "Toyota Big Air" which snow-borders from all over the world are meeting this month. I would introduce one "slow life" event of art. Sapporo Artpark, the biggest facility of art in the city, about which I've introduced several times in this report. It has pretty wide space making the best of nature featuring an indoor gallery and an open-air museum. In there, 74 of art works including a sculpture are exhibited on a vast ground given by the nature. It is closed during winter as the ground is deeply covered with snow. However, now they open a project named "Kanjiki Walk" which is to stroll on the snowy ground with Kanjiki that is a kind of snowshoes descended from an ancient.
Kanjiki is an old tool that we use not to fall into snowy roads. They are made of wood with rope which are tied to boots. By spreading your wight, you are able to walk even very deep snowy road where your boots go under. In Kanjiki Walk, they lend Kanjiki and "boots" for free, then you can walk along the museum field covered with snow. Although usually they charge admission fee to enter, this period of Kanjiki Walk can come in for free.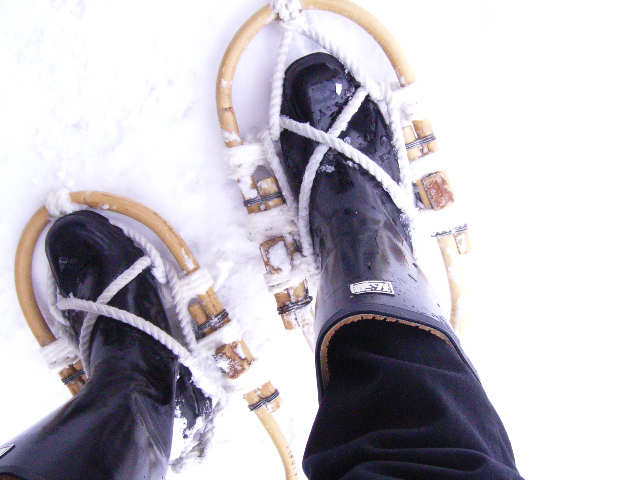 Now let me guide you how to use. You find pairs of Kanjiki are hung at a kiosk right after enter "Artpark Center" at the entrance of the museum. An applicant fill up a paper, and can check out for free. You also can pick up a pair of boots set besides the window.
I recommend you to watch a guide plate which shows how to apply Kanjiki. A beginner cannot put them on without this direction. Since I am a sort of clumsy, it took me for a while to wear. After you get done, go to the entrance of the museum on your left hand side outside of the building. Passing the gate, you will see a light path is made in snow, therefore there is no difficulty like walking along fresh snow. Even though, a gait feels it heavy to walk with Kanjiki.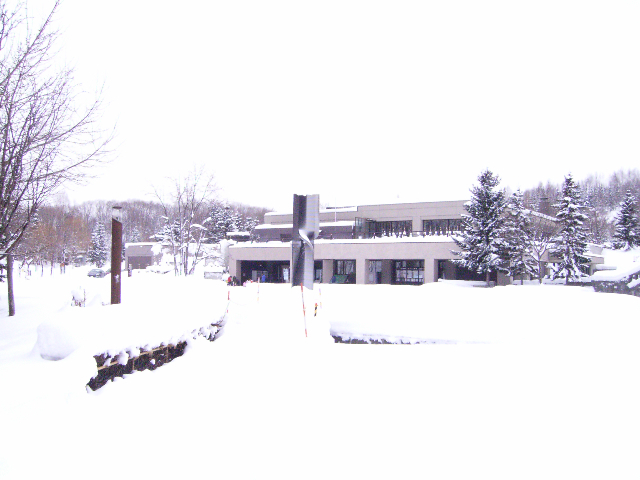 While I was walking, a doubt on meaning of Kanjiki came up in my mind, so I took them off and tried to walk with only boots. The place along which I was able to walk sank just before the top of boots. If you were on the fresh snow without tamed, you will surely sink more. The wisdom of predecessors who had invented Kanjiki was felt. Unlike the spectacle in the green world of summer, the object of a certain inside is visible to the snow world with trees.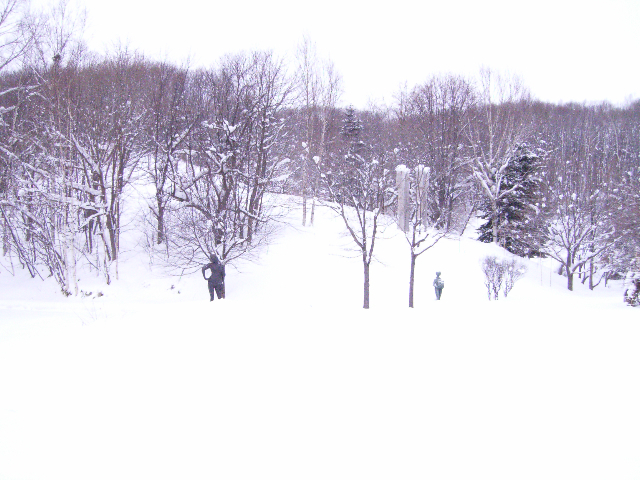 "Kanjiki Walk" was an unique experience which served both an art appreciation and outdoor play, feeling little tiredness like climbing a snow-covered mountain. How about going to the Artpark and enjoy "Kanjiki Walk" besides an indoor gallery? Just want you to feel the charm of the art in snow.
Kanjiki Walk
Date: Winter Season
Open: 9:45-16:00 (closed on Monday)
Place: Sapporo Art Park
Address: 2-75 Geijyutsunomori, Minami-ku, Sapporo
http://www.artpark.or.jp
Text: Shinichi Ishikawa
Translation: Yoshitaka Futakawa
Photos: Shinichi Ishikawa

[Help wanted]
Inviting volunteer staff / pro bono for contribution and translation. Please
e-mail
to us.