PAOLA PIVI "MY RELIGION IS KINDNESS. THANK YOU, SEE YOU IN THE FUTURE"
With cryptic and welcoming title like this makes it's hardly surprising to find in the first room of the Old Warehouse of Porta Genova station a selection of white and singularly quiet animals: lamas and horses, dogs and doves, cows and gooses stand at the borders of the enormous space indifferent to the human guests starting the one-way route designed by Paola Pivi, minding their own business.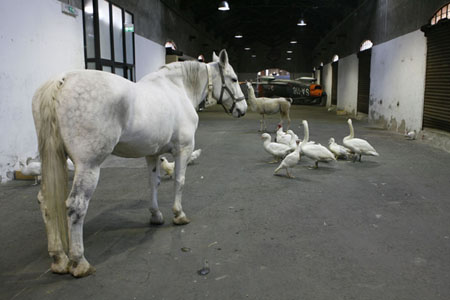 Paola Pivi, "Interesting," 2006
The beasts, lacking of the variety of chromatic and sound signals commonly associated with social dynamics of wild life, resemble a miniature Noah's ark experiment wherein the primary necessity is to re-fill the post great flood world with specimen that preserve and reflect a particular ideal of rarefied and detached beauty perfected in the western aesthetics. The overall effect is grandiose.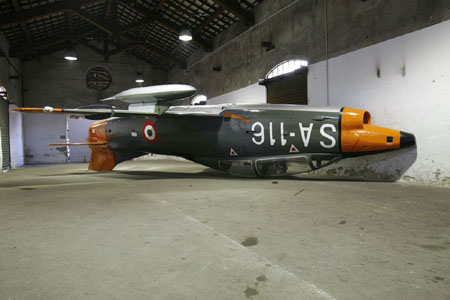 Paola Pivi, "Untiltled (Airplane)," 1999
The second room host an older work "Untiltled (Airplane)" (1999) presented for the first time at the Venice Biennale: a FIAT G91 war aircraft is standing on the floor, upside down, innocuous and funny as a goofy humanized machine character from a cartoon. The third and last work is "Guitar, Guitar" (2006) a collection of thousand of objects of all sizes and functions – ranging from keys, to motorbikes, from bags to power machines – all coming in couples. A Noah's Ark flavoured theme seems to be at work also here, in this gigantic collection of consumer goods.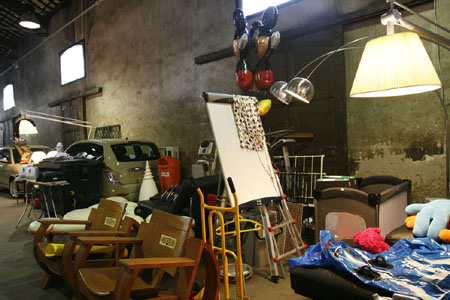 Paola Pivi, "Guitar, Guitar," 2006
Paola Pivi is one of the most prominent Italian young artist and this exhibition doesn't fail to show her talent and taste for creating subtle, evocative yet visually strong scenarios. "My Religion is Kindness. Thank You, See You in the Future" has been made possible by the Nicola Trussardi Fundation, one of the few interesting and relevant institutions operating in a city that is still waiting for a Contemporary Art Museum. Kudos.
Paola Pivi "My Religion is Kindness. Thank You, See You in the Future"
Date: November 14th – December 10th 2006
Place: Vecchi Magazzini della Stazione di Porta Genova
Address: 2 Via Valenza, Milano
https://www.fondazionenicolatrussardi.com
Text: Francesco Tenaglia
Photos: Courtesy of Fondazione Nicola Trussardi © Paola Pivi

[Help wanted]
Inviting volunteer staff / pro bono for contribution and translation. Please
e-mail
to us.