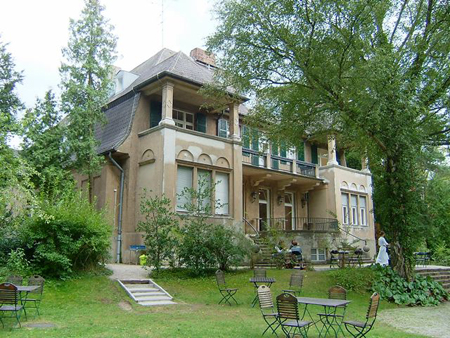 Approximately 60 top artists from 21 countries living in Berlin got together for this exhibition "ANSTOSS BERLIN" in Haus am Waldsee. This museum is located in a suburban of Berlin, Dahlem area. Despite its small appearance, it's carried the best and brightest exhibitions as a contemporary art museum since 1946 that is the German incunabula after the WWII.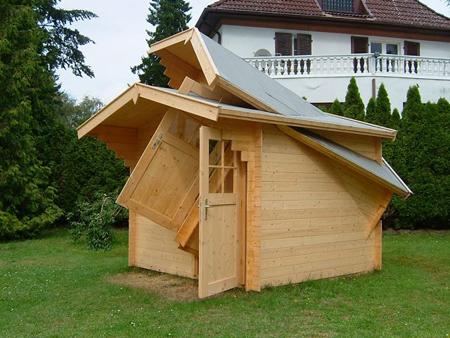 The museum is off a main street in front of a station in a quiet neighborhood. As I stepped in its entrance surrounded by well-trimmed hedges, I saw two fused log houses in an unbelievable shape straight into my eyes (this is Via Lewandowsky's work). This work is the very example of the title of the exhibition "ANSTOSS", that is, "Clash". Being symbolized with the title, works in this exhibition are relatively a little beyond general definitions of paintings/sculptures. These works give people "Clash" as they went one step far from these definitions respectively. In another word, I could look down upon artists/works which crowded the recent Berlin-based art scenes at the exhibition. An interesting aspect of the exhibition is that "ANSTOSS" has another meaning "kick off" and implies it was in the same time as the FIFA World Cup.
Soon after I entered into the building and bought a ticket at a front desk, I "clashed" into a performance led by Tino Sehgal. A front desk staff suddenly read loud a headline of a newspaper on that day to me. The performance is the one that is familiar in the International Triennale of Contemporary Art YOKOHAMA 2005 for an intent Japanese fan of the art.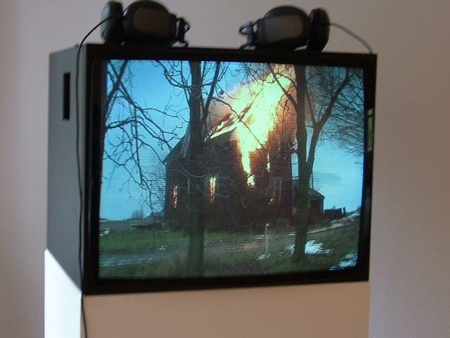 There are some other artists who are well known in Japan. Janet Cardiff & George Bures Miller displayed a visual work of an actual fire scene. They also participated in the International Triennale of Contemporary Art YOKOHAMA 2005. John Bock, he was featured with SHIFT in this June Issue, also displayed his former visual work.
As usual, it was a film which recorded people using his amazing machines. Olafur Eliasson and such are also included, who had a personal exhibition at the Hara Museum.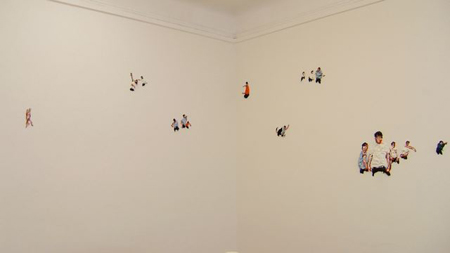 In terms of the Berlin art scene, several works recently seen in galleries, Hamburger Bahnhof Museum and etc. in Berlin-Mitte were also there. Clemens Krauss and Daniel Pflumm are examples of these.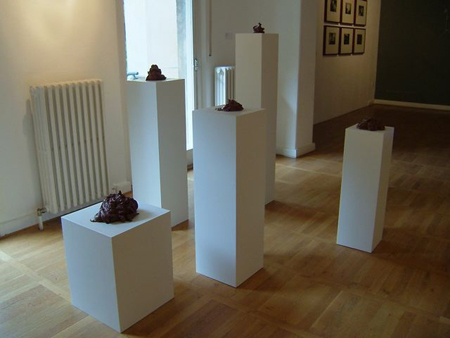 As I mentioned at the beginning, this exhibition showed one aspect of Berlin as an international city/multicultural city. Not only from Europe, Mona Hatoum from the Middle East, Kenji Koganesawa and Michihiro Shimabukuro from Japan, Wang Fu and Qin Yufen from China, Rirkrit Tiravanija from Thailand and more. It looked like as if Berlin flourished as an international city more than once it had flourished as a central city of Europe in the post-war period.
Thus, I think it was a fulfilling exhibition with density and great varieties although the exhibition was a small scale.
ANSTOSS BERLIN – Kunst macht Welt
Date: June 22th – September 27th, 2006
Place: Haus am Waldsee
Address: Argentinische Allee 30, 14163 Berlin
http://www.hausamwaldsee.de
Text and Photos: Yoshito Maeoka
Translation: Fumika Sugimoto
[Help wanted]
Inviting volunteer staff / pro bono for contribution and translation. Please
e-mail
to us.