METAMORPHOSE is the Outdoor Electronic Music Festival, which is the largest one in Japan and in which great musicians from various genres.
I've been a fan of this party and was on the staff of installations this time. I'm not a raver nor familiar with music, but I enjoy it every year, impressed by musicians I didn't know. I'll introduce this party from such a standpoint.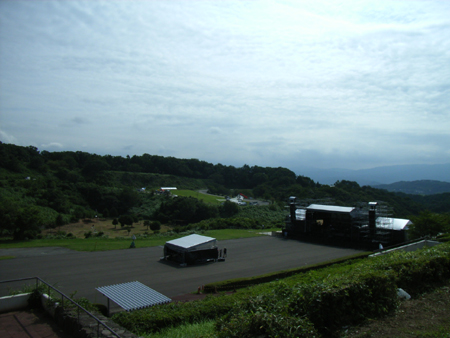 This year it has been held at Izu Cycle Sports Center. I missed the last year's, so the first time here.
There were 3 stages, "SOLAR STAGE", "LUNAR STAGE" and "PLANET STAGE". The main one was "SOLAR STAGE", which was live show-based. This stage had one-hour interval between each live show, so I thought I'd do as I liked: go to other interesting stages, eat and drink, take a break.
Firstly, "KONONO NO.1" started in the evening, when it got cooler. Once the show started, the stage was packed in the atmosphere like a happy party in late summer. Mountains around me, tents that were rapidly erected, booths, such scenes appeared in sight with delight!
Then, soon I headed for "LUNAR STAGE". However, it was further than I thought… During the way did installations amuse me. There were many glowing mushrooms (?), someone like a human-powered VJ, who shed light on a big object with many mirrors and reflexed it, and next to it, mirror ball, which emitted dazzling light. I thought "You got meeee!!".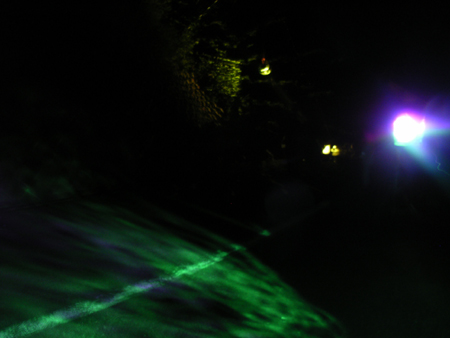 After this festival, I heard: they seem to participate this every year. The glowing mushrooms were decorated by students from IAMAS (International Academy of Media Arts and Sciences). The human-powered VJ was from Kurosawagumi. They are linked to the movie director Akira Kurosawa, and stick to human power and say that they operate like this by avocation. The dazzling mirror ball was made by Shinkilow. They are group art, who express chemistry of light and produce the air with new musical lighting technique. They appear at various place.
There was a hot spring next to "LUNAR STAGE" and this day, it was 24-hours nonstop. There were those who already headed for it around p.m. 7. They went cycling in the daytime? Or got tired from a long way??
(In fact, I soaked it before the festival started and an open air bath was good. Women who seemed to be frequent were chatting with the event "Today, sounds funny." "I 've heard there will be a musical event.")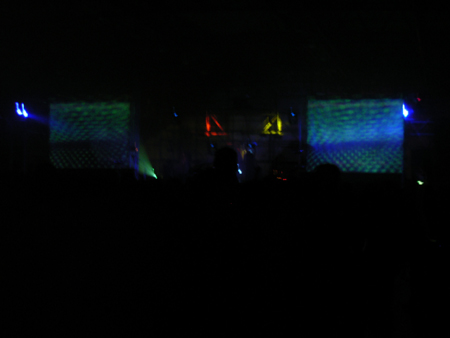 After I enjoyed dancing hard to the beat of DJ Q'HEY's techno and SEBASTIEN LEGER's percussive DJ, I went back to "SOLAR STAGE" to find the show by SLEEPWALKER featuring PHAROAH SANDERS. Jazz music with acoustic instruments and voice sound around the whole space and the audience were dancing with something like feeling high.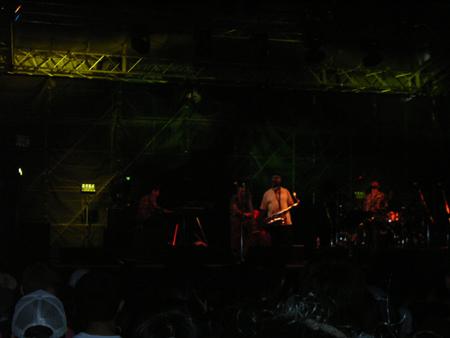 The show ended, and then I went see installations behind "SOLAR STAGE". Firstly, I noticed an object of fluorescent light tubes. When I took a photo, I wanted to do a performance with half an ear.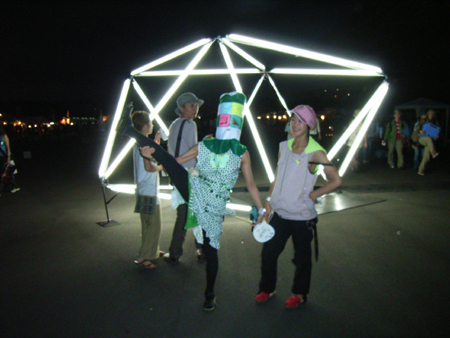 Later I knew the author of it is a former member of Dumb Type and now a dancer. Its form was so simple, but there might be atmosphere like that.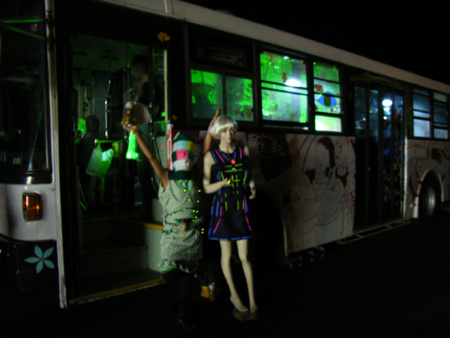 Walking more, there was an exhibit of a strange bus. (As a matter of fact, I was there to help this bus's exhibit.) The bus is "MOBIUM", a mobile gallery of 3D art. The inside was shining, so strange. There were implement, which perceives penetrator's footsteps with a sensor and reflects image noise, and so on inside it, and many people who were interested at it got onto in sequence. Strange scene.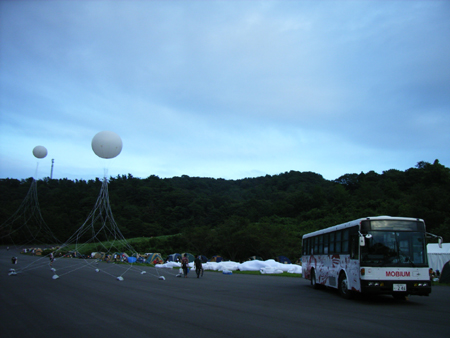 Behind it, there were annual KOTTSU's balloon and big white balloons like an animal with many legs.
The object of fluorescent light tubes were by the team Ycam (Yamaguchi Center for Arts and Media).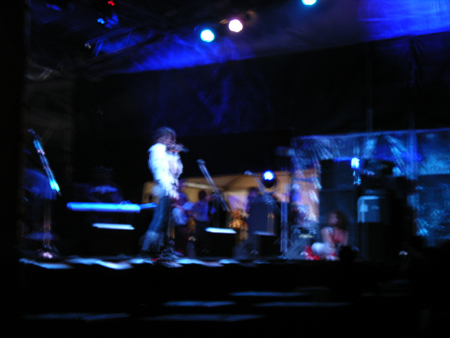 In the meantime, O.D.D's show started. I didn't know them at all and their profile was: "One of the member is Gabe Gonzalez from Parliament/Funkadelic, and a former Funkadelic's member Mad Mike on guitar! The detail is wrapped in mystery." Their were cool funk band and sexy. Moreover, I was interested at their appearance and sparkish moves.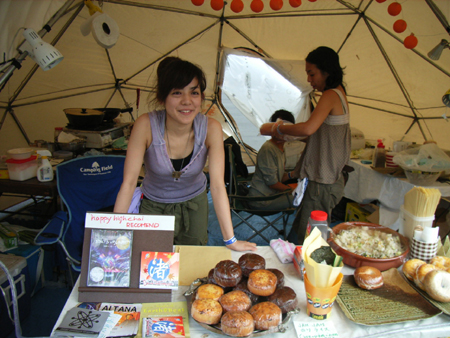 Before heading for a next stage, I took a light meal at a stand. From this year, a deposit system was brought in, under which you pay extra 100 yen when you buy food and drink, and then you get back 100 yen if you drop off the container at a garbage pickup area. I thought it confusing, but there was a slogan "Crean for Smile.Dance of Earth", staff persons there were so friendly, and though I paid in advance, a refund was good to me.
However, garbage was not collected without the system-it was proof of growing of this event-I thought that it was one of things each of us should be conscious of.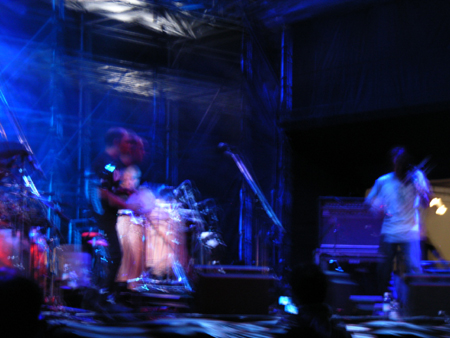 A group of Takashi Numazawa + Yuji Katsui + MARCOS SUZANO, which I was looking forward to, started. I was greatly impressed by the atmosphere of MARCOS SUZANO and his playing with the pandeiro, a traditional instrument in Brazil. Takashi Numazawa and Yuji Katsui's were also good, I was addicted.
On the way to "PLANET STAGE", a mountain was illuminated with laser, so beautiful. (I thought it was like Daimonji Yaki of Kyoto… not exactly?) This laser seems be taken charge of every year by "308GTO LASER".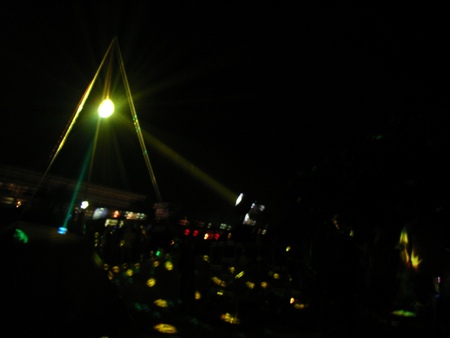 A installation of a glowing tower was also interesting. (unspecified)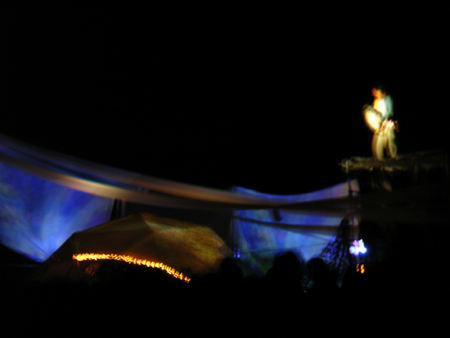 I got to "PLANET STAGE", where EYE was playing DJ and there was a big crowd that got moving. VJ was KLOMA, and then the human-powered light by Kurosawagumi was added in the middle, which moved the crowd more. Meanwhile, IDJUT BOYS started, which I was looking forward best of all. Their sound was airy and funky, and I danced naturally.
After I danced for a long time, I went to the toilet while transferring. There was a long line for the toilet near main "SOLAR STAGE".
Every year I have a view of various people, whose age and look are different, while waiting. I sort of thought that one of good points for METAMORPHOSE is broad age range, and that daily life, in which we can go to the toilet soon, was convenient.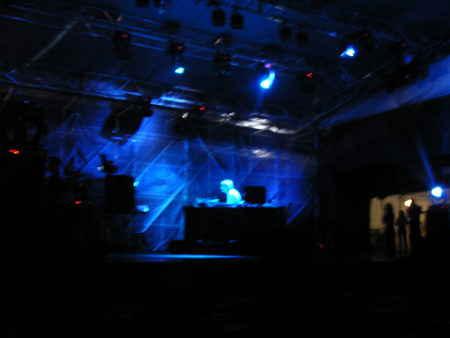 The next was Manuel Gottsching, who had received the most attention. There was an air of strain when he appeared. He looked heavenly because of pale lighting. Was I the only one who felt it funny that he sat right beside to the audience?
The performance was so cool. Gradually I felt high and stumbled, so I laid on lawn where I could see the stage.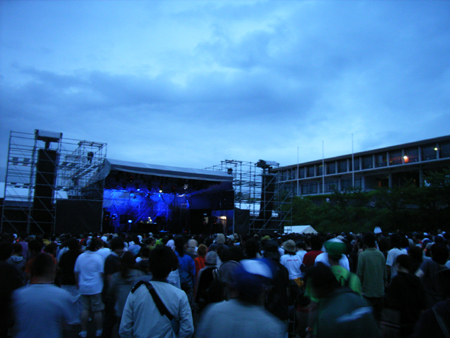 Around dawn, people who were tired from dancing began lying on various places, which were unusual in daily life, without resistance. Concrete-covered road, grass… Anyone could be homeless… It's a joke, but great snugness was lying in the open air with nice sound. At the beginning of the performance, it was raining and dark and there were those who wore rain coat, but at the ending around a.m. 5 it got bright and rain stopped.
I continued to sleep until about 8… I got up and went buying for breakfast, and then found installations were put away, shocking a little. I wanted to see CALM, and the last!!
A sense of unity with people around me during dancing, slow time for chatting with my friends and so on, and working hours. Including them all, thank you for fantastic time also this year!
METAMORPHOSE
Date: 26th – 27th August, 2006
Place: Izu Cycle Sports Center
http://www.metamo.info
Text and photos: PHIRIP [warabimochi lovers club]
Translation: Yuhei Kikuchi
[Help wanted]
Inviting volunteer staff / pro bono for contribution and translation. Please
e-mail
to us.