This month's SHIFT cover was designed by "Hudson-Powell", a London based creative studio that focuses on the dual development of concept and medium. They produce work that uses the medium as a tool to expand rather than simply present the concept of a project. On this October and November, they will have their first exhibitions in Japan, at "SOSO" in Sapporo.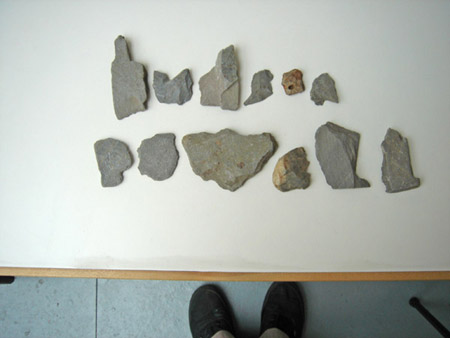 Could you introduce yourself?
We are Luke and Jody two brothers that create work together within the broad field of graphic design.
How did Hudon-Powell start?
We've pushed one another creatively since we were kids, and after leaving college, we regularly crossed each others paths on projects. So after co-directing a music promo for PJ Harvey in mid 04, it became clear we should start work together more permanently.


Marble Paper, T-shirt, MORE MARBLING
What is your favorite activity field?
You have to look at every project differently, each time using different mediums to communicate the ideas and needs of the brief. We've been doing installation, film, print, interactive work, drawing, painting, etc over the last year. It's an approach that appears to work well, and allows us a broader language with which to communicate a project.
What are the main sources of your inspiration?
We both grew up in the south-west of England, in the countryside, so nature has always been a great inspiration. But generally you don't know what will inspire you from one day to the next, a conversation, some music, an experience. It may sound vague, but inspiration for us often comes from just keeping our eyes and ears open.
What does it take to run a successful studio?
Hudson-Powell share a studio with friends in London, collectively the group is called "Hello Studio". We often work with each other on projects, so there's always lots of activity and communication making the space constantly lively. The Hudson-Powell attitude reflects this, it's about always being exited with new ideas. Work stays interesting when you are continually motivated to try stuff out.


PV, P.J. Harvey
What is important when you create a corporate Identity?
When doing any design it is important to understand the needs of what you are trying to communicate or visualize. We work with the idea of an identity being an adaptive and dynamic system, rather than a singular or dead end solution. This doesn't have to mean fast moving video graphics, but rather through different mediums, telling varied and easily understood messages. Technology always influences communication, yet a lot of current visual communication does not fully utilise its medium.
Many corporate identity are very static (just one logo, one colour, one font), what you think of flexibility / dynamic in corporate design?
The concept of dynamic identities is a really interesting one. Scalability and adaptation are key factors in creating a system that can actually work. As an identity is developed you constantly need to ask what is it communicating to you, and whether the medium's being used to make and display it are adding to this communication.


Motion Graphics, MOTOROLA
You make movies for clients/artists, what is the difficulty, to do movies for clients or artists?
We approach a music video or video graphics in exactly the same way we would a print or web project. Ideas followed by visual experimentation etc, but the one big difference with video is that you get far fewer "undo's", re-filming isn't always possible and changes can take a long time when your working with heavy files. You need to have absolute confidence in your idea.
How long does it takes to create a whole movie, with filming, postproduction and sound, and how much people are involved?
Clients seem to want everything quickly. When you're developing video or interactive work along side printed assets you normally have the luxury of time, but if it's a music video then it's always a quick turn around.
Earlier this year we did a 4 min motion graphic piece for Motorola. There were only 2 people on the project and it took about 6 weeks. Motion graphics = late nights. Keeping ideas simple and focused is always a good idea, we've learnt that the hard way.
You also made some interface systems, could you describe one of your work?
I (Jody) studied an Msc in Virtual Environments at the Bartlett where I did a lot of work with augmented reality. The time spent working with spacialised digital systems was some of most informative experimentation I've done. The thing people have been going on about for so many years is 3D user interfaces, but so many of them are clumsy and inefficient. Doing my own work with 3D information systems, spacial display and interface technologies educated me in understanding what actually works and why.
Both of us can program well enough to prototype and build web based interfaces. Its great when you design something for print and can understand how it could develop in an interactive or time based environment.


Drawings
I enjoy your drawing, is this just something you do as a sideline?
Drawing is something we have both done all our lives without fail. Neather of us really think or make a conscious effort to draw, our mother is a fine artist, so it's always been a natural creative outlet. We'd be lost without a sketch book in our bags, it's where every project gets it's first breath of life.
What do you think about the graphic scene in London / England?
The graphic scene in London is rocking, there's so much good work around. It's all very healthy and inspiring. Just in the studio with Jethro Haynes, Sanderson Bob, Nicola Pecoraro we're swamped with good stuff. There seems to be a swing back to idea based work, there was a period that was very style heavy in London, but anything goes now…
What will be the content / concept of your exhibition in Japan?
The main exhibit is still in development and will be a digital piece called 'Responsive Type'. The concept was to look at typography and how it is interpreted in digital environments. Font design and render techniques are still very print based. We set out to develop a type system that is better suited and more native to screen based display technologies. The system renders the letter forms in realtime, this enable the forms to adapt and responed to the context they exist within. The font responds to its scale at small point sizes by simplifying its form, this gives the type greater legibility. Then as it gets larger it increases in complexity, responding to the display nature of fonts at bigger point sizes.
We are currently working with some really great people to get the exhibit application developed, these people are Tom Carden, Michael Chang and Julien Gachadoat.
We will also be showing several posters printed from the font and and some personal work that hasn't previously been shown.
What is next for Hudson-Powell?
We've been having a lot of fun, and current projects are stretching the way we think about design and communication. So just keeping at it really, and hopefully the thought and enjoyment will keep coming through in each project.
Anything else you would like to say?
Communicate. Don't be precious. Talk ideas through it can give concepts depth and allow them to be relevant to more people. Hello Studio is safe.
Hudson-Powell
Address: Unit 3-4 Sunbury workshops, 25 Swanfield st., London E2 7DS, UK
Tel: +44 (0)207-729-6788
studio@hudson-powell.com
http://www.hudson-powell.com
Hudson-Powell Exhibition in Sapporo
"Responsive Type"
Date: October17th – 30th, 2005
Place: SOSO CAFE
Address: 1F Sansei Bld. S1 W13 Chuo-ku, Sappro, Japan
Tel: +81-11-280-2270 Open: 11:00-21:00
soso@shift.jp.org
http://www.shift.jp.org/soso/
Supported by: BEAMS T, PRINT'EM
* The scheduled Tokyo exhibition will be put off for reasons of the venue. Please understand it.
Text: Tim Engel
[Help wanted]
Inviting volunteer staff / pro bono for contribution and translation. Please
e-mail
to us.