TARO OKAMOTO "MYTH OF TOMORROW"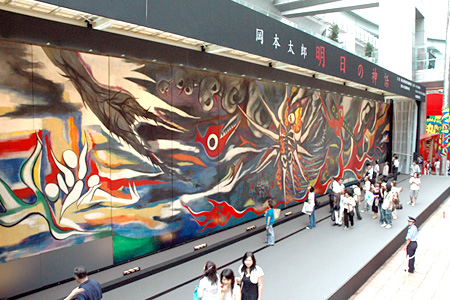 From 7/8-8/31 during the boom of summer vacation in Japan, "Myth of Tomorrow" by Taro Okamoto will be "released" in the Shio dome. Although it was painted in the late 1960s, just about the same time in which he created "Tower of the Sun", it had been long-lost in Mexico. Because of this fact, it's been said to be a phantasmal giant mural. Regardless of age and sex, many people came to see the legendary artwork by a great artist on the Zerosta Plaza of the Nittele Tower at the Shio dome Portal Site.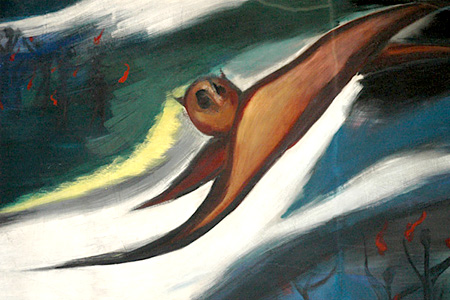 We were bowled over by the color traces of the gushing reds on a black background while standing in front of the painting. However, we were not just standing rooted to the spot. We felt we were alive here even though we were facing a moment that depicts the bursts of the A-bombs. In front of the painting, we tried to match something from our living world with this painted-living-tragedy.
"The title 'Myth of Tomorrow' is symbolic. At that moment, it did not only strew death, destruction, and poverty. It also proudly created 'Myth of Tomorrow', along with the savage tragedy," said Toshiko Okamoto.
Brought back from far away Mexico and restored for over a year, this incredible masterpiece lively tells of something that transcends time.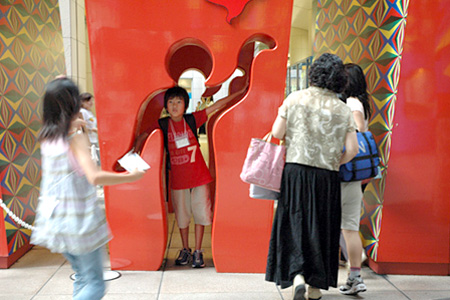 The hot summer site totally turned to TARO world, filled with primary colors. There is the same "Entrance to deny to be passed through" as "A chair denies to be sit on", and people are taping their overflowing impression of the mural on a video. It was eye-catching that people enjoyed the site, seeing Taro close at hand. Among them, there was a student from an art college who finished their own work, inspired by "Myth of Tomorrow", caught sitting in front of the painting for five hours.
At the head of Shigesato Itoi, with politicians, architects, writers, and celebrities including Tadanori Yoko and Katsumi Asaba, a cheering squad of "TARO BOATS" was organized. They have led Japan with their creativities and they always uphold "BeTARO!". It is not about emulation (however, it is almost impossible), but to sense something Taro-like.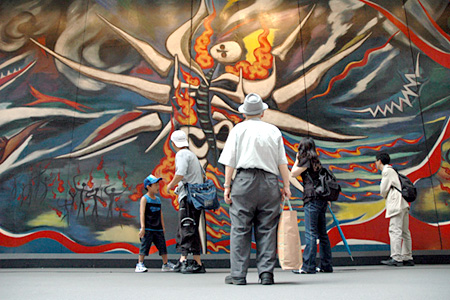 People who were actually in the war, people who shared the same dream together at the Expo, people who still have his famous statement, "Art is an explosion!", remained powerfully in their ears like us and the next generations who even don't know his name. All of us can be connected together on the same ground in front of this crushingly clear and creative spirit, Taro Okamoto expressed. This feeling is overwhelming.
In a TV show on NTV2, Blowuper, Michihiko Yanai from Kaze To Rock said, " 'it's okay' if this is right here. Think in this way, I find myself to live only in a frame." Like his words, from the feeling that "If Taro would do it like this, then I would do it in this way!" is crystallized.
Each individual's Taro story will stay alive. That's why Taro Okamoto is one of the greatest artists.

Taro Okamoto "Myth of Tomorrow"
Date: 8th July – 31st August, 2006
*It might be canceled in rain and strong wind
Place: Zerosta Plaza inside of the Nittele Towoer/Shiodome Portal Site
http://www.ntv.co.jp/asunoshinwa/
Text: Yoshihiro Kanematsu
Photos: Kenjiro Nakano
Translation: Fumika Sugimoto
[Help wanted]
Inviting volunteer staff / pro bono for contribution and translation. Please
e-mail
to us.