Hector is founder and director of the OFFF festival as well as general director of the inofffensive Agency since 2000. He studied Cinematographic Direction in Barcelona. He has produced five short-films, two feature-length films and a documentary film, including the one realized for the first Benicassim music festival. In 1995 he founded his first agency dedicated to interactive projects, where he also works as an Art Director.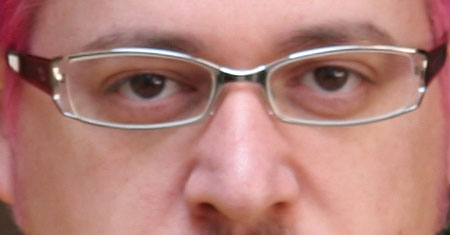 Some of his design and interactive pieces have been developed for clients such as ArtFutura, Lateral Thinking, Lucky Strike, San Miguel, Red Bull and Diesel. He also teams up with other artists to work on performances and non-commercial works of art. Since 2005 Hector has been part of the lecturing team of Graduate Studies in Motion Graphics at the BAU Design School in Barcelona, as well as commissioner of the OFFF conference series.
Where are you coming from?
After various childhood traumas, when I was around 17 or 18, I managed to escape from Valencia to Barcelona. I began to study film direction, and after a couple of funny experiences as a film maker I got a computer and founded my own web design studio just when the Flash boom started. After a few years I got tired of fighting against clients and developed the idea for OFFF. From that moment on, both my personal life and the event have been going through the same stages of running and growing and running and growing …
How did OFFF start?
During the first OFFF editions I have been asked that question so often that I decided to play with it and invent different answers each time (laughs)… But I promise to tell you the truth! It all happened on a Sunday afternoon. Barcelona's soccer team Barca was on TV and I was lying down on my sofa when the idea of using Flash in some of my short films popped into my head… Suddenly, I thought about organizing an event around that idea, so that other people can also show their work. That's the reason why the event was called Online Flash Film Festival in the beginning. The same day, believe me (laughs), I built the site for the event and got in touch with Joshua Davis without knowing him at all. I told him about my idea and he went ahead and posted it on Praystation… Boom! OFFF was born! I still have the screenshots of the posting! (laughs)
I was about to ask you how long it took you to have a concrete idea about OFFF…
I don't think a concrete idea of the festival ever existed. The only thing that has been clear since the very beginning is that OFFF wasn't an event based on a fixed formula but one which was going to mutate and grow with us over time depending on what's happening on the net. I must admit that I am an Internet addict… I surf a lot and I am constantly looking for new things, things which surprise me; and this is how OFFF has been basically evolving and growing up. There has been a big influence from my colleagues and collaborators as well, especially from the OFFF Creative Director Aimee Campos.
And how long did it take you to have the first event planned and scheduled?
Artistically and creatively speaking this was done very quickly, yet economically the problem has never been solved. The first edition of the festival was lovely. We will never forget that experience, there were so many good moments and incredible anecdotes, but financially it was a big disaster which still affects us.
However, unlike similar events, OFFF offers very competitive admission fees.
Sure. That's maybe one of the few things we have been very clear about from the very beginning. We wanted OFFF to be accessible to everyone: professionals, students and the public in general. This is very important for us, and we are constantly fighting to keep the prices low even when we are in economical trouble. We are sure we are on the right way and that we will soon find a balanced situation where we can go on without losing money. This will happen as soon as some institutions start to support our event. OFFF is a non-profit event with the aim of offering high-quality content which is hard to find somewhere else! Lots of people think that we get huge amounts of money from our private sponsors, but these are very modest support fees compared to other mainstream events…
What has been your best and your worst experience when organizing OFFF?
For me there is no worst experience since everything is part of a learning process and a way of growing that gives me a chance to deal with my own madness. Without it I guess I wouldn't be able to handle the event! (laughs). My best experience is about the great people I keep meeting (colleagues, artists, people from the audience, etc….) and the satisfaction when the event is over and you get people's feedback, which is incredible. I have realized that especially this year; there were a lot of people approaching me during the last day and without knowing me personally just thanked me for organizing the event, for charging so little and for inspiring them during the last 3 days. I have seen people leaving the Conference Hall with tears in their eyes and giving me a big hug! Now it's me who needs to thank all the people who are coming to OFFF every year. Thank you very much!
What do you think is the best thing OFFF has offered to the audience so far?
I am very satisfied with the fact that OFFF visitors understood the festival concept since the beginning. OFFF is neither supposed to be just a congress or conference series, nor is it a recreational festival, but kind of a hybrid in between. I think this helps people perceive OFFF as a unique experience. It is very hard for me to highlight any of the contents we have been offering since I am always busy and have no time to see everything (laughs). But if I think about the few things I have been able to see in a more relaxed mood, one experience which I will never forget is the conference hosted by Neville Brody last year. He personally thanked me onstage. It was all very emotional and I feel so lucky to be able to say that Neville is now a very good friend of mine.
OFFF also gave me another great friend, the festival's "godfather" Joshua Davis. He's a genius and a great person!
Read more ...
[Help wanted]
Inviting volunteer staff / pro bono for contribution and translation. Please
e-mail
to us.