Hector is founder and director of the OFFF festival as well as general director of the inofffensive Agency since 2000. He studied Cinematographic Direction in Barcelona. He has produced five short-films, two feature-length films and a documentary film, including the one realized for the first Benicassim music festival.
In 1995 he founded his first agency dedicated to interactive projects, where he also works as an Art Director.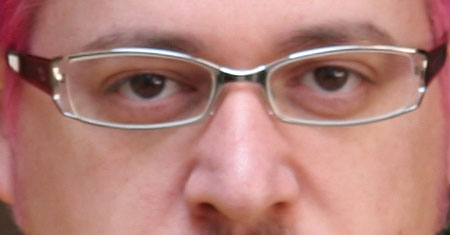 Some of his design and interactive pieces have been developed for clients such as ArtFutura, Lateral Thinking, Lucky Strike, San Miguel, Red Bull and Diesel. He also teams up with other artists to work on performances and non-commercial works of art.
Since 2005 Hector has been part of the lecturing team of Graduate Studies in Motion Graphics at the BAU Design School in Barcelona, as well as commissioner of the OFFF conference series.
Where are you coming from?
After various childhood traumas, when I was around 17 or 18, I managed to escape from Valencia to Barcelona. I began to study film direction, and after a couple of funny experiences as a film maker I got a computer and founded my own web design studio just when the Flash boom started. After a few years I got tired of fighting against clients and developed the idea for OFFF. From that moment on, both my personal life and the event have been going through the same stages of running and growing and running and growing …
How did OFFF start?
During the first OFFF editions I have been asked that question so often that I decided to play with it and invent different answers each time (laughs)… But I promise to tell you the truth! It all happened on a Sunday afternoon. Barcelona's soccer team Barca was on TV and I was lying down on my sofa when the idea of using Flash in some of my short films popped into my head… Suddenly, I thought about organizing an event around that idea, so that other people can also show their work. That's the reason why the event was called Online Flash Film Festival in the beginning. The same day, believe me (laughs), I built the site for the event and got in touch with Joshua Davis without knowing him at all. I told him about my idea and he went ahead and posted it on Praystation… Boom! OFFF was born! I still have the screenshots of the posting! (laughs)
I was about to ask you how long it took you to have a concrete idea about OFFF…
I don't think a concrete idea of the festival ever existed. The only thing that has been clear since the very beginning is that OFFF wasn't an event based on a fixed formula but one which was going to mutate and grow with us over time depending on what's happening on the net. I must admit that I am an Internet addict… I surf a lot and I am constantly looking for new things, things which surprise me; and this is how OFFF has been basically evolving and growing up. There has been a big influence from my colleagues and collaborators as well, especially from the OFFF Creative Director Aimee Campos.
And how long did it take you to have the first event planned and scheduled?
Artistically and creatively speaking this was done very quickly, yet economically the problem has never been solved. The first edition of the festival was lovely. We will never forget that experience, there were so many good moments and incredible anecdotes, but financially it was a big disaster which still affects us.
However, unlike similar events, OFFF offers very competitive admission fees.
Sure. That's maybe one of the few things we have been very clear about from the very beginning. We wanted OFFF to be accessible to everyone: professionals, students and the public in general. This is very important for us, and we are constantly fighting to keep the prices low even when we are in economical trouble. We are sure we are on the right way and that we will soon find a balanced situation where we can go on without losing money. This will happen as soon as some institutions start to support our event. OFFF is a non-profit event with the aim of offering high-quality content which is hard to find somewhere else! Lots of people think that we get huge amounts of money from our private sponsors, but these are very modest support fees compared to other mainstream events…
What has been your best and your worst experience when organizing OFFF?
For me there is no worst experience since everything is part of a learning process and a way of growing that gives me a chance to deal with my own madness. Without it I guess I wouldn't be able to handle the event! (laughs). My best experience is about the great people I keep meeting (colleagues, artists, people from the audience, etc….) and the satisfaction when the event is over and you get people's feedback, which is incredible. I have realized that especially this year; there were a lot of people approaching me during the last day and without knowing me personally just thanked me for organizing the event, for charging so little and for inspiring them during the last 3 days. I have seen people leaving the Conference Hall with tears in their eyes and giving me a big hug! Now it's me who needs to thank all the people who are coming to OFFF every year. Thank you very much!
What do you think is the best thing OFFF has offered to the audience so far?
I am very satisfied with the fact that OFFF visitors understood the festival concept since the beginning. OFFF is neither supposed to be just a congress or conference series, nor is it a recreational festival, but kind of a hybrid in between. I think this helps people perceive OFFF as a unique experience. It is very hard for me to highlight any of the contents we have been offering since I am always busy and have no time to see everything (laughs). But if I think about the few things I have been able to see in a more relaxed mood, one experience which I will never forget is the conference hosted by Neville Brody last year. He personally thanked me onstage. It was all very emotional and I feel so lucky to be able to say that Neville is now a very good friend of mine.
OFFF also gave me another great friend, the festival's "godfather" Joshua Davis. He's a genius and a great person!
And what was the worst thing that ever happened?
Well, in 2003 something terrible happened which affected us very much. I don't really like to speak about it and at that time we tried to keep it private. Daniel Brown suffered an accident during his stay in Barcelona. Fortunately, he recovered very well and is already working again. I want to send him my best wishes and congratulations for his awesome work.
There is a huge variety of various events taking place at OFFF: There is the basement with its conferences and exhibition, and then there are other parallel activities such as Loopita or the film contest. Aren't you afraid of possibly offering too much or a little bit of everything?
No, I'm not afraid of that. I think those activities are complementary to the event. I agree that the real heart of OFFF is the Roots (Conference Hall) and the Showplace, but areas such as the Open Room, Loopita, Cinexin and the market contribute to the rest of the festival. I know that we have to work harder on some of these activities to make them more accessible, but we are sure that they belong in the program.
Do you think about moving these activities to another location and/or time?
Not at the moment. We think they need more dedication and space. They are as important as the other events, and we have to highlight them better. We don't think that splitting the festival would be a solution.
What happened in D.F?
OFFF always had in mind the idea of organizing an edition of the festival abroad and, casually, the idea of Mexico came up (some of the festival's team members are Mexican).
What happened is that we got a serious offer from a TV station, actually TV Azteca, one of the most important stations in the country. Since the very beginning, TV Azteca assumed all costs of the event since one of our conditions was to minimize the economic risk. We signed a contract according to those conditions and started to work. Everything worked out fine; we had creative freedom and full responsibility for the festival's contents.
But suddenly TV Azteca decided to withdraw their support, and we couldn't do anything else but communicate the facts and explain to the artists and people who already had bought tickets what had happened and to apologize, while promising to try again next year!
What reasons did TV Azteca give for their decision?
OFFF received a letter from TV Azteca 9 days before the event communicating their decision without any other explanations. We tried to talk to them and solve the problem until the last moment, but the decision was already final and could not be changed anymore. They did not care about the consequences for OFFF and its reputation.
OFFF immediately sued TV Azteca for breach of contract.
The ticket sales were directly handled by TV Azteca through Ticketmaster, and they cancelled it without previous notice. Fortunately, all the people who had bought tickets could get their money back.
Will there be an OFFF Mexico next year?
Yes! 🙂
Will OFFF continue to be hosted at the CCCB in Barcelona?
Yes! 🙂
Aren't you worried about the capacity? The Conference Hall was extremely crowded this year….
Actually no. We are very comfortable with the current size of the festival, which is exactly the size offered by the CCCB within its different spaces.
We don't want to be a mainstream festival and we are not interested in growing much more. We believe the current dimension is the right one for keeping our special atmosphere.
Would it be possible for some of the events to sell-out?
Yes, this actually happened this year for the first time. We had to close the ticket office every day. Maybe we can afford more space next year, but not much more.
By using the patio as we did this year we get more usable space, so this was the right decision.
Yes, this actually allowed access for everybody, not just OFFF visitors…
Exactly! The patio has generated an open space for everybody and let non-professionals have access. We love that, especially for some of the activities such as Showplace, Cinexin and Loopita…
What about the integration of professionals, students and the general audience? How does it work?
Very good. It's incredible that, at the end, everybody ends up at the same level and talks to each other. Also, this allows for people to meet and come up with new projects. Some of our previous visitors were later invited as speakers or artists. We are very proud about this year's experience with Dvein.
More and more, internet and other digital media are acquiring maturity. Do you think we can already compare this movement with other great historic moments such as the Renaissance or Modernism?
I think from our point of view we start to see that happening, but I think there's still much more to come in the future.
There's no doubt that there is a new artistic movement which is very strong and has a lot of possibilities, but there's still a general problem with the fact that not everyone understands that a work burnt onto a CD can be also used to decorate their houses' walls… And events like OFFF should help prepare the ground for that.
Art has never been as commercial as it is now. Do you think big commercial investments from brands such as Absolut Vodka, Nokia, etc. are positive?
Absolutely. This is a great step for understanding how life works right now. It is very important that BMW asks Joshua Davis to generate artwork out of the shapes of their latest car. This kind of thing helps set up a real market in which we can work. In the same way some galleries such as Bitforms are doing a great job.
My house gets more and more saturated with technology (laughs). We only need the LCD and plasma technologies to be more affordable and that's it! We can hang a piece of work from Casey Reas in our living-rooms, bedrooms, etc.
Can we consider the Open Source approach as a step towards the Knowledge Society (as artistic influences can now be represented by pieces of code)?
Well, I think that projects such as "Processing" by Casey Reas and Ben Fry can be considered as a step towards the Knowledge Society. It's very democratic, but I don't think we should generalize…
Folkert Gorter talked about the impact of communication on human evolution. Are we going too fast?
We are probably going too fast, or we are forced to move very fast, and I must admit that sometimes I feel dizzy; but at the same time, it is part of something new we don't know about yet. I don't think this speed can be kept up very long anyways.
Do you think that digital identities may degrade human relationships?
Not at all. I think it is just a common sense question. You should know about the limits and, after all, be conscious that this is just another way to contact or meet people, but not the only one.
I have always been a very shy person, most of the time! The net helped me open up more. During the first OFFF editions I had some problems when talking to people; nowadays this is one of the things I enjoy the most… Also, I am actually very proud that I found my wife through the net.
Have you ever thought about organizing debates with philosophers and/or sociologists to talk about a more self-critical vision of the digital society and its impact? Or do you feel this would be too far away from the festival's spirit?
I think these contents are already offered by other events and do not fit into our program.
How do you imagine OFFF in 2010?
I hope we will be able to celebrate our 10th anniversary with our audience and, if it's possible, with all artists that have been at OFFF before and of course without debts! (laughs)
And how did you imagine it five years ago?
Honestly? Five years ago I never imagined I would be answering these questions.
How many people started OFFF and how many people are involved right now?
In 2001 we were four people working on OFFF. Currently we are about 10 people plus several external collaborators.
Will it be possible to see John Maeda some day?
I hope so. We are in touch with him and trying to arrange his appearance. Last year we finally managed to have yugop after trying to get him several times before. I believe John Maeda will be at OFFF soon.
A wish?
Stefan Sagmeister (next year this mission will be accomplished!).
My next question is… would you like to tell us a secret?
In 2007 we will have 3 different OFFF editions.
An important film in your life?
Mauvais Sang by Leos Carax and Maman et la Putain by Jean Eustache. It's hard to choose only one…
And the last question… A book?
Andrei Tarkovsky's Sculpting in Time. You could ask about a song… (laughs)
Which song would that be?
Sometimes from My Bloody Valentine.
Thanks a lot, Hector! Would you like to say anything else?
Thanks a lot for the interview, it was a pleasure! By the way, this is the first time someone asked me about my favorite film, book and song. Thanks for that as well!
Text: Eduard Prats Molner
Text edited: Tons May
[Help wanted]
Inviting volunteer staff / pro bono for contribution and translation. Please
e-mail
to us.