RESOLUTION DISSOLUTION II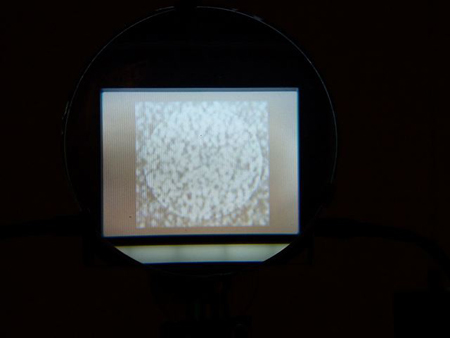 In a note not directly related to this article, the "Berlin Biennale" has begun at the end of March. As I noticed with interest, a number of small to medium-scale, yet high-quality exhibitions have been planned to coincide with this major art event. I can feel the enthusiasm of these local exhibitions aiming for even higher quality.
"Resolution/Dissolution II" is the second in a series of media art exhibitions. The first one, held from January 1st to February 12th, coincided with the "Transmediale 06". This art show was made possible mainly through the Berlin-based media artist, Friederike Anders. She is a member of "Realism Studio", which has organized a number of interesting exhibitions at NGBK (Neue Gesellschaft fur bildende Kunst e.V) in the past.
Thanks to her international career, there were many notable participations of up-and-coming media artists from overseas.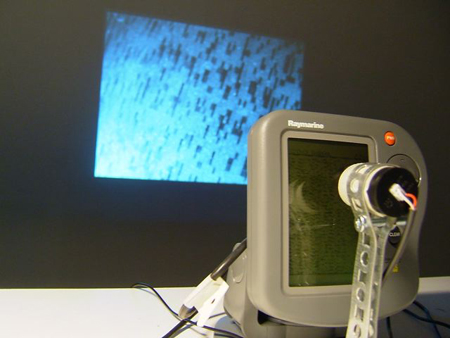 Looking back now, I regret not having documented the first exhibition. The subtitle of the second exhibition is called "Signal Noise". In most of the exhibited art works, common technology has been transformed into unordinary uses.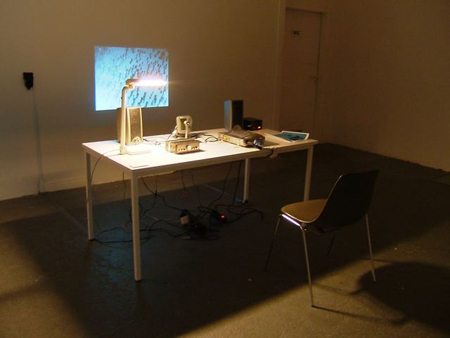 For example, sound artist Carl Michael von Hausswolff applied sonar radar – such as the one used for commercial fishing – in order to detect sounds in space that are out of the range of human sensory perception. By using light from a slide projector, Achim Mohne focused on the dust dispersed by visitors and projected it on the wall. Here, everyday appliances are transformed into creative works.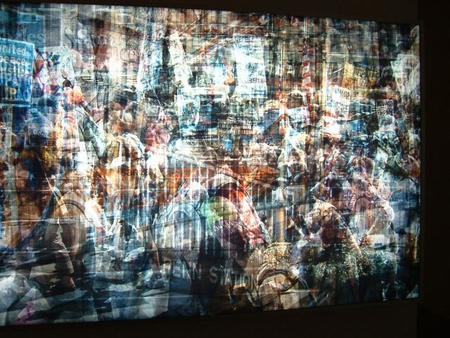 Similarly, Jim Campbell printed real images from newscast, newspaper, and films onto slides and exhibited them, layered like a painting. As a result, the final composition suggests a completely different metaphor.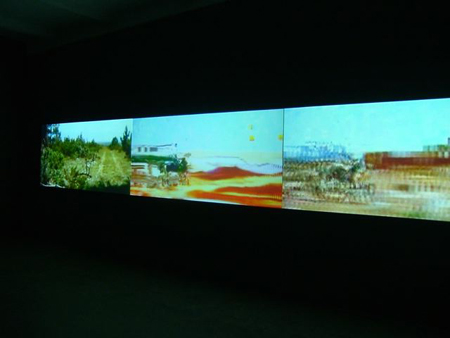 Tatjana Marusic projected a line of footage from her homeland, former Yugoslavia. This footage is modified by compression technique, and as a result, new dream-like scenery is produced.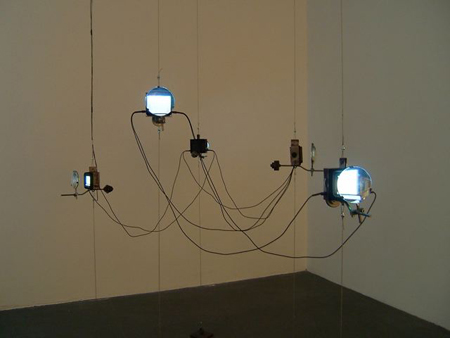 In contrary to the former, Kirsten Johannsen used equipment as itself, in this case compact TVs as an element of work. White noise is displayed on the screen, and it seems as if this gesture carries a meaning beyond the visible fact.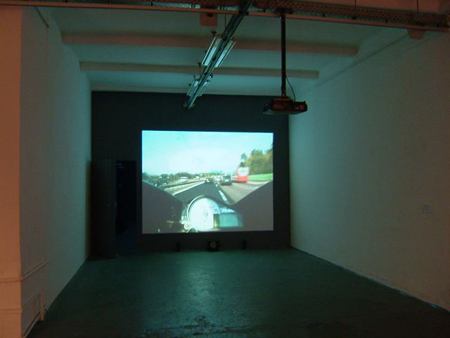 Lastly, the work, that has left the strongest impression on me, is a projection on wall that catches your eye right at the entrance. This motion picture by Matias Faldbakken is taken with a camera on the front of motorcycle while zooming 200 to 300 km per hour along the expressway. The motorcycle body is almost always at an angle, while it weaves its way through trucks and cars. It offers extraordinary and exciting experience as though in the movie "The Matrix Re-loaded".
Not mentioned above, Jens Brand and Astrid Nippoldt are also contributing artists to the exhibition. For your information, the third exhibition in this series will run from June 22nd until August 27th.
Resolution/Dissolution II – RAUSCH/EN
Date: February 25 until March 26, 2006
Location: NGBK (Neue Gesellschaft fuer bildende Kunst e.V)
Address: Oanienstr. 25, 10999 Berlin
http://www.ngbk.de
Text and Photos: Yoshito Maeoka
Translation: Nem Kienzle
[Help wanted]
Inviting volunteer staff / pro bono for contribution and translation. Please
e-mail
to us.