On Friday the 3rd of March 2006, I welcomed in my Parisian flat the artist's group "qubo gas" I discovered their work as they were exhibiting at Anne Barrault Garelly in January 2006.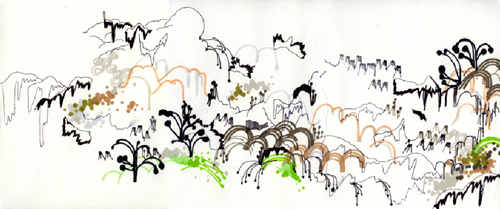 Spotted vert, Courtesy Anne Barrault gallery © Qubo gas 2006
Qubo gas is composed by Laura Henno, Jean-Francois Ablezot and Morgan Dimnet. They are all from Lille, so, very much French (and not Asian or else as I thought while discovering their work). They met at Uni and have been working together since 2000 after one of their musician friends asked them to do its video. "It all happens very naturally" as Laura mentioned.I couldn't not ask (and apparently I wasn't the first one), so they anticipated my question!!! And their answer is simple: 'Qubo gas' means absolutely nothing! They were playing at words game and this one came out as something their work could be recognised as.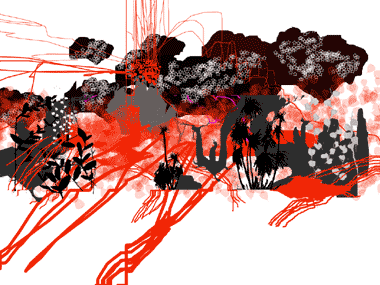 Uki-yo, Courtesy Anne Barrault gallery © Qubo gas
In 2001, they were invited at the Netmage festival in Italy to perform. Hence things started to become serious and they got together to think of a plan, a constructed project. "Baover Tit" was born, shown at the festival, and on top of all, won the first price. While they reclaimed themselves as drawers' first, it seems as all invitations were coming from digital art festivals and other digital initiatives. "We draw everything, we use pen, pencil, marker-pen, then we scan these drawings and we add them to other Photoshop drawings" they explain. They enjoy the magical effects of mixing each other universe, until "the three of us are sitting in front of the computer to put together these images thus becoming a Qubogas draw" tells me Laura, laughing at the vision of them three stuck in front of the computer screen.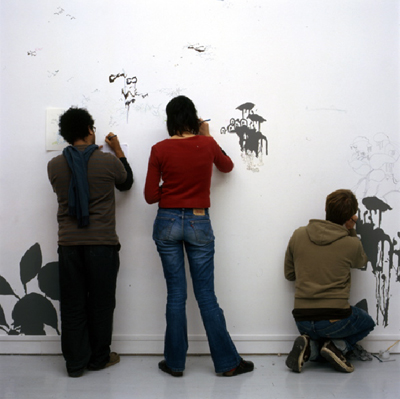 Qubo gas while working © Laura Henno
Baover Tit, presented in Italy in 2001, is a project conceived as a succession of 5 chapters including 5 scenes. "It is a whimsical and fanciful world where magic mushrooms and multicoloured ferns seem to be the only master on board". As Qubo gas is showing me this work, Morgan realised that it has aged a bit; nowadays the computer is less present in favour of illustration.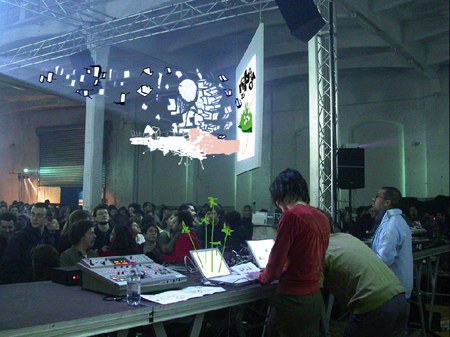 Qubo gas perfoming in Bologna, Italy © Laura Henno
Uki-yo – the French version of Haikus – is a graphic composition seeking to reproduce a landscape evolves in a continuous and autonomous way according to a poetic algorithm. The shifts follow a series of subtle and delicate graphic mutations but also unexpected events that create chaotic phases of deconstruction. Inspired by Haikus-short Japanese poems (17th century), the source of these shifts determines the space of the evolutions in the landscape. The composition of the picture is based on a pre-determined construction and relies on a database of graphic elements. This digital painting is then projected panoramically on a glass screen.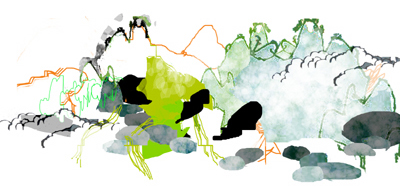 Uki-yo, Courtesy Anne Barrault gallery © Qubo gas
Let me mention quickly 'Mille Feuilles', my favourite piece. Qubo gas emphasized Mille Feuilles is considered as a pendant to their computerised artwork and ultimately the most beautiful piece remains a drawing, thus defending their main activity: to draw!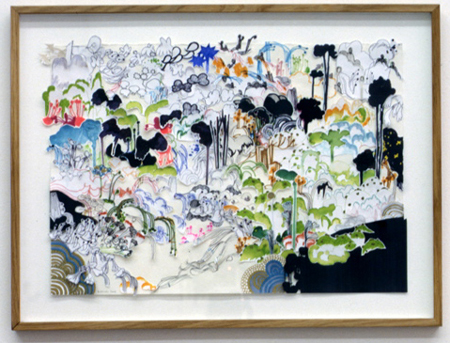 Mille Feuilles, Courtesy of Anne Barrault Gallery © Qubo gas 2006
Asked about their inspiration – they collectively replied "we've got none in particular, especially as we are three!" I still managed to extract few art leaders such as Petra Mrzyk & Jean-Francois Moriceau, Charles Sandison, Aya Takano, Nina Bovasso or also few US artists of the last decade (Kyle Fields, Marcel Dzama . Music is also a great source of inspiration: artists drawing the jackets of the music albums they're listening to (Boredoms, Fan Club Orchestra).

Laura insisted to carefully mention their influence as it is so wide, and Jeff to shyly insist that they do not have a master in particular; they keep an eye to their contemporaries.
After nearly 2 hours of "coffee" interview, I asked them about their news:
Morgan and Jeff explained about their label, Smalticolor, which will be producing multiples of their art work. The launch of this company is the cause of their "under-construction" website. They are currently working on the next version, on which, supporters will be able to buy CDRom of "Baover Tit", but also by-products and multiples.

Opening on the 18th of May at gallery FraichユAttitude in Paris, one of their installations: Shimmy Shimmy Grass and some new stuffs.
Qubo gas
Place: Laura Henno, Jef Ablezot & Morgan Dimnet
Address: 22 rue Emile Desmet, 59000 Lille, France
Tel: + 33 (0) 6 61 82 49 24
qubogas@qubogas.com
www.qubogas.com
Text: Sarah Boisson



[Help wanted]
Inviting volunteer staff / pro bono for contribution and translation. Please
e-mail
to us.