In Feb. 11th to 28th, "Interactive Interior" was held at a select shop "BEYES" Omotesando branch that opened to jammed Omotesando Hills. "A new field that connects an interactive design with interior design" is drawn, participate members were good enough to faint for enthusiastic web design geeks. 5 sets from 3 countries, such as wowlab+wildcard, SEMITRANSPARENT DESIGN, Takashi Kamata (.spfdesign), Marcos Weskamp, NANIKA.
How is a new environmental device "EDIT WALL" captured customer's body/soul in the ambitious select shop to which a novel concept "Room Share Of The Adult Man" was hung up? I was going to sneak quietly and carry out full experience after closing on Friday. It reports on the appearance here.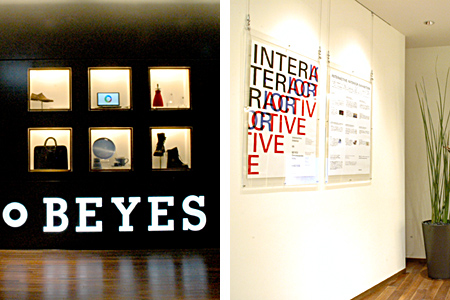 Recommended contents that both Mr. Nishida of "raku-gaki.com" and "artless" handled with which creativity is a variety of EC sites of the topic "BEYES". The first real store just opened in hot Omotesando Hills. The shop where composed senses of relief has a concept that you can take "something favorite" in friend's house. There is "EDIT WALL" that is called an environmental device in the front when entering the store where selected items to stand in a row. Beautiful motion graphics projected on a 2m x 1.5m screen. The image flows as it likes with unpredictable effects reacting on the movement of the person captured by CCD camera. Let's taste such "Attempt that starts creating the image as the interior through the interaction with the visitor".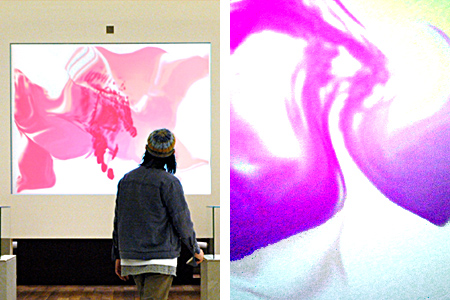 First of all, "NANIKA" by Andreas Mueller to whom "For All Seasons" won the TDC prize and Florian Schmidt who is a founding parter of "Hi-ReS!"! "Motion Wall" where it springs in person's movement swirls like the smoke, and the man shaped gradation formed barely changes very easily by unexpected others' motion. Various delicate metamorphosis ran through the flexibility of interactivity, and only was "'something' simply enjoyed" that they said.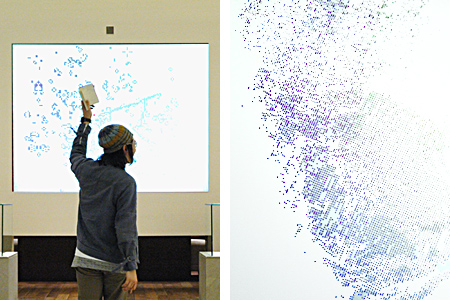 And "SEMITRANSPARENT DESIGN" which took charge of a system direction, website, and a poser design! Even at first glance, the spectacle of dots to make it have a presentiment of exhilaration is beautiful. The motion begins to move without viewer's movement when you gaze. The movement of the user who views a website "EDIT WALL" is made data. Although it might be a straight ball match to share online/offline by a different dimension until now, as their title "Skew = Position Of Twist" shows, its unexpectedness understood what output is surprises enough. A place where design, program, and device meet splendidly, that peculiar creativity fascinates intuitive ease.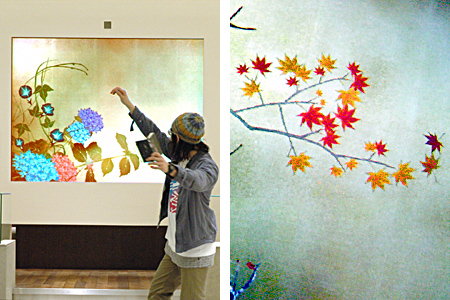 Next, in contrast, static "Air Garden" by "wowlab" + "wildcard". It is a minimal interaction, wind blows and leaves fall, very soft waver. All flowering plants and animals react and move lively in the previous version. However, this time, it is moved to stop topping it and to move. As for the dropped work, the width of touch of the pleasure when the logic of movement is felt with the body becomes larger. It can be the Japanese painting which technology and Japanese beauty mixed and became an environmental device, so called a hanging scroll for hospitality.
The 4th is "Color Traces" by Marcos Weskamp. The interactive art invented by the unprecedented manifest "Clock that does both movement and the color of the shop environment in the mapping, and deconstructs time and the space" traces person's movement and the color of the clothes every second, and generates inorganic shape and the color. It is not easy to understand at one view, but to pile the objective fact that someone set foot on there could be a new interactive marketing field or a grand archive.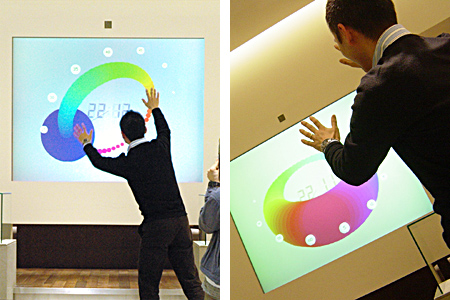 The last is "Chronorhythm" of Takashi Kamata (.spfdesign)! His spectrum gradation of a vivid hue ring keeps rotating the end sensitively reacting to all the movements of the space while ticking away time. If you want to stop the motion, delicate operation of a milli unit will be required. Although some people may have tried since the screen saver of the same specification was installable, it becomes operation using the nerve for action made free if it is a mouse to be also terrible when your body becomes a device. Mystery only that seems to be capricious severe programming logically united. Complication of body feeling and logic fires my play heart.
In this way, although various works had been touched intentionally, when daily use called effluence was considered, they were finished in a nonchalant thing which each notices later suddenly. Now since work "Interactive" is not too general, the space production to sneak in to the environment might give what rich stimulation to the interaction of the caprice of shopping.
Thus, this coverage cooperated with Mr. Kuroda of "BEYES" (Thank you very much!) The inside story of "There was doing the program correction then and there as other works were seen and stimulation was recieved again" also visited. When "Skew" crowded too much, impressive chooses contents by customer's such as " Air Garden" crowding condition and atmosphere when the person enters pleasantly. The environmental device for changing the air of a place will be materialized for the first time because a variegated expression of a creator/artists and the real space feeling by the side of the shop placed synchronize.
"Everybody was really glad to have done happily." It was the night as Mr. Kuroda who talked joyfully and the field of a new expression having been born fortunately while sweating.
INTERACTIVE INTERIOR
Place: BEYES Omotesando branch
http://www.beyes.jp/editwall/
Text: Yoshihiro Kanematsu
Photos: Kenjiro Nakano and Yoshihiro Kanematsu
Translation: Futakawa Yoshitaka
[Help wanted]
Inviting volunteer staff / pro bono for contribution and translation. Please
e-mail
to us.