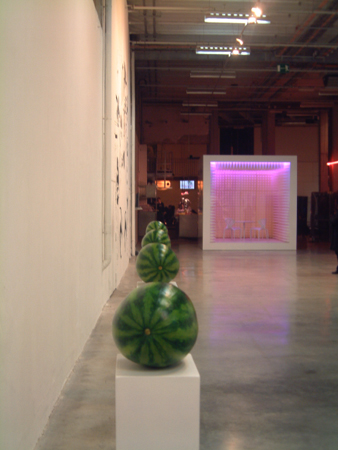 Olivier Babin – Towards Infinite Freshness, 2005
Nicolas Bourriaud and Jerome Sans, the co-directors of the Palais de Tokyo in Paris are celebrating their departure by a significant exhibition titled 'Notre Histoire…' Our History… The Palais de Tokyo opened on 22nd January 2001. The new director is Marc-Olivier Wahler, a Swiss, director since 2000 of the Swiss Institute – Contemporary Art (SI), in New York.
The opening of 'Notre Histoire…' was Friday the 20th January and for nothing in the world I would have missed the biggest event of the New Year (!). However, I went back a week later to appreciate the exhibition in a quieter atmosphere.
Back to the opening night, in the entrance as I arrived, the hallway was already full, as I never seen it before. A hype crowd was fooling the ground of this highly talked about location.
The formers directors and actual curators of "Notre Histoire…" are in someway giving an intimate insight of their own journey at the Palais de Tokyo: for the past 5 years, Bourriaud and Sans have made their priority to introduce the artists of this new century to the French.
For this show, they have asked to 29 up-and-coming artists, French or living in France, to exhibit their most relevant work to what is our world today and what is their donation to this world.
As the press release was writing: "Notre histoire…" attests to this repositioning of the figure of the artist, who is no longer a proud loner, riding along astride reality, but is in fact the supplier of a matrix that anticipates reality. The premise of "Notre histoire…" is that artists have more than just something to say.
And some of them do it pretty well. I could make a list of the 29 artists showed but I chose to write about the ones I've been touched by.

Kolkoz – Les films de vacances, 2005 Installation view
On my 1st visit, 2 artists who work together under the name of KOLKOZ [Benjamin Moreau and Samuel Boutruche] – really grabbed my attention. In their digitalised film about their Honk Kong holiday, they manage to humanise the story. The fiction is present and we watch an enthralling story. This feeling is reinforce by the fact that the film is presented on a small screen which looks like a TV and is placed in the middle of a lounge – armchairs, sofa, lights, coffee-table assembled in front of this TV – all that very cosy! Also there's a comical ambiance in this movie, a sense of irony as we recognise the artists themselves as the 2 main characters of the feature.
Bewitched by the Kolkoz room, I manage to get out and made my way to the three-dimensional landscape that takes shapes throughout the whole of the Palais de Tokyo's exhibition galleries.
I entered another room, where I was invited to lay down on a big trembling soundbox and to look up at the ceiling at planes tracks. It was quite frightening but the vibration of the speakers under me was calming me down. Nicolas Moulin is an artist who likes to manipulate photos and takes away all human lifes from them. And it is the emptiness of the screen that was relaxing…cleared by the usual human crowd.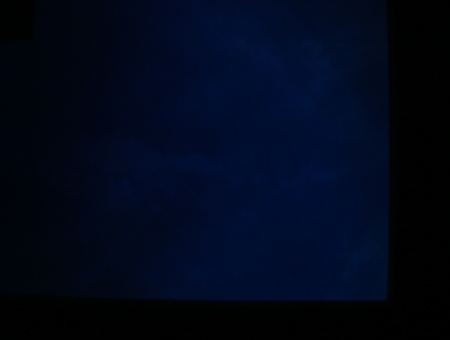 Nicolas Moulin – Aviafluenza, 2005
A week later, on my 2nd visit, I really sensed the exhibition and the artworks. Discovering artists such as Mircea Cantor, and its 'Landscape is changing' playing on our perception of what encircles us by using mirror thus making us pay attention of our surroundings; Wang Du who was presenting a piece made of used international newspapers.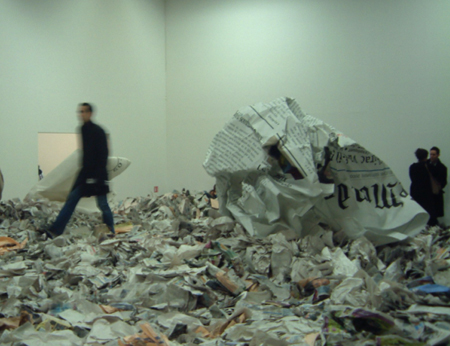 Wand Du – Luxe populaire, 2001
Let's mention Laurent Grasso showing a smoke cloud investing the streets of Paris and questioning us on the 09/11, the pollution and other contemporary topics; Olivier Babin's contribution features a painting and a collection of very "refreshing" sculptures inspired by the shape of the watermelon…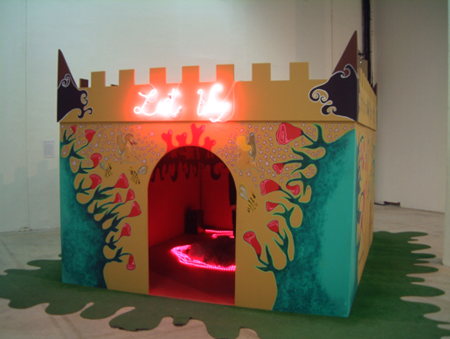 Fabien Verschaere's – Once Upon No Time, 2005. A Novel for Life
I kept my favourite piece of all to conclude… the Fabien Verschaere's magic house…there's a red hole, lighted, attracting your eyes and you think 'what on earth is inside this dolly house'? So obviously you enter…and you discover a whole world of creatures, reminding you of the stories told by your mum before going to sleep…except that if you take a good look, closer, and closer, you see there's not much place for innocence in this 'magic' house – and it is as if your 2nd look takes you to an 'evil' sort of world. But of course it is up to you to decide … and that is maybe what all this exhibition is all about?
Choosing whether or not their story can be 'Notre Histoire…'
Notre Histoire…
Date: 21st January – 7th May, 2006
Place: Palais de Tokyo
Address: 13, avenue de president wilson, F-75116 Paris
www.palaisdetokyo.com
Text: Sarah Boisson
[Help wanted]
Inviting volunteer staff / pro bono for contribution and translation. Please
e-mail
to us.