Christmas in Japan is not usually included as a national holiday, but it was different in 2005 since Christmas day fell on a weekend. Because of this, there might have been more Japanese who had a special Christmas holiday than in previous years. Crowded streets, adorned with Christmas colors, were full of smiling people. On the first day of the consecutive Christmas holidays, a positive "green" message was sent from snowing Hokkaido.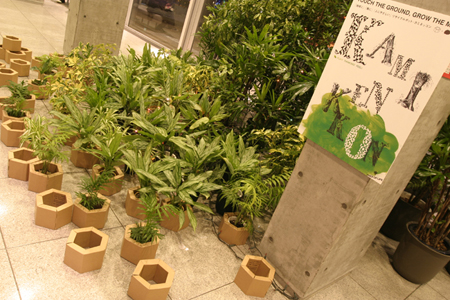 "TREE OF LIFE" was an art community festival held in "Sapporo Media Park SPICA", and included about 2000 people. At the entrance, future trees with "KAMI NEKKON" welcomed visitors to enter.
This hexagonal recycling pod called "KAMI NEKKON" is produced from an epoch-making idea for easy tree planting; putting earth and a young plant and leaving it on the ground, the pod returns to dust, and the tree takes root.
The display at the entrance was a metaphor that showed the growth process of a tree. It represented a main theme of the whole event "repaying to the earth", a hope for the future. With the "KAMI NEKKON" at the head of the list, "TREE OF LIFE" had natural messages everywhere, developing a creative space of "Action, Think, Feel" with all-genre artists connected with Hokkaido.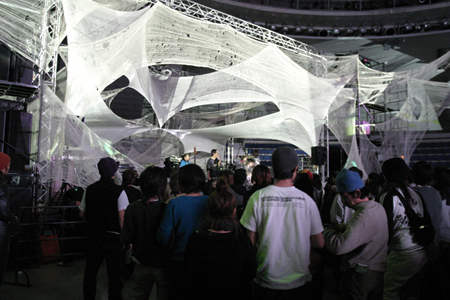 Going into the venue, the main floor had a big, lively, floating sphere surrounded by cocoon like designs. Adding lights, colors and movements by visual artists including AGROM, a cool stage mysteriously presented itself. Starting with a live gospel performance by "OViC", many splendid artists including "SHUREN THE FIRE", "qodibop" and "KOSS a.k.a KUNIYUKI" gave expression to various music on the stage. The undulating audience seemed like a part of the creation as well. Some were dancing while others stood paralyzed, and still others just listened and relaxed on the floor.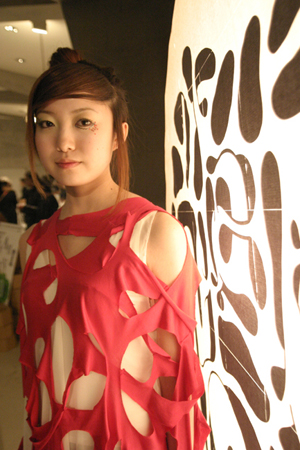 A lounge space created by "SHIFT" and "SOSO" was next to the main floor so you could directly enjoy the live sound. The space designed by Sapporo based design unit "WABISABI" was filled with original graphics resembling plants or cells in black and white. Three models with the same motif in red added a stylish flower into the space, akin to a Christmas poinsettia.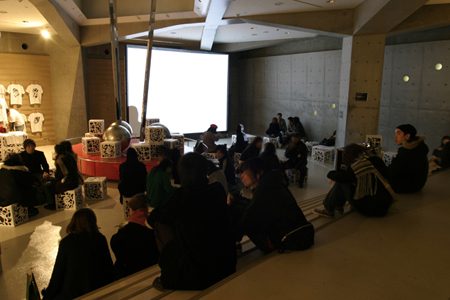 There was a big monitor in the lounge space, screening visual works by Hiroshi Kondo a.k.a. Second To None Works and "SLIDE" by Yuki Kawamura, which was a special selection from "DOTMOV Festival 2005".
Visitors were spending a relaxing time there as their fancy took them; Enjoying visual works sitting on the stairs or corrugated cardboard designed, bending an ear to the live music from the main floor, giving themselves up entirely to chatting, resting from dancing, and even falling into a deep sleep.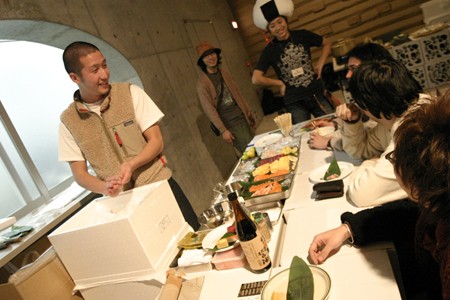 The lounge space also had unique and luxurious food booths. One of them was a Sushi bar by a Hokkaido based "SUSHIPUNK", a man who is sometimes a VJ and a DJ, and other times makes Sushi. As if playing as a DJ, he was entertaining with a superb piece of Sushi.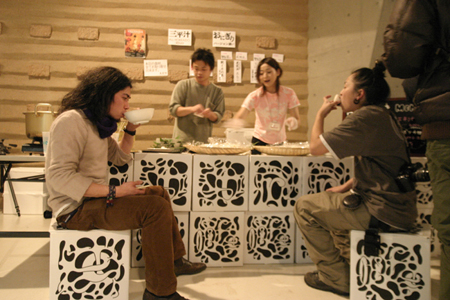 The other food booth was managed by "SHIMA SYOKUZAI", an original island brand which believes in the important connection between nature and the producers, stating that "a producer is an artist", "food is a work of art". Visitors could get a taste of Hokkaido with their special vegetables and seafood soup called "Sanpei Ziru".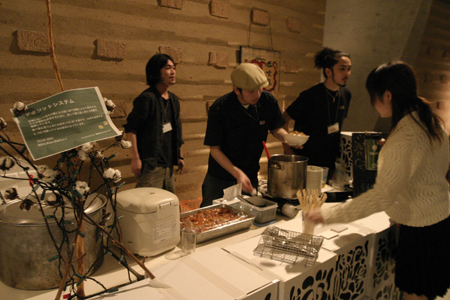 For the protection of the environment, reuse vessels were used for such food providing. The idea was advocated by "EZOROCK". A light, strong and reusable cup was also used for all drinks sold throughout the whole venue. The deposit system that returns 100yen to the user was a nice idea, and the convenience and externals of actual cups were also good. What was most impressive and pleasant was that such an action was being done really naturally without excess emphasized by both providers and users.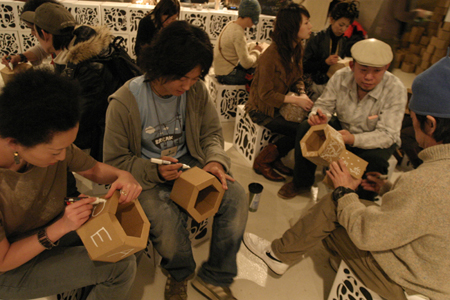 Moreover, "KAMI NEKKON" appeared again in the lounge space, which was displayed at the entrance space. People who gathered at another booth "Thanks Giving MakeUp" started making the "KAMI NEKKON" and drawing pictures or messages on it. The plan was that to make a "KAMI NEKKON"s dream tree together with people coming to this event. Connecting with someone, you can make something big from small individuals. Feeling, expressing and putting into practice, you can start thinking. This was a reduced drawing of the whole event's theme.
Various other spaces also surrounded the main floor besides the lounge space, and each desire was simultaneously piled up. By the side of live music, there was a live painting area by drawing artists such as "LOVE", "DOPPEL" and "nu:g" by Emi Shiratori from Sapporo. They concentrated very well even without taking their eyes off each canvas, and showed their individuality in their different methods. There was a holy atmosphere over a cross object, a collaboration work by "OCHOwith small round red lanterns by "MIRAI KOBO".
People also enjoyed other environment projects, exhibiting and DJs played at spaces until the next morning, Christmas eve day.
Watching, listening, feeling, touching, tasting, enjoying and thinking, each element was huge and at a high level. It also struck a root in Hokkaido. Although there was a big theme and background of feeling the earth, it was very comfortable event not to feel heaviness or limits. The reason might be in the attitude of the promoters of this event that they were trying to be in the same position as visitors and also in the pleasure that the artists feel in expressing themselves.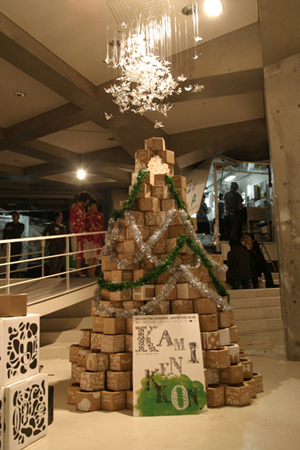 Closing to the end of "TREE OF LIFE", the "KAMI NEKKON" tree at the lounge space was completed. Everyone's desire or messages drawn by white markers became like snow falling on the tree. Silver cranes above the tree seemed to be carrying the desire to the green colored future.
Men are able to have a feeling of appreciation when they feel warm. If so, this creative space itself leading to such excitement must be the first step for gratitude to the earth, to say nothing of the concrete message "TREE OF LIFE" had.
TREE OF LIFE
Date: Dec. 23th, 2005 18:00-6:00
Place: Sapporo Media Park SPICA
Artist: Many domestic and foreign artists
Ticket: Advance: 3000yen Day: 4000yen
Contact: TREE OF LIFE committee (within MIMU Co.)
http://www.treetreetree.com
Text: Yurie Hatano
Photos: Sharima
[Help wanted]
Inviting volunteer staff / pro bono for contribution and translation. Please
e-mail
to us.