What are your recent main activities?
I offered my animation work to the DVD2 project of Mais Im Bundeshuus (Corn in Parliament) which beat all ends up at the Swiss movie awards. You can get the information about this project on the web site of the Swiss national broadcasting "Swiss info". In addition to it, I worked on illustrations of the whole pages of the picture book "Don't Sweat the Small Stuff" by Richard Carlson. The 2nd edition "in Love" is now out in stores, too. I draw comics for French comic magazine, "Ferraille" and they are published serially. I create analog works vigorously as well as animations and interactive works.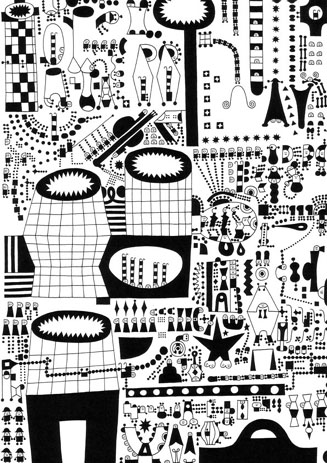 Selected work at SHIFT 2006 calendar
Tell us about your winning design for SHIFT 2006 calendar.
This is a pen-drawing on a sketch book. Its monochrome is influenced by my way to draw comics since I was a little and its fill-up style is influenced by a building plan which I saw when I worked at architectural design studio as a part-time. Like the building plan means something, this drawing also expresses some building or city. These tiny various objects shapes are like a font for me.
Tell us about this month's SHIFT cover.
I like a airplane since I was a child and I still get excited about getting on a airplane however often I may get on it. So my idea of the cover is that I would like people to come and join SHIFT all over the world by traveling by air. Try to click the Space key, and a character will come down like a parachute. Not just look at, enjoy playing with it.
What is your coming schedule? What do you want to challenge?
The animation of Mais Im Bundeshuus is invited to a film festival in Switzerland, so I am going to the conference early in the new year and attend its official screen show. I've just started to prepare for the exhibition at the Yokohama Portside Gallery in the next year and for exhibiting new works. It would be a great challenge to a giant wall painting with full of my charactor "Le Petit Bonhomme" and make it the building named also "Le Petit Bonhomme (small people) " in a big architecht.
At the last, please give a message to SHIFT's readers.
Thank you very much for reading to the end and your interests. Please enjoy my universe of "Le Petit Bonhomme" which is full of the small graphics.
Text: Yurie Hatano
Translation: Fumika Sugimoto


1
2
[Help wanted]
Inviting volunteer staff / pro bono for contribution and translation. Please
e-mail
to us.