Yokohama second International Triennale of Contemporary Art got underway on September 28th. The Triennale features the work of 86 participating international and Japanese artists, and two enormous warehouses located on Yamashita Pier have been transformed to its main exhibiting space to accommodate its scale.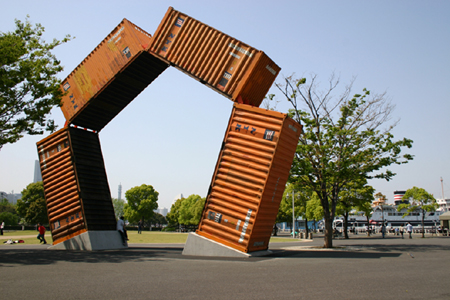 When I first entered the Triennale, it was astonishing to see its entrance gate. Four gigantic containers are built into an arch, and it was paving the way for an even more gigantic exhibition. This entrance is one of Luc Deleu's "Speybank" series. He came up with this idea when he was traveling around the world on a cargo ship for 72 days. He also named this piece after its ship which also had the same name with a ship that Germany seized from England during WW II, and was anchored in Yokohama for 2 months.
There is a circus venue set up after the entrance gate that fits the theme of the Triennale "Art Circus – a jump from routine life". There was an opening act for the Triennale by an art circus group, ETOKAN Buren Cirque" in this circus venue. The theme of the Triennale was built its outreaching philosophy to offer an alternative to the conventional style of art exhibition in which the observer simply looks at the works, instead offering a dialogue-based exhibition in which the barrier between the observer and the exhibitor is transcended. It eventually generates the jump of expressiveness of art and the jump from everyday life." Therefore, there are many interactive and interdependent works in the Triennale that encourage the involvement of audience.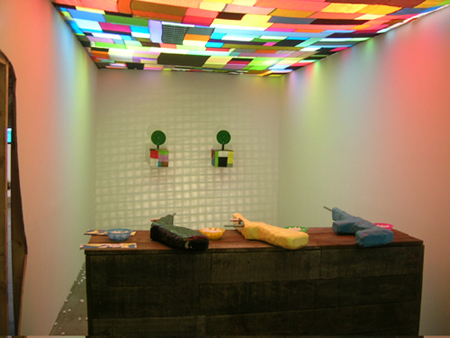 "SOI" means "alley" in Thai, and this installation by "SOI Project" conveyed inner Bangkok's chaotic but pop energy that Bangkok possesses. This art project was designed specifically for the Triennale. In their installations like an installation that combines a shooting game with images or a chill-out bar where people can relax , we can easily forget the fact that we are in Japan. As a part of the project, there will be a live performance event "SOI Music Festival" with Japanese musicians during the Triennial.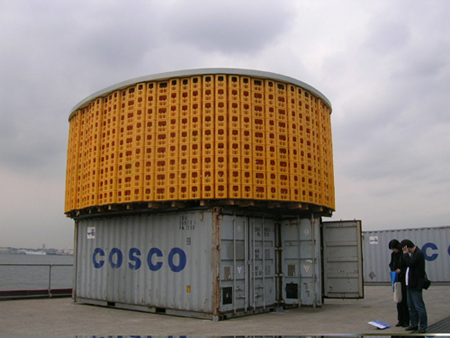 Wolfgang Winter and Berthold Hurbelt, an artistic duo constructed "Light house" with plastic crates used for transporting drinks. They created a very unique space where people can enter and stimulate their imagination. The house is lit at night. In addition, the duo also installed swings in the Triennale. They created it using swinger clubs and luminous plastics so the swings float visionary on the Triennale. People on the swings had beautiful moment.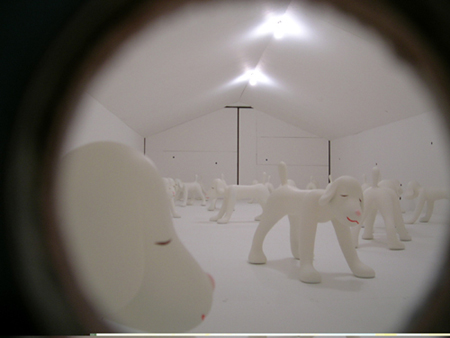 In Yoshitomo Nara + graf's work, artists built an imaginary town "A to Z" where the drawings of Nara were exhibited. There is an space installation where they recreated a studio and it reminds us many stories connected to each drawing. I particularly liked an installation in which there is an container with many peep hole on it, and numerous dogs surrounding that container.
The venue for the Triennale is just huge. The size is about 2 times bigger than the Tokyo Dome. We need stamina to move around the Triennale and see all the artowrks exhibited. Of course, there are resting-places to cure our tired body and mind, and I was happy to find out that these resting-stations are also created by the artists. There was an resting cafe "Bar Rectum" created by Atelier Van Lieshout. Its exhibited work is titled "Arsch Bar" , but it was unusual to rest in an artwork that was copied after internal organs.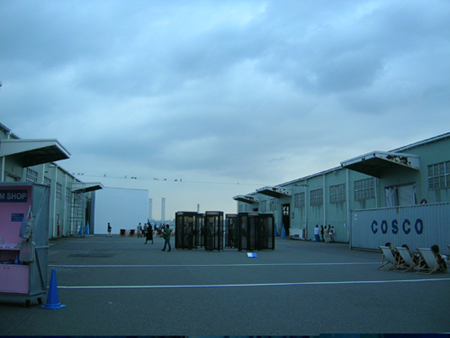 There is an courtyard between the two warehouses, and there are artworks and passages built with containers. In this courtyard, I found numerous phone booths "Million Mama" by Shigeaki Iwai that were radiating a strange presence. When you enter one of phone booths, you receive a call from a mother who is sending her message to her child. This gave me a very heart-warming experience, because there were laugh and affection in that message that we do forget in our daily life even it was ordinary in the past.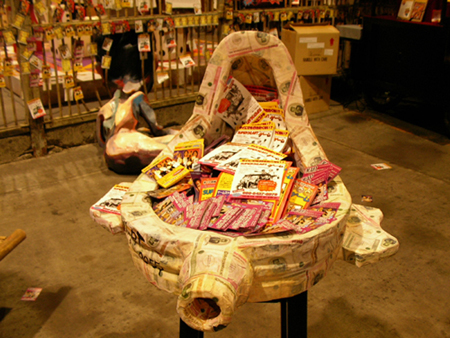 I have picked up some artists who are exhibiting in the main venue in this report. However, there are many other exhibitions going on and artists participating throughout Yokohama such as an exhibition "Super(M)" curated by Curator Man. The Triennale is from September 28th through December 18th. Our interests are inexhaustible during this period. Some artworks continue to change and different things will continue to happen in the Triennale. I strongly recommend you to visit the Triennale and experience it when you have a chance.
There are many Japanese artists throughout the Triennale. However, it is important to note that there are also many Asian artists participating the Triennale. I think this shows Asia's potentiality and vitality for art, and it certainly influenced 2005 Triennale.In addition, Yokohama city and its people have show us their passion for art by building close relationship with artists including artists' home-stay, collaborative work, open studio, and other projects that was featured in one of our articles in the past. They do not want the Triennale and other art projects be transient or temporary festivals. They want to create art and pursue its potentiality that is humane, communal, and environmental to generate an international culture from Yokohama. However, we still do not know what we will not accomplish in 2005 Triennale. It will only be clear when it is finished. That is to say that the 2005 Triennale is still on its own way and unfinished.
Yokohama 2005 International Triennale of Contemporary Art
Date : 28th September – 18th December, 2005
Yamashita Pier No.3 Warehouse, No.4 Warehouse, and etc.
Place : Organized by The Japan Foundation, City of Yokohama, Japan Broadcasting Corporation (NHK), The Asahi Shimbun
The Organizing Committee for Yokohama Triennale
Contact: Yokohama Triennale Office Tel: +81-3-5777-8600
http://www.yokohama2005.jp
Text and Photos: Yasuharu Motomiya
Transrlation: Masanori Sugiura
[Help wanted]
Inviting volunteer staff / pro bono for contribution and translation. Please
e-mail
to us.