The 9-day art festival Mo' Element, which has taken place at Moerenuma Park in Sapporo, was outlet for various expressions of art. The basic design of Moerenuma park has been set out by a worldwide sculptor Isamu Noguchi. Officially, this event was the first time. There were articles on display and live performances by the participants not only from Sapporo but also from Tokyo, Canada, Korea and so on because whether they were pro or not, and their living place were not considered.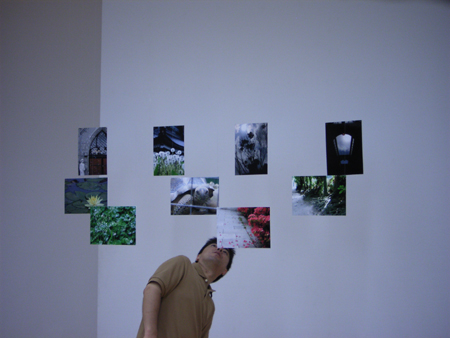 "It would be wonderful that the participants freely exhibit their works in harmony with the building here in artistic space of Moerenuma park… " This event has been started with the thought like that. All the members of the planning committee are active-duty creators in Sapporo, who are 20's or 30's, and are designer, musician or video maker. They put up the pre event and felt they scored a hit, so they projected Mo' Element 2005 and it was held under the auspices of Sapporo city and its organs concerned along with this year's opening of Moerenuma park.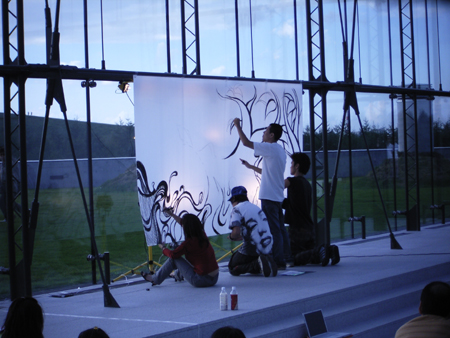 The space for Mo' Element 2005 was Hidamari. It is the building, which symbolizes the and is commonly called "glass pyramid". The period of time was 9 days, which surrounded Saturday and Sunday twice. In the exhibition hall, there were flat works, objets, and films and so on. To be more precise, illustration, mobile sculpture, photo, works in the motif of hanging scroll, free paper and so on. Besides, the three-day schedule was planned, which was live performance of electronic music, live painting and so on from afternoon to night. Everybody was able to enjoy this event because the admission was free. This space was remote from a bustle of the city and vast, so there was no noise for exhibiting the works. It was pretty attractive to appreciate the works with composure.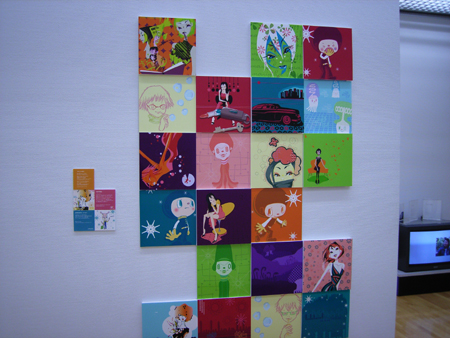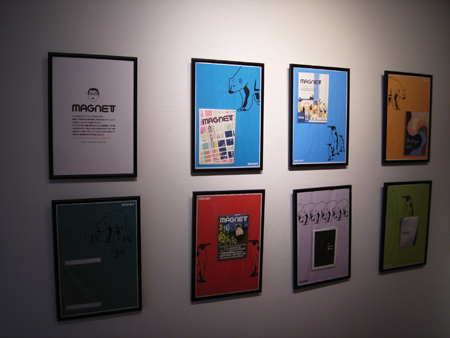 Moerenuma park in the daytime on the weekends is crowded with families, persons looking like a sightseer and so on. They also seemed to enjoy this event. The projectors of this Mo' Element aim its being an art event not only for creators but also for many people to enjoy visiting.
Mo' Element is also scheduled for next year. This year's has ended without any mishaps, and the output of it with the picture record and DVD is being scheduled. Then, after the output, the plan for 2006 will be started. If you are creator, how about your exhibiting next year? Moreover, if you are interested in the plan for this event, I recommend contacts through the Web site. I'm sure you like the next Mo' Element.
Participatory artist: Yuriwaka Momota, Kim Dong (South Korea), Ayuko Tamura, Jobin, Joe, Mayumi Nakmae, Yayoi Kamiguchi, OTO, Yuki Sato, Toshimi Murayma, Toytoy's, Ryuku, Kentaro Suzuki (PLATINAMIX), Hayamizu Mie, Kyottan Miharu Katagiri, Miki Ishida, Shinichi Ishikawa, Haruko, Konami Haneishi, Tamas Kanako Uriya, Nozomu Sasaki, Tomotaka Yajima, Dr. Tsukuuru, Setsuko Tsujiya, Manzara (Daisuke Sakamoto, Daisuke Funato), Marimba, Yuko#Jory, Yuko Hisatomi, The Dramatic Creation & Entertainment Plan, Hideki Fukuchi, Hideki Takemoto, Yoshisato Komaki, Jeremie Bouchard (Canada), Katsuya Ishida (CAD.), Itaru Kawai, Wataru Kamei (and/or), Junichi Oguro (Aerostitch), OIKK, Junkan, 3+, Paravol, 310326 + RICCIO, REgrap Hy (Lee Yumi)
Mo' Element 2005
Date: September 3rd – 11th, 2005
Place: Moerenuma Park
Address: 599-1 Okadama, Higashi-Ku, Sapporo
Tel: +81 (0)11 790 1231
http://www.moelement.com
Text: Shinichi Ishikawa
Translation: Yuhei Kikuchi
Photos: Shinichi Ishikawa

[Help wanted]
Inviting volunteer staff / pro bono for contribution and translation. Please
e-mail
to us.