The art book "THE ALBUM" has been released by BEAMS T. In it a relationship between vision and music is consciously enclosed. Neither is a main as "THE ALBUM" approaches the realm of art on both sides of vision and music. Its concept is that some readers sense music based on a vision and that the reverse is also true. Before the release, a party was held with the participating artists and key players from art scene at "UNIT" in Daikanyama.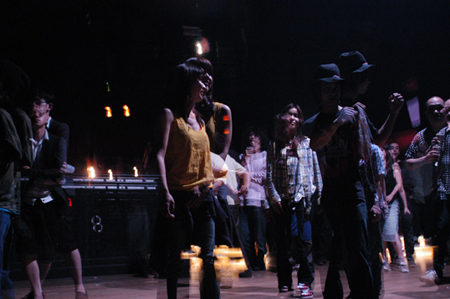 This event was held using 2 floors of UNIT plus a space called "Saloon". From rock, techno, house, electronic, to noise music, range of music was so broad; the artists Mukai Shutoku, DMBQ, ALTZ, Nipponia Electronica and so on participated. The l lineup of that day could tell the content of the art book. More over, unique artists like Naohiro Ugawa, EXONEMO, Jiro Ohashi and so on were picked up for vision and lighting. The party had optical stimulation. The lineup was also fitting with the content.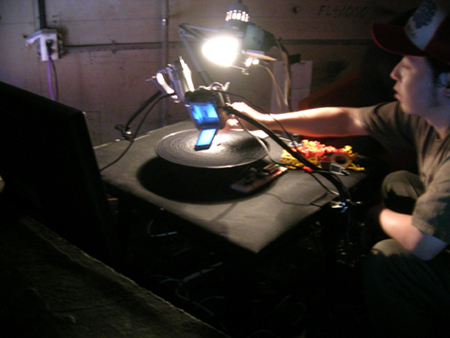 The VJ performance with an installation by the art unit "EXONEMO" of Kensuke Chihara and Yae Akaiwa was so surprising and new. They used various materials on a spinning stage that integrated with the scenery. The movies were shot from 3 angles with 3 DV cameras, each movie was screened with 3 projectors. Also, they ran movies on 3 monitors, then shot them with a DV camera and screened them with a projector. This performance, which connected analog and digital, greatly surpassed what had previously existed in the field and was so exciting. The appearance of one object changed every second by the various angles. It gave a strange new feeling for the audience. Anyone could hit on the method like this but it isn't often performed. "EXONEMO" presented it as art. Very fantastic.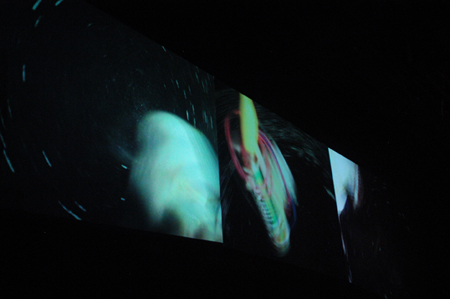 Next is the live by Mukaishutoku, who was the former member of the Numbergirl and has offered tunes and illustrations on "THE ALBUM". Its structure was simple: him, his guitar and effects. However, because of its simplicity, the lyrics and music resonanted with a strong power, that created a unique atmosphere. The content of the lyrics moved audiences deeply, aroused their sympathy, reached to their realm of unconsciousness and made for a great artistic experience. Also, Naohiro Ugawa was Mezura taking charge of lighting there for a change. He choreographed the lights with his unique-timing flash and non flash, which made the space psychedelic. It warmed up the air there.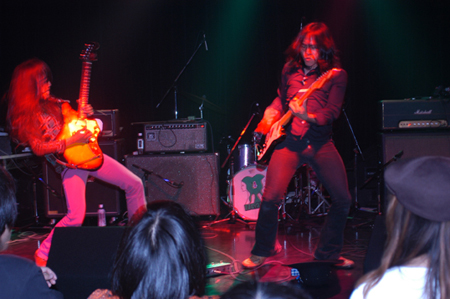 Besides them, artists from various fields made performances. DMBQ's hot and driving live, Audio Visual by Kentaro Hamasato and Jiro Ohashi from Nipponia Electronica, which has a close relationship with SHIFT, the Waf's explosive sound roaring music, Altz's live for the first time in Tokyo. This event was so full of talent for a one night gig.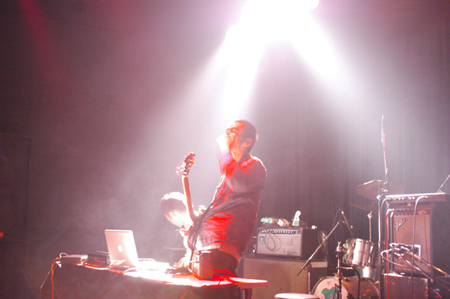 This art book "THE ALBUM" has "character" as an antithesis to the existing music media. It represents the double sides of vision for sound and sound for vision, which are difficult to tell with words. This form, book, which has a different nature of movement of turning over pages from DVD, permits interactive communications between the readers' and music-vision. Therefore there isn't any restraint of the nature of the story and ideas that are behind the music, which the existing music media has. "THE ALBUM" presents the viewer with another pleasure of touching music and vision freely. I felt more eagerness with this than a mere art book with BGM. Finally, in spite of a rainy weekday, the artists who sympathize with this attempt and many people made this event hot.
THE ALBUM RELEASE PARTY
Date: June 2nd, 2005
Place: Daikanyama UNIT
Admission: 2,500 yen
Performance: Mukai Shutoku, ALTZ, DMBQ, Compumer Hiroshi Iguchi, Naohiro Ugawa, EXONEMO, Jiro Ohashi etc
Presented by: BEAMS T
http://www.albm.org
Text: Yasuharu Motomiya
Translation: Yuhei Kikuchi
Photos: Photoperformer Pas
*THE ALBUM is available at SHIFT FACTORY.
[Help wanted]
Inviting volunteer staff / pro bono for contribution and translation. Please
e-mail
to us.