It's a clear day, promising fine, warm weather in Barcelona, as our plane taxis out across the tarmac and we're reminded of the 'brace, brace' position. There's a girl sitting next to me getting stuck into a jumbo crossword puzzle book. It reminds me of long holidays by the sea, where you'd do anything to pass the time, but where we're going, time will pass like a raging bull, with three days and three nights of tightly packed entertainment at the Sonar Festival 2005. DJs, VJs, Mp3Js, live acts and rock bands, record label showcases, new media art, cinema, and more San Miguel beer than you can shake an empty plastic cup at.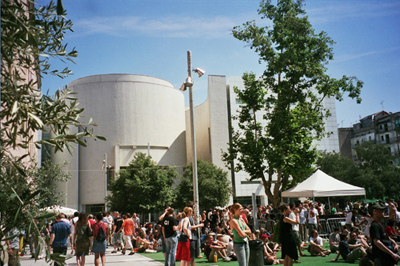 In its twelfth year, Sonar has already lived through enough shifts and trends in music and art to make it one of the most seminal, persistent mainstays in the midst of the thousand other festivals now in existence. How does it do it? Through a combination of smart marketing, strategic event planning, and investing in ongoing relationships with the 'key' players in the music and art scene. With Sonar, it's all about credibility, which is why so many artists return to participate, and so many punters from around the world come to savour the selection.
Sonar is a festival for people that like to stay clean and feel smart. No mud here – a suitably synthetic environment with astro turf and the cool cleanliness of the CCCB – Barcelona's super white contemporary art space, together with the mammoth industrial warehouses of the night-time venue, make it a dedicated place to view the latest audiovisual offerings from around the globe.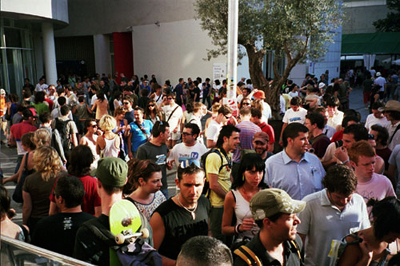 The busy courtyard thoroughfare
Someone that definitely fits into the 'smart' category is all-time Sonar favourite Mathew Herbert. Somehow my appreciation of his work has never matched the chorus of praise from the press over the years, but his performance seemed a good choice to kick off the festival with.
A crowd of Herbert-lovers packed into the Escenario Hall to witness the first part of the 'Music and Gastronomy' program. The premise – presenting food and music together, by having a chef 'mix it up' with on-stage musicians. Not an uncommon practice for the Spaniards, to emphasise their obsessive relationship with food, but I just wish they could have had a fight to the death with two big legs of cured ham, like in Almodovar's 90's cinema hit 'Jamon, Jamon', instead of a stilted, TV-style cooking show.
Mathew Herbert twiddled a few knobs, creating disjointed percussive beats that seemed to go nowhere, while acting as if none of the audience existed. The lacklustre on-stage performance and repetitive bleeps and squelches were enough to put me off my Herbert appetite for good. The best thing about this performance were the video projections resembling human brain cat- scans, which were actually slices of raw meat – food for thought.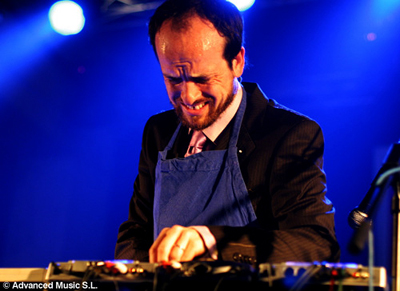 Mathew Herbert tucking into a chicken leg, and wincing to the raw onions being sliced nearby
Hungry and unimpressed, I decided to pop outside for a sandwich break and to catch the last part of Simon Russell plays Rough Trade Shops in the beautiful church setting of the Sonar Lab, this year dedicated to BBC Radio Jockey John Peel. I have to admit I do have a soft spot for those Rough Trade lads, those snooty uber-nerds with their somehow lovable mix of 'mum's still doing my washing' look and an 'i-know-every-catalogue-number'confidence that makes you shake in your unworthy boots.
Read more ...
[Help wanted]
Inviting volunteer staff / pro bono for contribution and translation. Please
e-mail
to us.