I remember first meeting Jeremy Fish in the Think Skateboards Art Department a handful of years ago. He was designing graphics for them and I was a struggling freelance designer, working for a now defunct skateboard wheel company that was using Think to help with manufacturing. Unfamiliar with the process of printing on wheels, I had a lot of questions for Jeremy. Despite the obvious load of unfinished artwork that covered his desk, computer desktop and walls of the office, he was more than willing to answer them.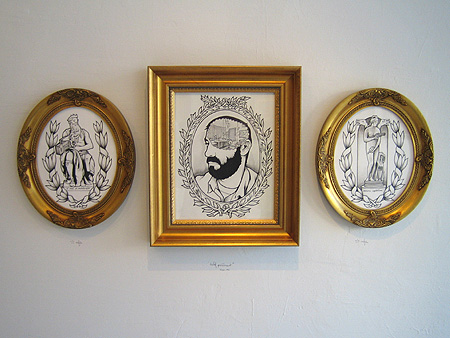 Since then, Jeremy's unique style and humble demeanor has helped him to move his work out of the confines of that office and onto the walls of galleries, the surface of his own Nike signature shoe (to be released in 2006) and most recently, onto the pages of his own first book. On Friday, May 20, Low Gallery in the city's blooming Mission District, hosted a one night art show and official release party for Jeremy Fish's new book entitled, "I'm With Stupid."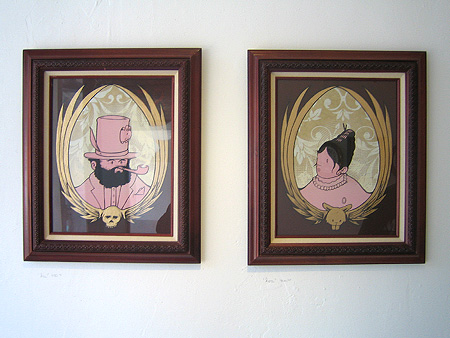 Instead of opening the gallery doors at party-o'clock, Low decided to start things early, just after 3. It was a beautiful Friday afternoon; The birds were singing, the sun was shining and the grill outside on the sidewalk was, well, grilling. Jeremy and John Trippe (Owner and Curator) had pitched money on ribs, burgers and beers (Tecate, of course) and a feast was to be had all (tip jar located at reception desk). Inside, the gallery had been whitewashed from floor to ceiling and across it's walls hung Jeremy Fish's work. On display were recent paintings, skateboards, screen printed posters ($50 framed- super deal!), toys and of course, his new book.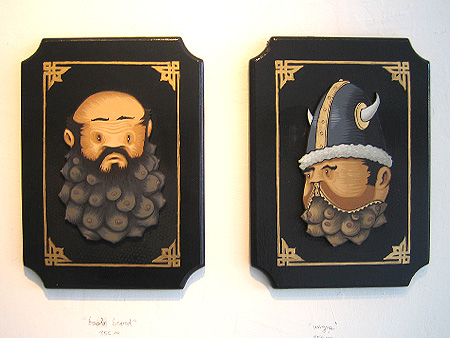 Jeremy's work has been described as cute, creepy, dark, funny, truthful, immature and heartfelt. I'd say they're all right. His work is filled with part-animal-part-human-part-monster creatures that cross anatomical borders in every way and help to describe the surreal world that they and we live in. In this world fish grow from beer cans, trees emerge from collared shirts and Silly Pink Bunnies rule. And who's got a problem with riding a cat as a skateboard, or using turtles as sandals? He somehow has the ability to meld these completely unrelated objects into a narrative that is undeniably, "Fish." And even when it's kind of creepy, his work makes you smile.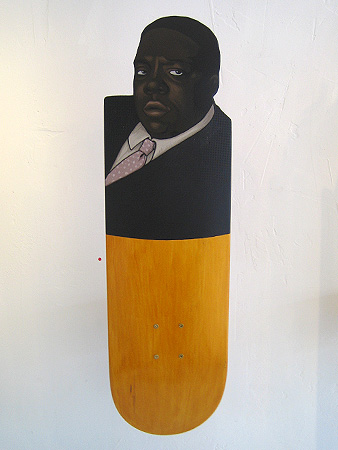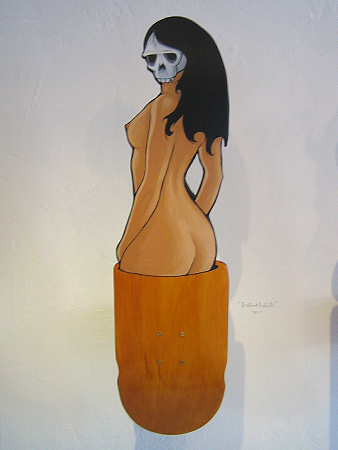 While the content of Jeremy's work is inspirational, his craft is nothing but impeccable. He puts so much thought not only into what he creates but the pure aesthetic of the physical object. Every line is crisp, every brush stroke intentional and every vintage wall hanging thoughtfully chosen. His work is tight! Not in a conservative, up- tight, crisp-collared sort of way, but in a just got a new pair of kicks and I'm rocking them with colored laces "tight."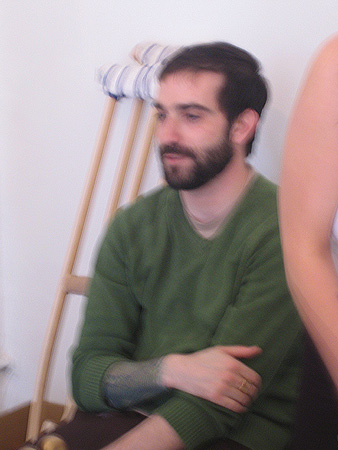 While at the gallery that day, Jeremy spent much of the time sitting humbly in a chair at the corner with a pair of crutches at his side. Unfortunately, on a recent trip to New York with his crew of friends known as Silly Pink Bunnies, he broke his ankle while skating the Autumn Bowl and didn't have health insurance. So while this was a book release party and art show, it was also a benefit to help raise funds for Jeremy's hospital bills.
If you'd like to help Jeremy out, buy one of the books. They're a measly $20 and for that you get a nicely sized, full-color + metallic, perfect-bound piece of literature filled with amazing artwork by a talented and genuinely nice guy. You can see spreads and buy the book at Fecal Face Dot Com.
Also, If you're in the neighborhood, drop by the Low Gallery. John Trippe will be happy to show you around.
I'm With Stupid: The Artwork of Jeremy Fish
One night book release party and art show
Date: May 20th, 2005
Place: Low Gallery
Address: 487 14th Street, San Francisco, CA 94103
https://sillypinkbunnies.com
Text: Mark Buswell
Photos: Mark Buswell

[Help wanted]
Inviting volunteer staff / pro bono for contribution and translation. Please
e-mail
to us.