For months now, the Chinese design community has been thrumming with excitement about "Get It Louder." Described by its curators as a "a visual noise made by young designers and artists around the globe", this event is the first of its kind ever held in China-a massive exhibition and set of symposia which are traveling through three of China's most happening urban centers, Shenzhen, Shanghai and Beijing. And on April 30th, the silence was broken, as "Get It Louder" let out its first scream of brash young creativity in a Shenzhen warehouse.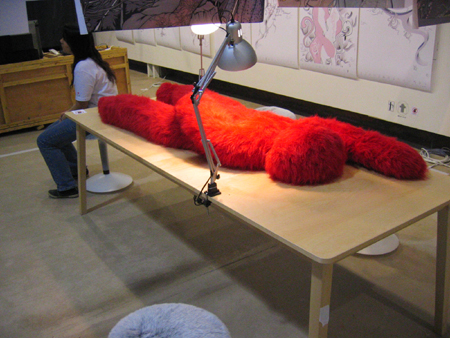 The opening day attracted moderate crowds (200 according to one estimate) of hip young Chinese and visiting foreigners to the large, hangar-like main exhibition hall of the Overseas Chinese Town Contemporary Art Terminal (or something like that-the name is always slightly different depending on who you hear it from).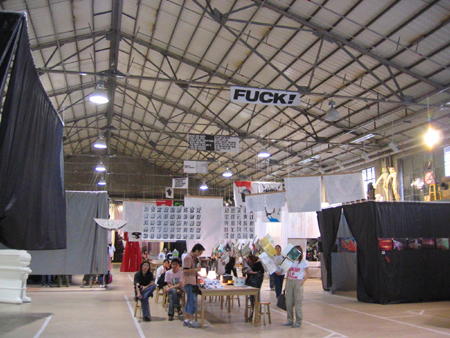 Upon entering, visitors could pick up a nice cold whiskey (courtesy of sponsor Chivas Regal and served in a futuristic asymmetrical glass, designed by one of the participating creatives), and then peruse the works of over one hundred designers and artists (mostly Chinese or of Chinese family background) that filled the cavernous space.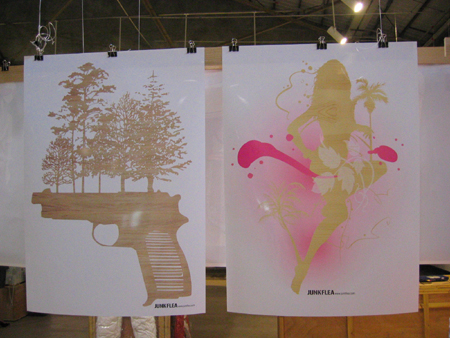 After a satisfactory buzz (either from the visual noise or the choice liquor), the audience could move on to the special guest panels, featuring designers Saiman Chow and Kam Tang, or by sticking around even later into the night, attend a sound art performance by Lin Zhiying, Justin Zhong Minjie and Lin Chin Sung. But so much visual stimulation in the main exhibition room seemed to quickly exhaust many viewers before they could make it to the other events.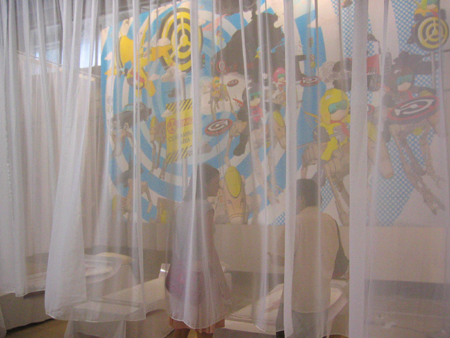 The Get It Louder press release on had promised an eclectic array of media and art forms: poster, illustration, photography, books, toys, t-shirts, fashion, animation, video, short films, screen-based interaction, digital installation, architecture, and sound.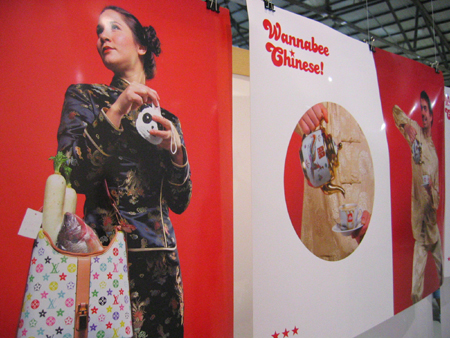 While all these categories were technically present, the majority of the works were graphic design-focused, from the tongue-in-cheek "Wannabe Chinese" posters (emblazoned with photos of young white men and women decked out in qipao and worker's uniforms) to the graffiti-inflected skateboard decks (some reading "People's Republic of Skateboarding").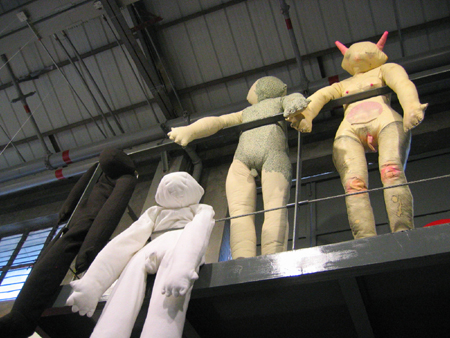 As in practically any design show of the past many years, the ubiquitously slick Illustrator renderings of animals, household objects, amorphous swirls, retro patterns and bubble-gum color schemes could be found here as well. Three dimensional works were shown as well, including the ominous, life-sized stuffed humans of Pole Art Design and the agit-pop t-shirts of their sister company Shirt Flag.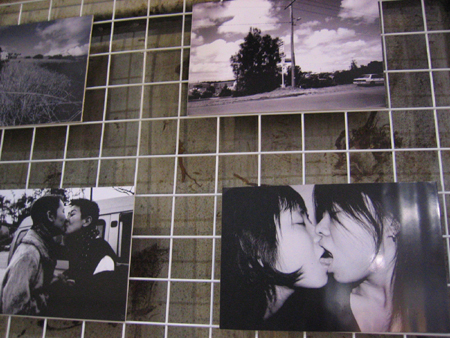 Most of the design and products represented could also be found for sale-except for the more purely "art" pieces in the exhibition, such as Guangzhou artist Cao Fei's latest video art piece "Cosplayers" and the luminous and subtly erotic photographs of Zhu Ye.
All in all, "Get it Louder" has helped to turn up the volume on the various sounds of contemporary Chinese design- simultaneously commercial and obscure, disappointingly derivative and fiercely original. And it's getting louder all the time.
Get It Louder Exhibition
Shenzhen 2005. 4.30 – 5.08 OCT Contemporary Art Terminal
Shanghai 2005. 5.21 – 5.29 Salon Vogue, CITIC Square
Beijing 2005. 6.11 – 6.19 Xinfucun Art Center
info@getitlouder.com
http://www.getitlouder.com
Text and Photos: Samantha Culp
[Help wanted]
Inviting volunteer staff / pro bono for contribution and translation. Please
e-mail
to us.