Soso Cafe is a flexible, sophisticated space into which various situations can easily fit. Starting march 5th at the opening party, the white captivating room was dramatically colored by Tomoaki Ryuh.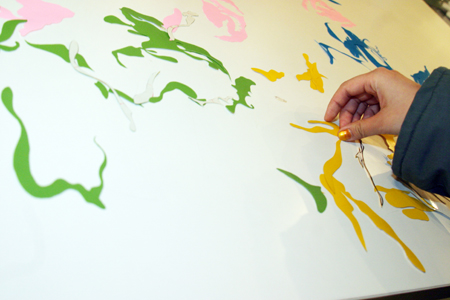 Tomoaki Ryuh is a Japanese artist living in London, who creates original works in various field; graffiti, website, fashion, graphic design, and so on. Also at SHIFT, his design was selected in "Shift 2005 Calendar Competition", and in cover design for Shift January 2005 Issue, so you might be familiar with his name or works.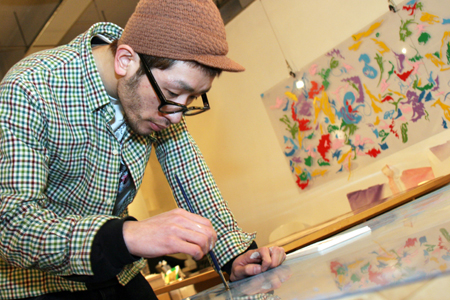 His performance at the opening party existed rather than started. At the starting time, he was already working in silence on three huge clear panels, and going in and out of the place in order to color them with spray paint.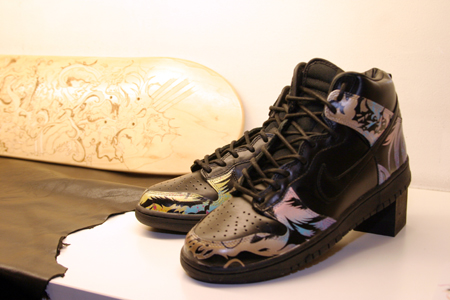 Around the entrance were some original T-shirts, a collaboration between Ryuh and Shift, as well as some of his other similar works like designed sneakers. The color and arrangement of the space made a bright impression like a popular fashion shop. Inside, his silk screens, stencils, and posters were all around the walls and tables. A DJ, placed in the back, made the whole place unite with pleasant beats.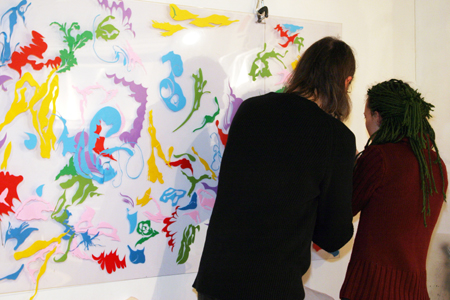 Exhibit goers were asked to choose five different colored ornaments, which were cut off in unique shapes by Ryuh. They were asked to put these on one of his clear panels hanging in the center. This performance was set up in such an enjoyable way that one clear panel made by the participants and three panels created by Ryuh were brought together at the end. The audience must increase their feelings or expectations toward the panels which incorporated their own work. Staring at the clear panel with colorful ornaments, they were pulled into Ryuh's creation world.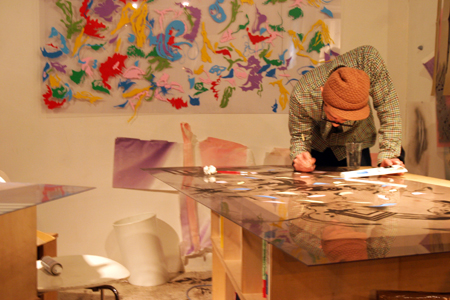 Most of the works by Tomoaki Ryuh have black accented motives and other clear and bright colors. Although these colors are not mixed with, they are complexly intertwined together in a face. Also, the lines are sometimes strongly thick and sometimes incredibly thin. It seems that silence and movement, digital and analog exist together. The coexistence makes a feeling of contradiction, discipline in chaos.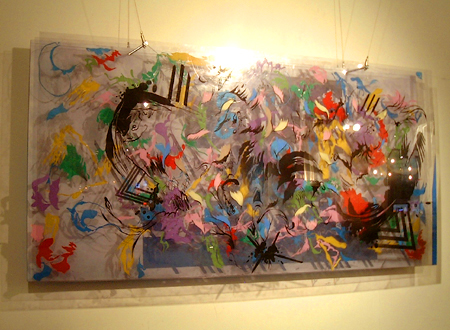 When I could see his works, the design was reflected in my eyes, linking with Shift, a gathering of independent individuals' talent and with Sapporo, a city coexisting with nature. In this coincidence or inevitability, it was a discovery of the title of this exhibition, "SHIFT MEETS TOMOAKI RYUH".
The opening performance passed the scheduled time. Because of the time, there were some participants who had to leave before the completion, but everyone seemed to be satisfied with his performance and his work. Four panels in piles were gathering all eyes in the whole place, and praising words came from the audience.
Tomoaki Ryuh just cannot be ignored as a notable artist in the future. Finishing his first exhibition in Japan, he will give people various messages throughout the world, shifting the light he emits.
Tomoaki Ryuh Exhibition
Supported by PRINT'EM
Date: March 5th – 31st, 2005
Place: Soso Cafe
Address: Sansei Bld., 1F, Minami 1 Nishi 13, Chuo-ku, Sapporo
Tel: +81-11-280-2240
http://www.shift.jp.org/soso/
Text: Yurie Hatano
Photos: Mayuga from FLY
[Help wanted]
Inviting volunteer staff / pro bono for contribution and translation. Please
e-mail
to us.