Audiovisiva is an area of the Milano Film Festival, dedicated to live electronica and visual artists that work with real time generation and mixing moving images. This edition's line up was among the best so far, boasting names such as Plaid, Mouse On Mars, Scanner, Modeselektor and many more. Every gig was a collaboration between the musicians and a visual artist that elaborated on the music played live.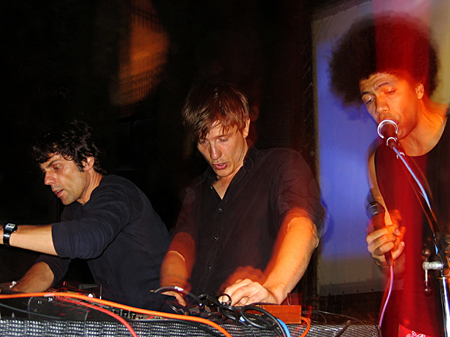 Mouse On Mars landed in Castello Sforzesco's Fossato delle Segrete (the castle's moat), situated in the center of town: with their hiccuped and epileptic blend of techno, house, d&b, jazz, dub and hip-hop (just to mention a few), the German duo opened the festival with a kick, in a relentless hour long assault of clicks and techno thumps, presenting 'Radical Connector', their latest Song. And they made the crowd move along their rails, although leaving me with a somewhat torn impression.
If you were expecting a typically experimental and instrumental Mouse On Mars (MOM) gig you might have left a bit surprised. From what I heard, their latest album is pretty much a selection of primal pulses, often moving towards a more orthodox 4/4 house thump, supposedly without allowing you to expect or guess their next step… but were they really that unpredictable? Even maintaining their personal touch and losing some of their so called 'organic' approach, MOM are starting to sound like many other electronica outfits. The set played here in Milan reminded me of many different gigs I've seen in the past, honest but leaving one feeling a bit indifferent.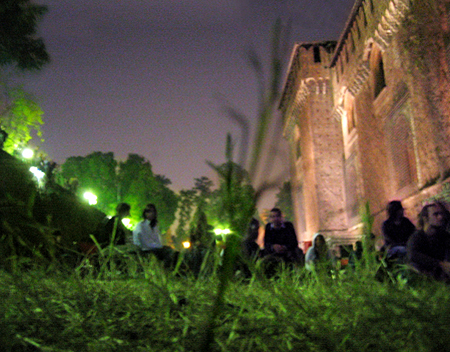 The group's complex and crowded beats often slid into a defective kick driven groove, crunching a dense flow of information and musical cliches into their set. One could observe how moving within the many layers of electronic noise and their typically dense structures MOM never really lost their hold of the dance floor. Effectively unpredictable only in some of their steps, they graced the crowd with a thick wall of beats, all the way through their set, often flowing from a pop oriented build into a multi-layered and furiously chaotic climax. The overlaping clipped rythms managed to move the crowd, with a pretty huge and catchy 'Wipe That Sound', gaining steam all the way to a meltdown that the duo delivered with the help of Dodo Nkishi's vocals. Stripped of any human trace, sampled and blended into the electronic field of sound, in their best moments they finished up sounding like an essential part of deconstructed instrumentation while in their worst, the usual and average ragga sounding babble that decorates many pop tunes that fill the mainstream. The upcoming Mark E. Smith 12″ should at least put that issue straight.
On the low side "Wipe That Sound's" bass is also reminiscent of too many r'n'b or old school hip-hop lines that we've all heard many times in the last twenty years or so. Probably too many times. Mantronix and some of their latest releases always work with the crowd but isn't that innovative or suprising.
The irregular beats that skip into chaotic fields of fragments are impressive, especially played live, but the impression is that most tracks are half a step slow, making you nod your head but hardly taking serious control of your bottom.
Rosa Barba's visuals were as melancholic as ever, with some almost disturbing and powerful images of mannequins crashing to the ground, tied to bumper cars seats (banging their head into the camera at every crash), that seemed to creep out the silent era, made of the same darkness.
Read more ...

1
2
[Help wanted]
Inviting volunteer staff / pro bono for contribution and translation. Please
e-mail
to us.