Tangled, tied and frayed… Taku Anekawa finds such fascination of thread and recently he's making artworks with embroider energetically. This issue's cover design has done by him, who has reached his 10th year anniversary as a creator. However, you might have heard his name for the first time. He has mainly worked as an art director or planner for clients but recently started focusing on creating his own work. We can't help taking notice of him as an artist at the moment.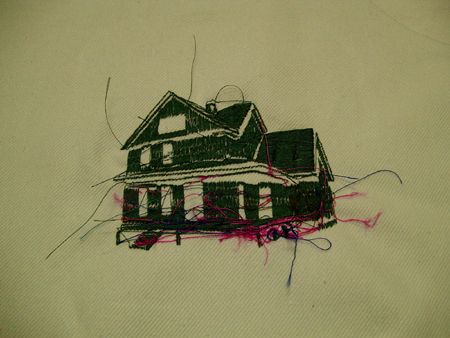 Could you introduce yourself first?
Taku Anekawa. I'm an illustrator, art director and planner.
What's your present activity?
From this year, I'm actively doing my personal project but also do a lot of client works. Both opening up a new field and receiving an order is attractive for me.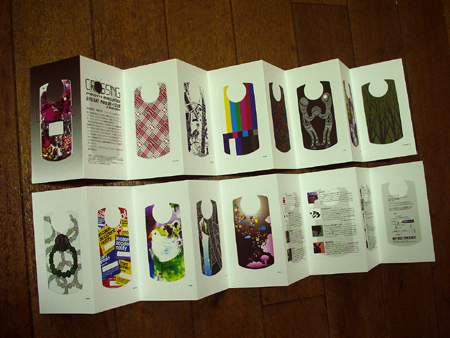 Could you introduce your recent projects briefly?
P900i meets artist "crossing"
This project, proposed by Panasonic Mobile, explores a new form of collaboration between artist and company. As a launch project, I asked various artists to present a custom jacket design for "P900i" series. Participating artists are ten_do_ten, Yutanpo Shirane, Sei Hishikawa, ARKO, HIRO, Imaitoonz, moss design unit, Lisa Fukui, Masatoshi Ebisawa, Atsushi Toyama, nem, Taku Anekawa. These custom-designed jackets were available for purchase in the exhibition.
NHK TV school for parents and children
It's a TV programme with a concept of the new type of TV programme for parents and children. It's broadcasted on every Saturday and eleven in the morning. I create the opening animation, title/character design, and illustration for studio design.
In addition, I did art direction for nano-visual which was screened at NEDO booth of Nogoya international exposition, short movie for Panasonic CQ, design for tabacco vending machine for Tokyo Designers Block and making a new character for an agency, etc..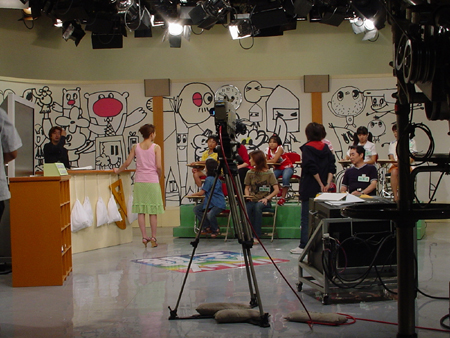 Could you tell me the difference between character design and holding an exhibition of your art work?
I think I can show purer aspect in the exhibition. It's because of, of course, the absence of a client. I also feel the art work for exhibition is like an answer coming from my personal life and idea. The reason why I started working actively for my exhibition is that I felt like creating purer things and also I finally established a right environment for creation after four years presence in Tokyo. When you compare my character design for client and for my exhibition, its looks and feeling seems completely different but if you see them in 10 or 20 years later, you could probably recognise these characters were designed by the same person because the root is same. I also don't try to put much difference on both projects. That means there isn't much difference between them actually. I also can say that before 2003, I brought my art works to a company to get commission but from this year, I changed the way to show my art works into an exhibition.
Could you tell me about a sharing space called LABO?
I set up the working space with friends from the university in Nakameguro. We rented the space which used to be a furniture atelier. Asking a friend of architect to do interior finishing, we planned to create a comfortable space for us.There are 10 people sharing the space at the present, with several race such as a designer, programmer and artist. For me, it's very important space and I can say LABO made me positive for my personal exhibition. Basically I like to be looked cool, so I can work hard when someone looks at me.
I heard you bought a sawing machine for embroidery last year. How do you use it in your work?
I showed the art work made with the sawing machine for the first time at an exhibition held at CPF in Aoyama. I think it's very attractive that the work is created through my hand, digital technology and a machine.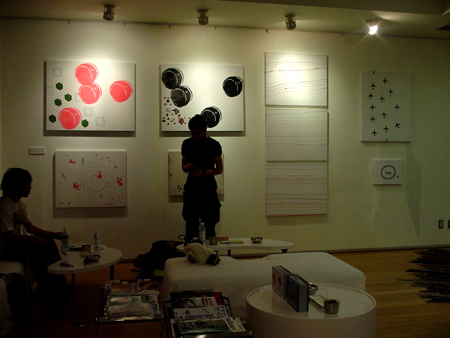 What's your idea for the next exhibition which will be held in October in Sapporo?
I'm going to exhibit the drastic version upped series of works which was exhibited at a group exhibition held in August, Tokyo. Tangled, tied and fraied…there are various vocabularies to express the state of thread and express the relationship. I think it's because thread itself involve such image. In the next exhibition, one of the point to which I try to direct my attention is how much I can draw people's attention on thread. I'm also going to challenge to find out the new relationship with thread and silk screen or spray, mainly using the sawing machine.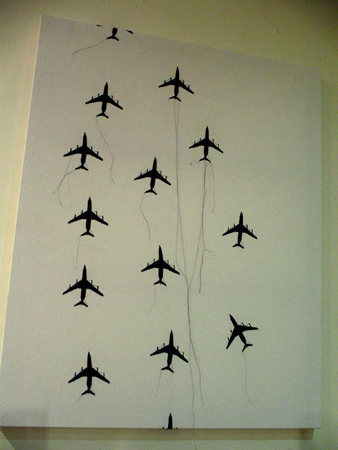 Could you tell me the concept of the cover design this month?
I focused on a stitch made by a sawing machine. Each lines look generated mechanically at a first glance but actually, each has own character. Making a handwritten copy of a sutra is said to make people concentrated and raise the power of prayer or desire. Lines generated by a sawing machine is similar to it. People can't write exactly the same letter again. Same with that, the sawing machine can't keep making exactly the same line with a slight sway. However, the sawing machine keeps generating beautiful lines plainly and silently.
What's your vision for the future?
Having an exhibition outside of Japan, for example. I always keep doing new things. Recently I try to make anything which is around me to which is supposed to be. It's difficult to say but putting something into a mold naturally. Something like that.. I work with such feeling recently.
Please leave a message to Shift readers.
Hope to see you sometime and somewhere. This industry is unexpectedly narrow.
Taku Anekawa
LABO
Address: 1-9-6 Nakameguro, Meguro-ku, Tokyo
http://www.anekawa.com
info@philspace.com
http://www.philspace.com
Text and Translation: Naoko Fukushi
[Help wanted]
Inviting volunteer staff / pro bono for contribution and translation. Please
e-mail
to us.