If you wander the streets of any metropolis in the world, you might have encountered their works unnoticed. The art group Faile is New York based creative collective who doesn't only work on street art but in various fields did cover design for this month. Each members were born in different country and one woman and two men met as if it was destined. "Collaboration" is the keyword which cannot be removed, when knowing them. We asked their past, present, and future thoroughly.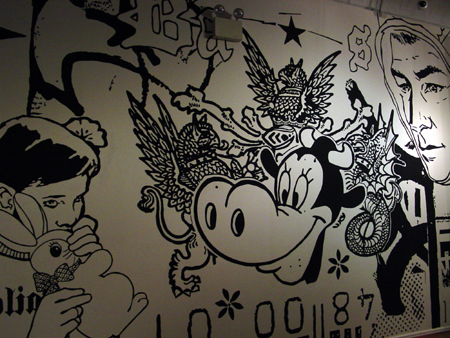 POW exhibition at Diesel denim gallery, New York, 2004
Could you introduce what's/who's Faile?
Miller: We are Patrick McNeil from Canada, Aiko Nakagawa from Japan, and Patrick Miller from the US.
How did you met each other?
McNeil: Patrick McNeil and Patrick Miller have been long time friends going back to our days in high school in Arizona. I don't think there was a time since we met that we weren't swapping sketchbooks, collaborating on pieces or just talking about creating projects. They had always sort of talked about starting a studio together and it's really exciting to be working together now. The pair kept in touch during Art School courses in Minneapolis and New York, during that time McNeil and Aiko (who was in Grad School at the time) had met at a club in New York, where she was doing motion graphic work and McNeil was exhibiting paintings in the space. Feeling limited by just doing club work, Aiko was introduced by McNeil to a new world in street art. She felt a new passion emerge, she loved the community of artists and quality of the work that was going on at the time.
With the third founding member in place our tentative ideas, based around large scale screen printed illustrations, slowly began to come together in early 2000. We were always interested in the idea of an art group, similar to a band but as visual artists. Something where the work could really be made through the collaborative process, where it is a result of everyone's combined efforts. It gives us the ability to riff off each other and really be influenced by our work together. This is something Pat and I grew up with, and as that idea was really starting to come together, Aiko came into the picture and it just seemed to all make sense.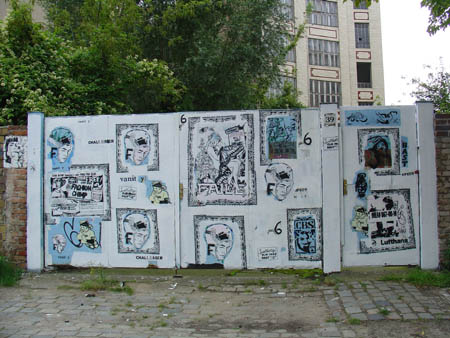 Berlin, 2004
Did you choose street as your canvas from the start of Faile? Why did you choose street?
Aiko: Encountering street art is one of the biggest opportunity to start Faile. There were many artist's stencils and posters on the street, such as Obey, Revs, Bast, and WK, in Meat Packing District where a nightclub I frequented with the friend those days was located, and the area itself had become like a gallery of a street art. Walking the way back from a club together with Patrick, I was getting familiar with each works on the street and, of course, I got interested in doing it myself. Since someone sticks something up or paint on the street every day, I remember that it was very fun to just walk around the town which changes rapidly. It is not only gallery where art is exposed. It's the street where alive art comes out every day. Then, Patrick was producing big silk screen posters with other members in school, and we stuck about 100 sheets of the girl's nude posters in downtown of Manhattan. It was the first street art we did. What interesting thing is that invisible communication with special language which is not actual "words" between artists exists because other artists overlap tags, posters or stickers one after another, and the network of street artists come out accidentally but necessarily, then the community is created naturally and become going out together at midnight. For example, although I go out for bombing with Bast now like a brother, I did not know even the name at the beginning.
McNeil: Well, to have taken a few notes for the Obey the idea in the begging was to wheat paste the shit out of cities and get up as much as possible to get the name out and to make our mark so to speak. On other reason was the pure enjoyment of what was going on in the streets and wanting to be part of that. But, things have changed a bit since we first started. as we have worked on the streets our ideas have changed and it seems to become less about the public seeing it everywhere and a bit more personal. We don't think we care about getting tons of stuff up like we use to. For one we have not really wheat pasted of a year now. A lot of what we do on the street is on the down low. We really like to find a couple nice spots and do a really nice job on them. All the work we have done on the streets lately is painted with a brush and them stenciled. It is much more personal and artistic in a way There is a nice permanence to paint that you don't get with a poster. Sometimes we felt when we were putting up posters that it was kind of like putting up advertisements, It kind of lost the fun and energy that we use to get out of it. We like to work there but it is more personal and less about trying to get up. We really hate all the bull shit beef that goes along with working in the street but It really enjoy working there and seeing the changes.
Aiko: During four years since the starting, we keep pasting and painting in London, Paris, Amsterdam, Berlin, Barcelona and Tokyo as well as in New York but I agree that things have changed since some years ago as McNeil said. I think quality or feeling become more important than quantity. We still enjoy going out for painting with local artists where we visit at midnight. Recently, we visited Barcelona. We walked around the town and did stencil with local people. It was very fun. They don't speak English and we don't speak Spanish, but everyone got excited.
McNeil: Faile's roots are in design so because of that we are open to any projects that concern any aspect of design, Fashion included. We don't think we look at it at street art for the body. Street art is its own thing. We often apply images we have used on the street but a lot of the time when we do fashion project we are designing specifically for that project and it has nothing to do with what you see on the street.
Read more ...

1
2
[Help wanted]
Inviting volunteer staff / pro bono for contribution and translation. Please
e-mail
to us.