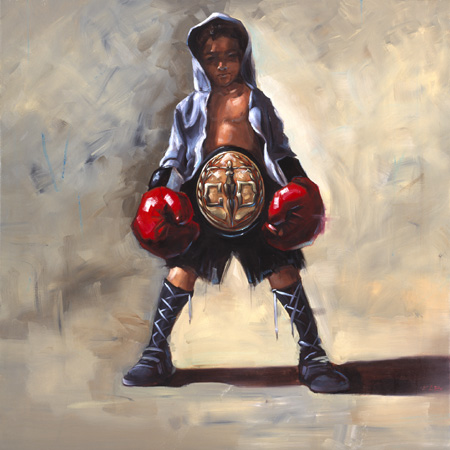 In his Western Addition flat, nestled between the kitchen and his bedroom is Eric's painting studio. It is filled with an easel, photo references of birds, dogs and children and a jar of paint thinner. Smeared across a palette are gobs of chunky pigment used to render his most recent piece commissioned for the cover of a friend's hip hop album. It depicts a boy of mixed blood standing firmly on the ground wearing oversized boxing gloves, shorts and a prize-fighter belt. The painting still sits on the easel, drying as Eric talks on his phone to the record label's manager. "So you're gonna come through at 2:30…, yeah, cool…, well, I was thinking $300…, I mean, that's a pretty good deal… (with half-joking conviction), you know Terry's my friend and all and I wanna help 'em out…, cool, peace." With the flip of his phone, the deal is done and Eric flashes a smile and a giggle.
Our meeting today isn't unlike most days I've spent with Eric. I've known him for… shit, it's been 12 years! Despite his "baller" tenencies, he is undoubtedly one of the kindest, most talented and passionate individuals I know. His love for life and all people is reflected in his personality as well as his work. Now don't get me wrong, Eric's life ain't all flowers but his grounded outlook on life enables him to shine in spite of it all.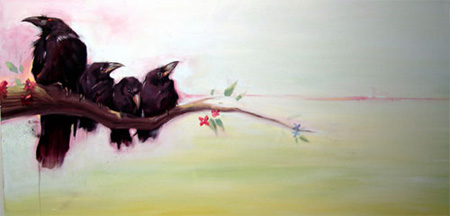 Eric is not only trying to survive in the city but thrive off it. Directly influenced by the neighborhood he lives in and city life as a whole, his visual language can be harsh and threatening. But it is not fear that Eric focuses on. Upon closer inspection, there is a playfulness and youthful spirit which seems to negate these first impressions and ease the viewer.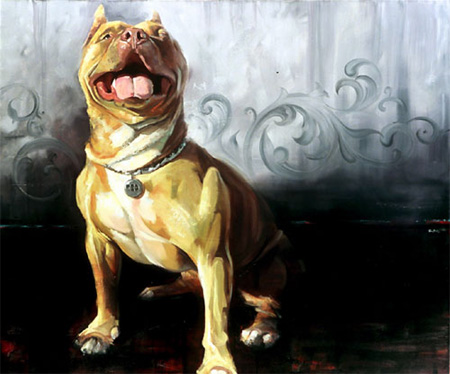 Hanging above the couch in the living room is Ted (Oil on canvas, 72″x60″, 2003). In it a pitbull sits in a staunch pose, every muscle defined with layered strokes of the brush. Instead of focusing on the cliche that pitbulls are vicious animals, Eric portrays Ted with an almost gleeful smile and loyal eyes. "Everyone thinks that pitbulls are dangerous animals to have but they're not. My brother's (pitbull) is goofy and playful and would never hurt a thing." It is this pluralistic and often contradictory aspect that inspires Eric in his work and life.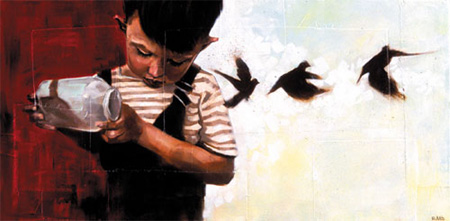 Not all of Eric's work has the same jarring juxtaposition but there is an underlying element of playfulness, hope and acknowledgment of the darker side of life. In Release (Oil on canvas, 48″x24″, 2002), a boy holds a glass jar, seemingly entranced by it's shape. Transcending reality, three birds escape from it's opening, metaphorically depicting the mental freedom that only a child can have. This purity of imagination is something Eric feels we lose as adults but is something he can regain in his artwork.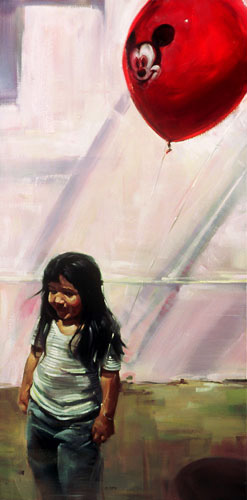 Since graduating from the Academy of Art College in 2003, Eric is well on his way to becoming an established artist. He has exhibited in over 20 galleries on the West Coast and has been featured in publications such as MESH and The Freedom Book Project. Look for him in a future issue of CozyTone and Royal Magazine and check out his work on the cover of The Co-Deez latest single "Firm Stance" out now on Hella Records. Despite the fact that his work has drawn recent attention, he feels things have just begun. "I'm not only interested in painting, I wanna get my hands on other mediums like film, design, whatever. That's what I want to do in life, really."
It is now 2:35 and the door bell interrupts our conversation with buzzing urgency. It's the record label manager coming by to drop off a check and pick up the still wet painting. After some pats on the back and thanks, we all head down the front steps and part when we hit the sidewalk. Eric's gone to buy canvas, stretcher bars and chicken (he's making Chicken Adobo for him and his roommates tonight.
If you'd like to see more of Eric Bailey's work, please visit www.birdsandbullets.com
Text and Photos: Mark Buswell from SisuHome
[Help wanted]
Inviting volunteer staff / pro bono for contribution and translation. Please
e-mail
to us.