NOMEDA AND GEDIMINAS URBONAS "RUTA REMAKE"
The Ruta Remake project developed by interdisciplinary artists Nomeda and Gediminas Urbonas in Vilnius and presented in CAC (Contemporary Art Centre) introduces one of their complex research works that are outgrowing, interlaying and modifying one another since 1997.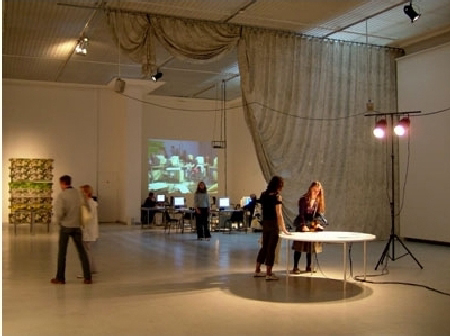 Gathering different types of media the artists constructed interactive theme mainly focusing on Lithuania cultural definitions, transitions and available interpretative options regarding female voice. By taking such tools like recorded interviews, sound samples, mixes, theramidi device, national patterns and fabrics Nomeda and Gediminas Urbonas created their own complex experience.
Nomeda and Gediminas Urbonas participated in wide range of international new media exhibitions, public presentations and projects.
Provoked by the notion of "the absence of women's voices", the Ruta Remake project works as a mapping device to redraw traditional pattern, that concerns a politics of identity in the Lithuania of today. In this context Ruta (rue) is a specific weaving pattern that refers to a perennial plant with strong, heavy odor and a bitter taste; also know as the womanhood and virginity icon.
The project involved women of a different specialty (writers, linguists, philosophers, music theorists, singers and other activists) to investigate the role of the woman's voice in social/philosophical/cultural/historical world of yesterday, today and future of Lithuania.
The discussions on the woman voice topic were also included as the elements into a huge database of sound samples for being used in the Ruta Remake project. In this case sound archive gets lots of women voice examples – talking and storytelling, whispering, singing and crying.
In the project Ruta (rue) is also a pattern for textile and it is taken to provide a system for sound notation. Being kind of the weaving machine for compoising the voice threads of the archive, as lines/routes of information that you can see in the monitor of the computer.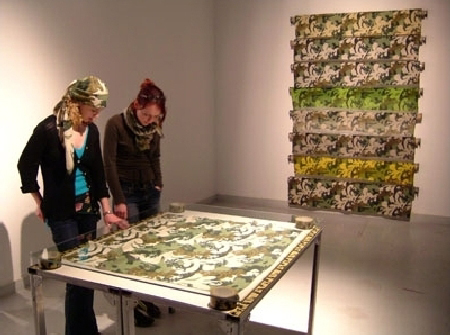 The Ruta Remake in Vilnius introduces an element of fashion, which is developed in collaboration with designer Sandra Straukaite. The outcome of this collaboration is a production of fabric that leads to limited edition of fashion. The fabric design is based on a mix of camouflaged pattern and the Ruta (rue) pattern. This remake also produces multi-functional woman's headscarves.
Read more ...

1
2
[Help wanted]
Inviting volunteer staff / pro bono for contribution and translation. Please
e-mail
to us.