5 minutes walk from central Auckland, K-Road is known to be the red light district of Auckland City. As in many other cities, this kind of area often become stomping grounds for artists. K-Road offers range of artists run galleries, cafes, and night clubs.
On one afternoon, my friend invited me to visit a new gallery space on K-Road called Disruptiv Gallery. As I walk in the space, I was amazed by the energy and hiphopness of the place, there were hiphop kids running around and making artwork, something that don't usually find in other galleries.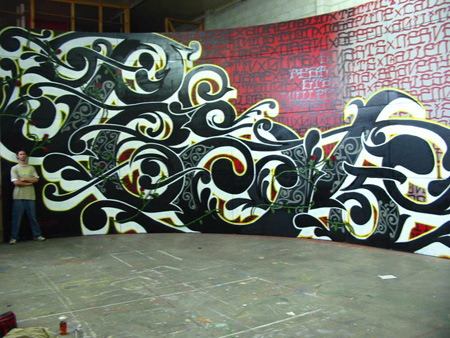 One of the three founding member of the Disruptiv collective, Jonny was really helpful in telling me about the concepts behind this gallery and the collective.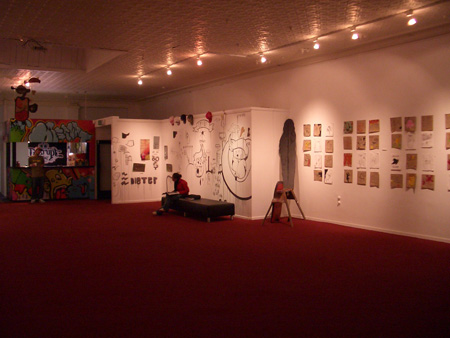 Disruptiv is one of the successful art collective that specialise in hiphop culture, not only their art and design works that incorporate their graffiti styles, but also they are busy organising gallery events featuring other artists and many other hiphop events. Their Disruptiv Magazine also prove to be a success, they have just launched their 4th issue.
Disruptiv was started by Jonny (4Higher), Elliot (Askew) and the business manager Deirdre, and their presence and talents since been noticed by other industries in New Zealand. They have worked in the areas such as music videos and TV commercials, one of the most noticed work may be their motion graphics in Vodafone ads. Jonny says that the recent popularity of Hiphop culture among young kids in New Zealand made other industries to realise the potential of hiphop culture and effectiveness of their style of Graphics in approaching these audience.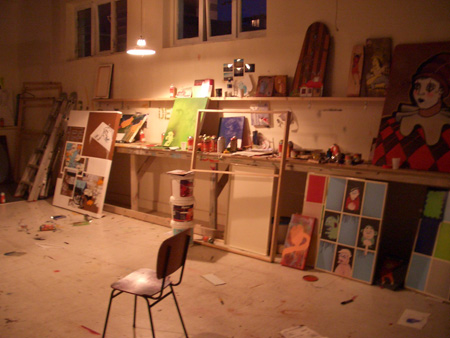 At the back of the gallery there is a studio, there is bunch of artists who are applying spray paints to all kinds of materials, from T-shirts to Road signs to Furniture. They are turning these pre-existing materials to something new, something hophop…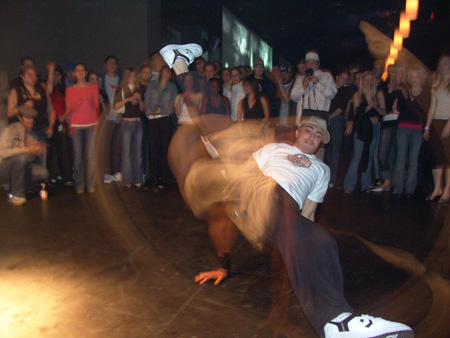 I was also amazed by the number of energetic people who were going left and right in this space, Jonny tells me that the member of the collective grew to about 20 people by now. They do everything from DJ workshops, Breakdance workshops, tattoo's, gallery exhibits, magazine design, motion graphics, TV's and on and on.. Anything hiphop they seem to be into it!
The show called Desurorama was on at the gallery when I visited, and it featured German artist Desur. He applied paints to all kinds of mediums, I really liked the one which he painted on New Zealand signs. Apparently he is also staying in the studio space and working at a local cafe, when I was talking to Jonny, he brought back a whole lot of sandwich from his work and everyone was sharing it. I thought it was really nice community vives going on, everyone sharing these sandwiches!
Disruptive Magazine is published twice a year, it mainly features graffiti arts from New Zealand (Aotearoa). It is their 4th issue this time and from this issue, it is packaged with a mix CD mixed by their resident DJ. This CD also features local hiphop producers.
Jonny says that he recognise this magazine as a tool to promote their style and presence overseas, it is sold in countries such as NZ, Australia, USA, Europe and Japan. It happend to be that Deirdre, their business manager used to live in Japan, and they are planning on forming a tour group to tour around Japan next year to experience and exchange with Japanese hiphop culture. So if you're interested, please get in touch with them!

Disruptiv Gallery
Address: 145 Karangahape (K) Road
Open: 10am – 6pm Monday to Friday, 12- Saturday, 12- Sunday
deirdre@disruptiv.com
http://www.disruptiv.com
Text: Kentaro Yamada
[Help wanted]
Inviting volunteer staff / pro bono for contribution and translation. Please
e-mail
to us.