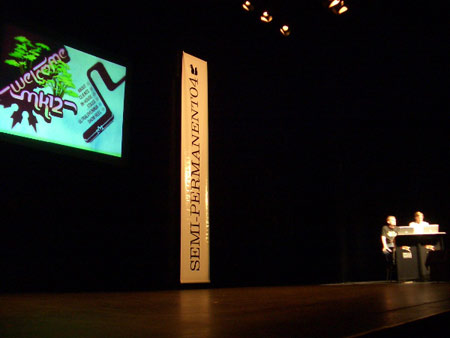 A sunny New Zealand day seemed a poor time to gather in a dark room with 700 sweaty designers, but armed with a media-pass and a triple espresso I'd reason to smile. The event was Semi-Permanent, a design conference and an art/design exhibition run by the crew at Design is Kinky and The Church.
The Auckland leg was held at the Bruce Mason Theatre on Saturday the 24th April. On the guest list were American animators MK12, New Zealand graphic designer duo The Wilderness, special effect maestros The Mill and Oktobor, British graphic designer Vince Frost and Australian photography journal Black & White.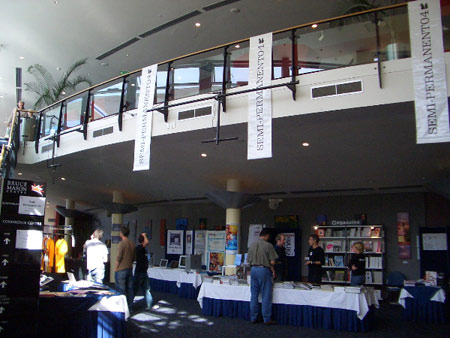 After the requisite T-Shirt give aways and an excited MC yelling 'Give it up!' the fresh faced crowd cheered on the first speaker Ben Radatz of MK12.
We were treated a snap shop of there life time work beginning with there first animation project right through to there most recent work.
Less designers more artists, MK12 is a vehicle for them to express their ideas on motion graphics. The work seemed to be animated graphic design, an abundance of flat 2-d planes moving in a 3-d virtual space mashed up with jarring sound effects produced in there in-house studio.
The work seemed influenced by constructivist designers El Lissitsky and Moholy-Nagy, Americana kitsch, vintage VW Kombi adverts and the Photoshop madness of the Attik. It was an E-boy meets David Carson mish-mash.
Judging by the cheers the crowd loved it. Personally, I was disappointed and bored by the work. I could not get a fix on what exactly they had to say, any ideas that existed were buried underneath extraneous graphics, I felt the typography was clumsy and the styles derivative. It was a good start though, they seemed like lovely guys, joked with the crowd and never stopped smiling and I knew better was to come.
Next up were Calvin Soh and Simon Oosterdijk from The Wilderness. The Auckland duo presented a mixture of client and personal lprocess driven' work. Stylistically it was undeniably hip, each piece driven by a number of graphic ideas. They gave the impression of two dudes just doing there thing and openly stated that they don't give a shit what anyone thinks, including the client, a commendable attitude! The work was good in patches, on occasion brilliant.
The most intriguing piece of work was a music video for Auckland artist Dimmer shot entirely on a Polaroid camera. It was a great idea executed well. The only down side was that the rebellious attitude of the designer and chosen style was suitable for personal work or the fashion and music industry, neither of these are great money spinners, This would turn out to be a theme for the day.
After a short break spent in the local cafes, we gathered again to hear Wellington based Post-production studio Oktobor. In their 10-year history, they have collaborated with Peter Jackson on the Lord of the Rings and worked with the cream of New Zealand's advertising industry including Saatchi and Saatchi Wellington.
Marc Smith and Dean Lyon did not present a show reel of finished work but refreshingly focused on their design process. A mix of initial sketches, working diagrams, and helpful advice was eagerly digested the young audience. The snippets of finished work showed a diversity of styles, innovative use of technology, and commitment to doing great work for the client. Their presentation was a highlight of the day and confirmed my belief that Oktobor is amongst the finest creative studios in the world.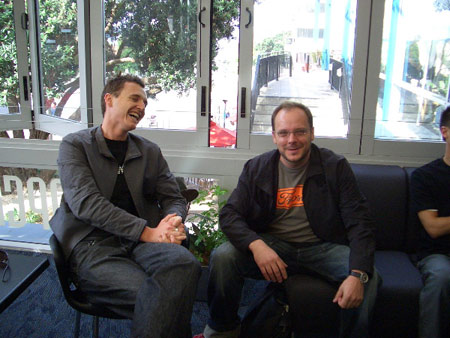 British Graphic designer Vince Frost spoke next charming the crowd with his relaxed personality and incomparable creative output. Frost has recently relocated his family to Sydney where he will merge his London office with Australian firm Garry Emery Design creating Emery Frost Design.
He presented a solid body of work from the last 6 years focusing on his art direction of literary journal Zembla, The Guardian and Big magazine. His work was characterised by its use of bold, playful layout, free-form typography, ヤgrunty' photography and attention to detail. His work is timeless and he belongs amongst the list of great British designers such as Allan Fletcher and Neville Brody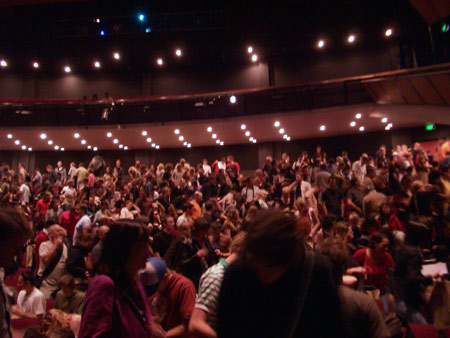 Next up was Australian skin magazine Black and White presented by former art director Anthony Donovan. He showed numerous stills from issues 55-69 featuring predominantly naked woman set amongst the latest trends in typography. The whole magazine seemed somewhat indulgent and had a very plastic feel. I felt sorry for Donovan presenting this work, when you deal purely on an aesthetic level what do you say about it?
The final speaker was Jordi Crowes from Visual effects studio The Mill. With such a standout body of work including legendary spots for Playstation, Miller Extra-dry, Firestone and Toyota how could you go wrong? Easy, the dreaded technical difficulties. Sadly, it was a case of great content, bad presentation.
To conclude, it was the first of show of this kind in New Zealand and a sound beginning. The New Zealand participants should hold their heads high as there work was of a great standard. The venue was perfect, the speakers were interesting, the content was mixed but I know the organisers will be back again next time hopefully with more local talent.
The conference did reinforce my frustration with the graphic design profession.
They have a self-admitted identity crisis. Is this is because the majority of the industry is more focussed on self-expression, aesthetic decisions and trend watching to the extent that theyre no longer relevant. When a collection of stylists are held up as heroes of the industry to an audience comprised of students it sends a message that good design is about self-expression not communicating the clients needs.
Semi-Permanent
Date: 24th April 2004
Place: Bruce Mason Centre
Address: Cnr Hurstmere Road and The Promenade, Takapuna, New Zealand
info@semipermanent.com
http://www.semipermanent.com
Text: Sam Brodie from Alt Group
Photos: Kentaro Yamada
[Help wanted]
Inviting volunteer staff / pro bono for contribution and translation. Please
e-mail
to us.