Set inside the derelict structure of London's largest Royal Mail sorting building (an enormous 272,500 square feet and nine stories), Turkish artist Kutlag Ataman presents Kuba, an installation based on his study of the enigmatic shantytown
A region in Istanbul, Turkey, Kuba "first emerged in the late 1960's as a neighbourhood of safe houses in a dangerous time". Today, Kuba remains forgotten and lost with only a handful of people able to pinpoint it. It remains an area host to a motley mixture of "non-conformists of diverse ethnicity, religion and political persuasion".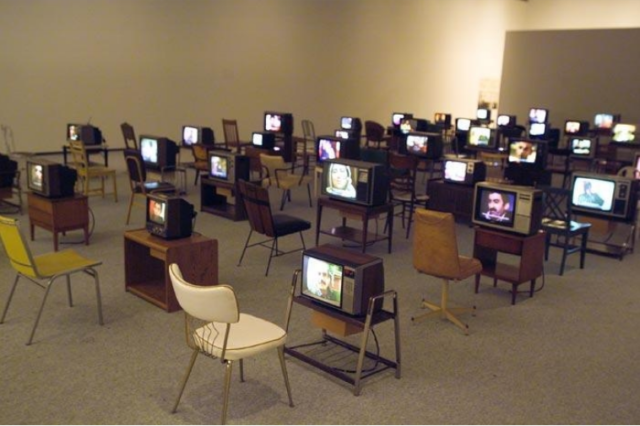 Kutlag Ataman, Kuba, 2004. 40 DVDs, 40 monitor video installation. Photo Courtesy of Lehmann Maupin Gallery
On entering the dilapidated building one weaves themselves through a labyrinth of graffitied wooden planks up twisted stairs and through vast empty floors. One feels as if they are in the forsaken part of a city, in search of its lost and hidden inhabitants, finally reaching the main exhibition space, another vast room with 40 televisions, each separately arranged in front of a living room sofa.
Here you are invited to sit down with the inhabitants of Kuba, Old and young, and hear their stories. A gambler sips Raki telling tales of his wins and loses, an old woman in tears talks of her son in prison, another man speaks of his sons murder by armed robbers, a child talks about her stepmother.
These are the many inhabitants, whose stories and experiences are all that make up the lost streets and homes of Kuba, their collective stories shaping and forming the lost district.
Their stories tell of social estrangement, poverty, nostalgia, discrimination, sorrow.
The sum of their stories: melancholy, yet in their voices and their eyes there remains an ode to survival in spite of the odds.
Their struggles, are our struggles, the struggle of human existence and endeavour, yet behind all these stories is one fundamental human element, hope, and as the Turkish say "hope is the bread of the poor".
Text: Arun Koriech

[Help wanted]
Inviting volunteer staff / pro bono for contribution and translation. Please
e-mail
to us.