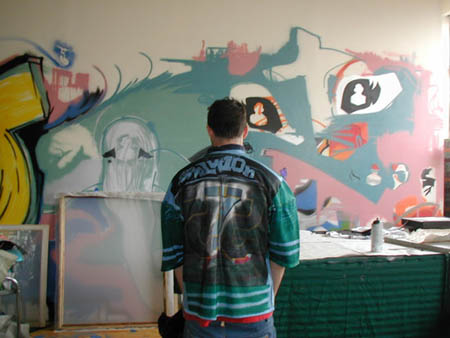 After a bit of scrambling to pull this feature together, I finally caught up with Jason Trevino between one of his many appointments. Trevino is one of the most talented up-and-coming textile designers and has worked for such clients as Nike, Calvin Klein, Pony, Stussy, 50 Cent, and most recently Marc Jacobs and DKNY. His work is still legendary in the Textile Lab at the Academy of Art College where he once attended school and now teaches. The following is an interview with him conducted March 24, 2004.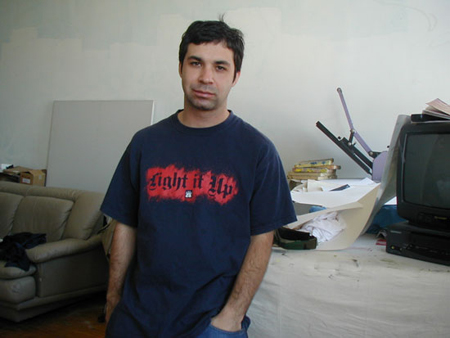 Tell me about your background; where you're from, where you grewup, what things did you do creatively that led you to where you aretoday?
I am originally from Stockton, CA, but moved to San Francisco when I was 16 and became a regular at Fullmoon parties and raves. After one year of dressing up as a freak going to these functions, I decided to leave the country and start to explore the world. I bought a ticket to Copenhagen with a transfer in Paris. Fortunately, when I arrived in Paris, I couldn't understand how to transfer and thought, "well I'm in Paris, let's just give this a few weeks," and ended up staying 6 months. Within a few hours of settling down and finding a place to stay, I wandered around to some cafes in the Le Marais and ended up hanging out with an eccentric bunch of fashion students from Studio Bercot. After finding out that I was 17, they insisted on taking me in and becoming part of their crew. I attended many fashion shows and after-parties, which included Vivienne Westwood, John Galliano, Jean-Paul Gaultier, Martin Margiela, etc. Before my whole fashion experience, I was very interested in architecture and thought that was going to be my future, But when I came back to California, I enrolled at the Academy of Art College for Fashion-Textile Design. I figured I would give back to Paris everything it taught me, and that was freedom.
What are you currently working on/doing in NY and SF?
I am currently working at the Academy teaching Visual Research in SF once a week, freelancing for Marc Jacobs and DKNY in NY, and Hurley and Volcom in LA.
What has influenced your visual language; film, literature, music, fashion, people, rotten apples, rusty nails, anything in particular?
I am inspired by things that surround me, I take loads of pictures and collect lots of music. I am also a National Geographic nerd.
How does your creative process work, what are the loose steps?
Coloring, Conceptualizing and Continuity.
Which artists/designers do you admire?
I love the photographer Nan Goldin and the architect Zaha Hadid.
Tell me about your experiences working as a teacher for the first
time. Did it come easy?
When I was offered the teaching position, at first I was nervous, but I knew I needed to challenge myself and break out of my isolated shell after being in New York. Its just about facing my fears and making it a positive experience.
Do you find yourself being inspired by your students' work or ideas?
I find myself being very inspired by the students enthusiasm for art.
Where do you find your imagery and how do you translate it to your designs?
I draw and take loads of pictures, then manipulate them by transferring on a screen or painting.
From what I've heard, you seem to be a very mysterious person – meaning focused, direct and a bit introverted. Do you think this is true?
Yes, it's true. I am a bit introverted and stay very focused.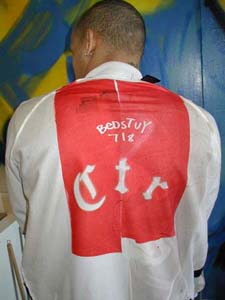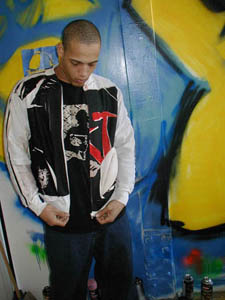 Do you mind being called a textile designer? Or do you consider yourself an artist?
I consider myself a creative monster.
Tell me about your work with Ninz Sangha and Nomassproduction. Do you enjoy collaboration on projects?
My work with Ninz Sangha is an ongoing passion. He's an incredible person and very conceptual, persistent, rewarding and very opinionated.
Your work with Nomassproduction has more of a concept or message involved. Is concept something you aim for in your work? If not, how was this creative process different than in other projects?
Nomassproduction is a simple theory of expressing your individualism, without conforming to superficiality and working with what's already here. I feel it's a crucial necessity that's missing. At the moment we are looking for a venture capitalist
What/who are your biggest influences now?
I am very influenced by Dizzee Rascal's new album, he's got some great lyrics and dope style in music.
Where do you want to take your design work in the future? Strictly stay with fashion?, work on fine art projects?, costume?, painting?
I would like to launch Nomassproduction with Ninz and start exhibiting my work in some galleries and international textile shows. Then eventually work with National Geographic.
If you'd like to read more about Jason Trevino, you can pick up the current March 2004 issue of 7×7 Magazine.
Text: Mark Buswell from SisuHome
[Help wanted]
Inviting volunteer staff / pro bono for contribution and translation. Please
e-mail
to us.