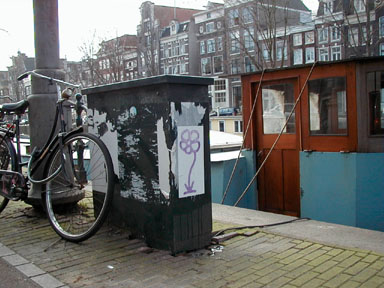 Walking around Amsterdam, chances are you'll have seen examples of Michael A. de Feo's street art all over the city. Although a resident New Yorker, Michael is a great fan of Amsterdam and on each visit tries to leave his mark as much as possible.
He is best known and respected for his distinctive flower design which has graced streets in cities across the US and most recently here in the Netherlands as well. Michael came up with the design back in 1993 and through his love of print-making decided to print off hundreds of images of the flower and paste them across various street surfaces in New York. Since then, Michael estimates he's put up thousands of flowers in New York City alone and that's not counting other cities where his other designs can also be seen including a very beautiful series of blueprint paintings.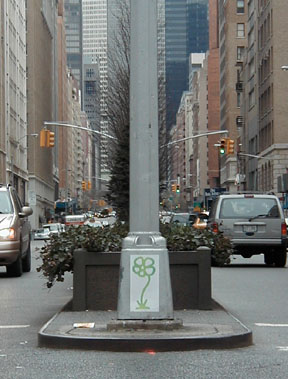 Featured in both mainstream publications and also specialist street art books, Michael's work is a source of great interest and curiosity and he kindly agreed to talk to us about the designs he left behind in Amsterdam…
So why Amsterdam? Is it good for the art or good for the soul?
I've been to Amsterdam four times since 1997. It's a city that keeps calling me back. I'm truly in love with it and so is my wife. Street art really looks alive on the streets of Amsterdam… and the diversity of the streets is astounding. Like New York, Amsterdam is a walking town and that really works well when you want to go out and wheat paste. I really want to get back to Amsterdam soon… we've been tempted to move there, however, now that we have a new-born daughter, that's a much more difficult decision to make. When I returned in 2003, I came for my show at 90Sqm. Essentially, my plan was to plaster as much of the city as I could. I brought a lot of work with me and I painted many pieces while during my stay. Some of those pieces were glued up in Amsterdam while others made it back to New York to be glued up here.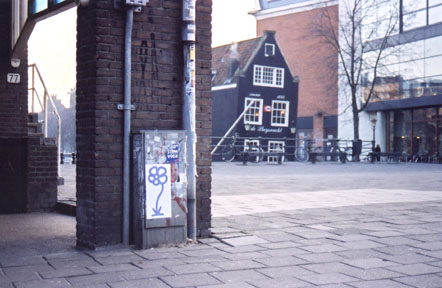 Do you find street art a lot more accessible in Europe?
There is a growing clampdown on street art in the US. Is it easier to practice street art over here? I think it all depends on the city you're in. Here in the U.S., for example, it's much easier to do work in the streets of New York than, say, Seattle. New York is so physically dense and busy that it's relatively easy to go unnoticed. Boston is small and very clean… you really stand out when you're attempting to glue something up. Cities in Europe are entirely different. When I'm in another city for the first time, I don't know what to expect. I don't know the tolerance level of the police or the citizens. Naturally, I'm used to running around New York… I'm very comfortable here. There's also the fact that Europe is vastly older than the U.S. so it makes me very conscience of the architectural environment. Being surrounded by all of that history is very magical. I respect that.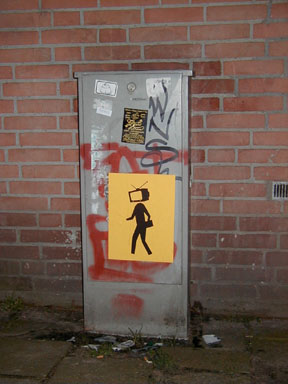 How about the scene that accompanies most street art over here? Is it very different than the US? Do you have roots in hip-hop/graff?
I don't come from either a hip-hop or skate background. I don't really identify with any particular activity or influence. Growing up in the suburbs of New York was enough to attract me to the city and everything is has to offer. There is a definite link between hip-hop/skateboarding and street art. Obviously, graffiti has many of those same connections but I'm not sure I can say that all of the street artists I know here in the U.S. have those same influences. Age level has a lot to do with it… rebellious youth culture. Which explains why large companies are marketing street art inspired images back at our youth. It's an audience with huge buying power. What better way to get kids to buy products than to emblazon them with the imagery they identify with rebellion? It's contradictory, but they sell stuff. Automobile manufacturer, Nissan, recently had a poster campaign in New York that utilized imagery looking like wheat-pasted work. This was clearly a way for them to try to connect with young prospective customers.
What's your favourite medium?
I enjoy doing just about everything with anything… if I had to choose, I'd say drawing and painting; I really love it. As for stenciling, I haven't stenciled in the streets for years. I'm much more into wheat pasting original paintings that I create in my studio. I like that they're more susceptible to decay and weathering than direct paint is. The ephemeral quality of wheat pasting is what I like best about it. You put something up and it could be anywhere from a day to a year before it finally disappears. This works especially well with my flower project. Real flowers sprout, bloom, and die, only to sprout again somewhere else.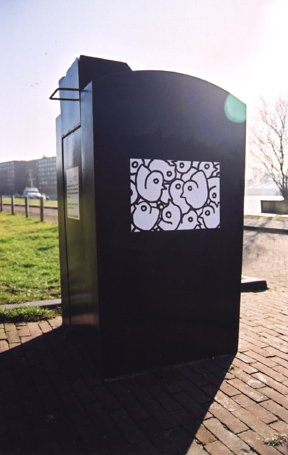 Do you find it sad having to leave your works to their unknown fates? Not
knowing how long they will last. Do you have your own work on your walls at home?
My wife and I do keep some of my work hung around the house… only a few paintings though. I like to put up recent work so that I can encounter it outside of my studio and possibly better assess it. I often take a piece or two back down to the studio to rework it. Just about anything I do on paper is glued up in the streets… I don't hold onto much of it. I'm more satisfied if I hang it in the streets… the work comes to life and breathes. Original work that's hung in the street engages viewers in a completely different way than work hung indoors. There's less expectation placed on the viewer. It really levels the playing field because anyone can encounter it… homeless people, delivery people, construction workers, shop owners, drug dealers, executives, lawyers, etc… People can identify with one-of-a-kind work that's glued to a street surface… they can see that it has a life expectancy. Naturally some people walk right by things without seeing them and others witness the changing surfaces they're surrounded by. Some people try to take my work down… I've been told this a few times by people that have had success getting something off a wall in one piece without it tearing. Usually I'll notice evidence of people attempting to peel a peice off when I revisit the work.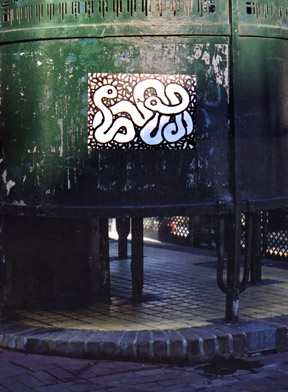 You left your flower design on dollar bills for a while. Would you ever be tempted to 'flower up' the Euro?
Two years ago, I stamped a bunch of Euros with my flower. Because the Euro was just introduced, people spotted the flower immediately. It made it difficult to spend them because shop owners thought they were counterfeits! I figured that people wouldn't really notice because the notes are loaded with so many colors.
As your reputation grows and anonyminity disappears, do you have to start changing the way you decorate the cities? How does fame affect
street art?
I continually work on new street projects and ideas. I like pushing myself to the limit… to investigate this medium to it's fullest potential. If I continued to do the same thing, I'd get bored really quickly and probably would have stopped doing work in the streets years ago. My street work has been going in a variety of directions. For example, I've been doing abstract paintings on blueprint paper for the street as well as large painted figures and objects. In addition, I've been very busy doing work for a book I hope to have published soon. Having a web site changes my relationship with the viewers of my work… it makes me more identifiable. People from all corners of the world get to see my work even if they don't encounter it on the street. The attention doesn't affect my work and it doesn't affect the process of getting it up. I like sharing what I do and don't really think about the attention. As long as my work comes from my heart and remains honest to itself and its surroundings, I don't have to change the way I go about it.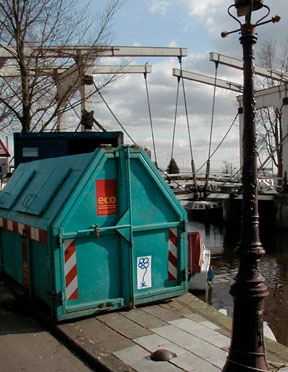 Does being a teacher sometimes create problems?
Being a teacher is, without question, an aspect of myself as an artist that most people don't know about. It provides me with another facet for investigation and growth. People are usually really surprised to discover that I'm in a position that carries great responsibility. I don't parade what I do around school and I don't hide it either. I'm proud of what I do and feel there's important justification for it. A couple of years ago, a local newspaper interviewed me for an article about me being an art teacher that also exhibits work. I thought it was going to focus largely on my paintings… instead, it focused on my street work. They ran the piece as a large Sunday feature and everyone saw it. Students, parents, teachers and administrators are all now fully aware of what I do outside of school. Most of the criticisms were very positive and encouraging. So far it hasn't been a problem.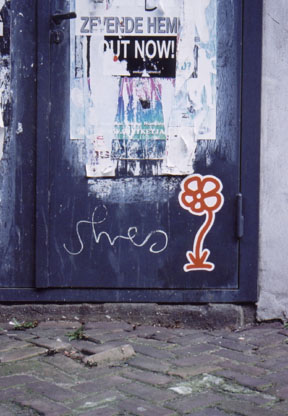 So what about the future?
If I had the time, I'd like to travel around Europe for an extended period, hitting a variety of cities… maybe a multi-city tour. I also want to get to Japan. I'm on the look out for a solid gallery to represent me…possible somewhere in Europe. As I mentioned earlier, I've also been working for some time on an ambitious book project I hope to get published soon. I have a publisher interested, however, nothing is in stone yet. I'm also featured in Tristan Manco's new book, "Street Logos", which comes out on March 29th by Thames and Hudson. Tristan did an incredible job with this project…it's very well done and one of the best books on the subject I've seen thus far. In addition, I'll be participating in a group show this June in New York sponsored by Woostercollective. There's so many different projects that I'm involved in, the list grows almost daily… check out my site www.mdefeo.com for the latest.
Text: Ania Markham from Post Panic
Photos: Courtesy of Michael A. De Feo
[Help wanted]
Inviting volunteer staff / pro bono for contribution and translation. Please
e-mail
to us.