TKNY COMPACT-IMPACT NIGHT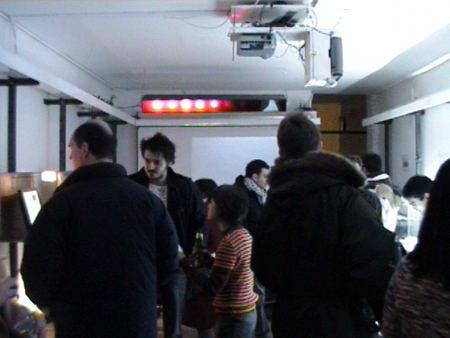 anuary 16th was a particularly cold Friday night here in New York: the mercury dropped to -20シ F and froze as arctic blasts, were definitely in full chill-factor mode outside. When the weather gets this hostile, I sometimes think the Island of Manhattan is actually a loose floating rockbed that detached itself from the bridges stitching it to the mainland and somehow sailed a few parallels north, closer to the North Pole than to New Jersey.
Battleship Manhattan, this nomadic boat-city, was thriving as usual regardless: people still came out to attend TKNY's first ever "Compact-Impact night". This small store in the East Village renown for it's hi-tech-gadget-love-meets-art-gallery edge was throwing a party to showcase new works from up and coming electronic artists. The production marks the launch of a series of monthly events which will introduce and promote talented creators, designers, artists, technologists and students to a broader design-sensitive audience.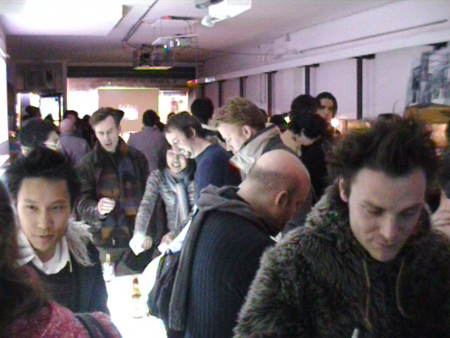 For this first installment, interaction designers/artists, VJs, musicians, DJs & students were among the ten selected to showcase their work and ideas to a packed crowd. As usual on any opening that has a cool offering of projects and free alcohol, it was pretty difficult to move around and actually see the work comfortably, but there was definitely some interesting things to see, play with and hear. The soundtrack of the night was adding much to the party atmosphere, with a live Reason+DJ set and another performance with visuals by SuperAgent Gel and Giles Hendrix.
At the entrance of TKNY, people were greeted by "ripples of pixels" projected into the glass fa・/span>ade. Daniel Shiffman's eye-catching perturbations, were actually created by the movement of passerbys walking out in the cold.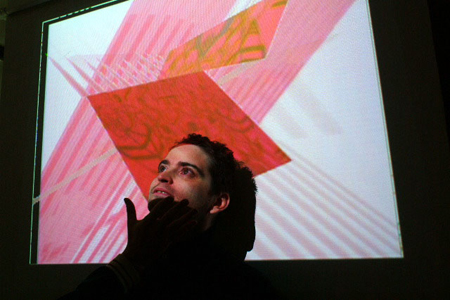 Inside, the inviting warmth of LEDs allowed people to freely schmooze, enjoy their beer and perhaps play a bit with "Double Cute Batttle Mode". This VJ-Game allows two people to play a 3-D VJ battle using Playstation2-like controllers. The actual experience invented by Aya Karpinska and Carlos J. Gomez de Llarena resembled a freestyle visual jam more than a game properly, but it was a refreshing interpretation of what VJ'ing for the masses could be.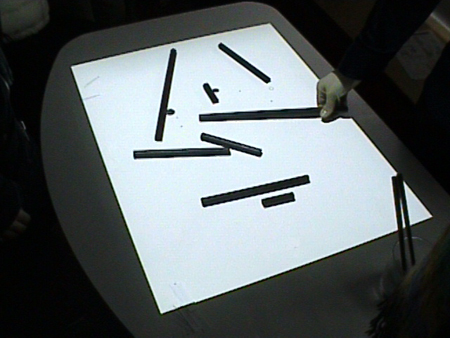 Josh Nimoy's "Ball Droppings" presented a playful physical interaction. This sound toy installation used a table as a canvas for creating noise patterns. By placing black wooden bars over the surface, one could make dots projected from the ceiling bounce in reaction to their placement. The ricocheting pixels were matched by amusing cacophonies, much to the amusement of those clustered around the board.
Additional projects from James Clar, Ariel Churi, Mathew Morr and Shoko Honda, explored further possibilities of merging technology with space and design, making the premiere of Compact-Impact Nights a worthy happening. The shows could become a relevant platform for exposing and experiencing these evolving techno-artforms in the urban ship that sails on.
TKNY
Address: 21 Avenue B (Bet 2 & 3st), New York, NY 10009
Tel: 212.677.0500
www.tkny.com
Text and Photos: Carlos J. Gomez de Llarena from Med44
[Help wanted]
Inviting volunteer staff / pro bono for contribution and translation. Please
e-mail
to us.