Berlin is on the brink of bankruptcy. It can be felt in the uncut lawns of parks, the empty storefronts of small businesses, and now in the echoes of bustling crowds and chants that fill the streets of Berlin almost everyday.
Students have begun to protest in response to the brash plans of government policies, which include budget cuts of 50 million euros in the years 2004 and 2005 and 75 million euros by 2009, faculty members and course numbers eliminated by their hundreds, and no clear solutions for future developments – all topped off by the fact that, though Germany's flailing economy hasn't helped, Berlin's predicaments are a direct results of a government bank scandal that took place 9 years ago. But these protests have not just been about demonstrating and petitioning. Powered by the internet and mobile phones, students are arranging themselves in much more fluent ways than before, and the results have been creative, to say the least.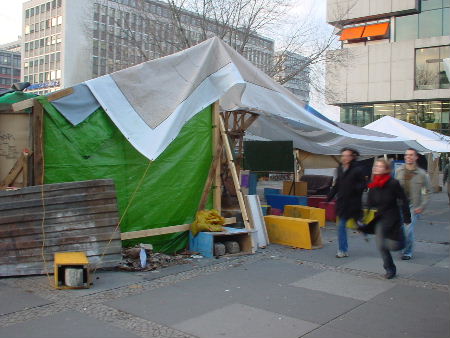 Early November, an array of structures appeared on the square in front of the architectural faculty of TU, the Technical University of Berlin. Scraps of wood, plastic, and general rubbish make up what is called "Aktive Verslummung", a "slum" mini-city, where open fires burn and gatherings take place.
A group of architectural students, supported by some professors, managed to find scrap material and a way of building with simple tools (usually consisting of a hammer and nails) in a limited amount of time, and produced a surprisingly effective means of protest.
Firstly, the slum is very visible from a very busy intersection in Charlottonberg, west Berlin. Secondly, as an original idea it generates a lot of interest from the press (and artists, it seems, considering the number of photographers at the scene). And finally, with the cooperation of professors and assistants, a series of lectures have been held inside the slums, making a strong point about the bleak prospects education is facing.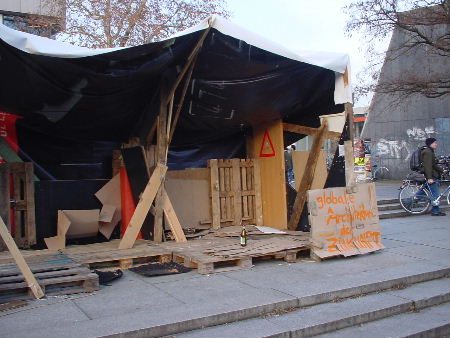 How the slum came into existence is typical of the organisation of the whole protest. Students have been forming AGs, loose unofficial groups each with a specific purpose, in this case, building slums (slumbau). The AGs have a fluid structure and no real leaders, yet somehow students seem to find each other and gather.
The Slumbau AG has now spread itself to Humbolt University and the Free University of Berlin to create permanent slum cities on their sites, and have appeared sporadically in various protest sites – Potsdamer Platz, Rotes Rathaus, Unter den Linden – only to be torn down hastily by the authorities. By that time, however, the damage is done; too visible and remarkable to be ignored, it has aroused the public's curiosity and generated interest in the cause.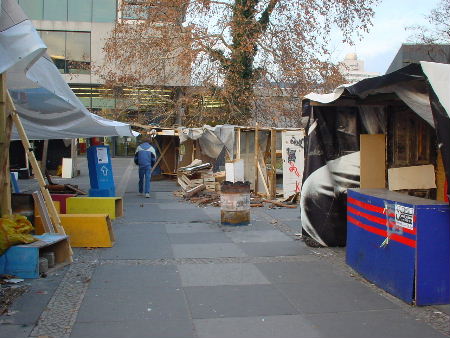 Heading eastwards from the TU is Brandenburger Tor near Unter den Linden, and there, a different protest is taking place. The ice rink set up for winter has been taken over by students who are lying on the ice to spell out the slogan, "Bildung auf Eis legen (laying education on ice)". It is a play on the saying "to put something on ice", which means to put something off or to get rid of something; a protest against the direction of their future it may be, but actually it could just as easily be an art installation.
Read more ...

1
2
[Help wanted]
Inviting volunteer staff / pro bono for contribution and translation. Please
e-mail
to us.