VICTORIA COELN "COLOR SPACES"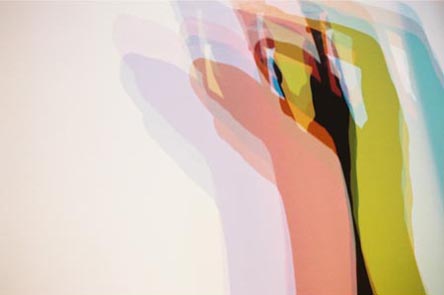 Color Space e-basis, Bertl Mutter, composer, Vienna 14 June 2003

"Colour is visible light.
This light becomes space – Colour Space.
In the Colour Space your body turns into light,
Into immaterial colour – on the move."
– Victoria Coeln, 2003
Since the early nineties Victoria Coeln's work has focused on light, colour and space. The Austrian-born light artist makes use of the exciting dialectic between the material and the immaterial to develop physically visible works that initially reside in the pure experience of the moment.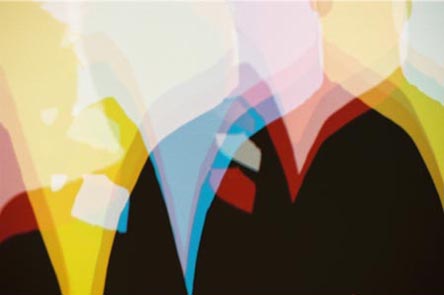 Color Space e-basis, Bertl Mutter, composer, Vienna 14 June 2003
Coeln's "colour spaces" are the photographic traces of intense communication in a space filled with coloured light — monochromatically painted colour slides placed in front of projectors form rectangular, immaterial images. Through layering and additive colour mixture these images appear very bright, almost white.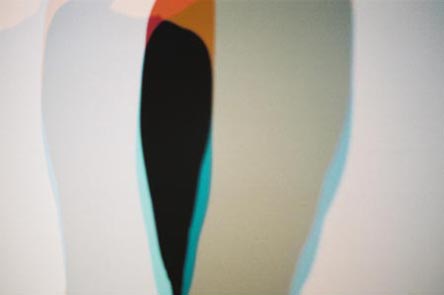 Color Space e-basis, Tulga Beyerle, Vienna 25 June 2003
The actual colour space – invisibly filled with immaterial color – is located between the projectors and the projection surface. It first becomes visible and may be experienced when we enter it. The image that has so far remained untouched is thus animated by polychromatic shadows. The visitor opens a sensual world of interplay and encounter — with colour light and shadow moving in infinite variation between real delineation and abstract ornamentation. Time and space don't exist any more. Instead, a new dimension of visual perception opens itself from the inner self in a moving projection. Documentation of this interplay makes us feel the intensity of players' interaction within the colour space, but at the same time they develop a quality in themselves and can thus be read as independent works.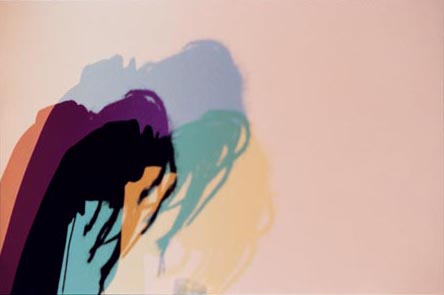 Color Space 203, Nora with Simon, Vienna 8 April 2003
Victoria Coeln's gesture of creating space is a generous invitation to initiate this communicative process. Accordingly, the work stands in an exciting dialectic — although the coloured slides are painted and positioned by the artist she cannot control the interplay itself. The images emerge from interaction and are the result of the communicative process.
In last year's pre-Christmas season Victoria Coeln exhibited her immaterial art space in and around the Valie EXPORT cube in Vienna. This glass cube is called "Der Transparente Raum" and is located at the Guertel, a major traffic lane in Vienna.
The challenge was that real architectural space and immaterial colour space influenced each another interactively, thereby altering their urban surroundings — the cityscape. "Every passerby who enters my colour space intervenes directly in the urban structure as a polychrome, mobile light object and casts polychrome shadows into real space", says Victoria Coeln.
This year, the artist created such a colour space for the Kuenstlerhaus Klagenfurt", in Austria's southernmost province – in the "Farbraumquadrat-2" Victoria Coeln uses a highly transparent foil that reflects the light and at the same time divides the colour space into two parts.
Victoria Coeln – Farbraumquadrat-2
Opening: 7th November – 6th December 2003
Place: Kuenstlerhaus Klagenfurt
Address: Goethpark 1, A-9020 Klagenfurt, Austria
http://www.kunstvereinkaernten.at
Text: Christina Merl
[Help wanted]
Inviting volunteer staff / pro bono for contribution and translation. Please
e-mail
to us.