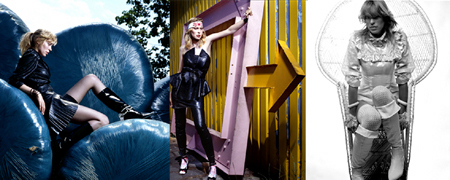 First impressions can be deceiving and nowhere is this more evident than in the work of Aico Dinkla. He creates beautiful clothes but to call him just a fashion designer would be a disservice. To call him an artist is nearer to the truth. Aico occupies a position straddled between the worlds of fashion and art and as a result, his work is wonderfully removed from being pigeonholed or classified.
The 29-year-old Amsterdammer is best known for his recent collections featuring striking clothes, seemingly made from differing layers of fabric but on closer inspection also coated in a thin layer of shimmering silicon. It is this particular merging of material and silicon that also defines Aico's current collection of work although it is by no means the sole manifestation of his creativity.
His contribution to Utrecht Museum's current Neo exhibition not only highlights the unique relationship between Aico and his sister, Iefke but also begins to examine the elements that have played a part in molding his work to date. Having achieved critical acclaim with his fashion collections and developed a dedicated core of loyal customers (including opera and ballet companies and even high-profile celebrities such as Iman), Aico is feeling the need to change direction and try something different. A difficult man to track down, we cheekily pulled in some old favours (Aico designed the costumes for Gouryella's 'Ligaya' – the music video directed and produced by PostPanic back in 2002) and to our great delight managed to grab an hour with the man himself as he showed us round his contribution to the Neo exhibition.

'I was born in Colombia in 1974 and raised in The Netherlands by my adoptive Dutch parents but I'd always known about my roots and to this day, I am fascinated by all things Columbian. I have a Columbian sister who was also adopted by my parents and another younger sister, Iefke who was born to my adoptive parents – as a result, she is the quintessentially Dutch looking one out of all of us – tall and blonde.'
Having always been a highly creative individual, it was no surprise that Aico decided to study Textile Design at the Fashion Academy in Amsterdam. It was the perfect setting for him to include his background and early influences in his work and also where he first started his experimentation with silicon. 'Back in 1995, we were given an assignment based on skin. I was inspired by the ozone layer and played around with the idea of its effect on skin plus of course, sun beds and stuff like that. To get a specific effect for that project, I started experimenting with the combining of different materials. When I tried pouring silicon on a stocking, I decided I really liked it and as a result, my early work is all about the textile and texture of this new self-developed material. I went on to make clothes via this method using sculptured old stockings of my grandmothers' to create these beautiful, fragile, almost elf-like organic tops.'
His clothes were an instant success and were sold in leading clubwear boutiques in Amsterdam, London and Hong Kong. As he continued to develop this unique material, he began to incorporate both new materials and second hand clothes in each creation. Author Ted Polhemus describes this process the best: 'By adopting a special technique called moulage, Aico is able to add a top layer to the original fabrics. The result fuses the characteristics of original, traditional fabrics such as lace or technical materials with an extraordinary, malleable, futuristic qualities of the material which offers endless possibilities of shape, colour and texture. His collections therefore embrace many distinct styles: asymmetrical, minimal, futuristic, romantic, theatrical, historical, modern and postmodern. At the same time, however, the unique and striking qualities of the material bring unity to this diversity.'

It wasn't long before Aico's designs started getting noticed in the world of haute couture and, 'after visiting Hong Kong, I was advised to go to London (Covent Garden and Soho) and show my designs to certain exclusive boutiques. These places were seriously involved in the fashion scene, representing and promoting really high-class designers and I really wasn't sure what they would make of my work. However I got such a positive reaction that I started supplying them my hand-made designs almost immediately.'
It was a turning point and from then on his profile grew rapidly as he was courted by the London fashion intelligentsia. 'It also made it easier for me in the Netherlands. From the beginning the Dutch were a bit funny about the material – it seemed a bit too sexual for their taste – all that plastic, rubber feel. Probably too S&M although that was not my intention in the slightest. But once London embraced it, so did the Dutch and I was approached by the most exclusive fashion shop Reflections 66-68 (PC Hooftstraat) which had developed a reputation for selling edgy Japanese and Italian designers. My work fitted in really well there because it's a mix between both styles – sexy and sophisticated like the Italian/French look but fresh and challenging like much of the Japanese clothes.'
In 1999, Aico embarked on a solo self-sponsored project called 'The Aico Project' with the help of the widely respected Ted Polheamus. 'The idea behind it was to take one collection of my work and have it interpreted in numerous ways. So I approached 12 renowned Dutch photographers to work with me on this one-off book. Each photographer set up a team including stylists and make-up artists and got to work. The only other main defining point was that there would only be two models – my sister Iefke and my mother Kinge. It was the first time I introduced the special, symbiotic relationship I have always had with my sister into my work. We've always connected in an almost obsessive way and we replicated that symbiotic connection within the fashion industry – she became a professional model and I the fashion designer. She became my muse, that's for sure.'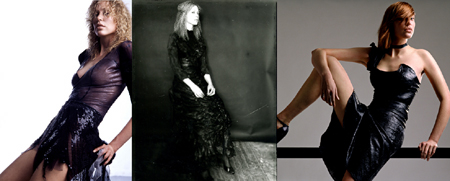 The book established Aico in an even better position and left no one in doubt that this was a fast-emerging, unique talent. Their careers' developed at speed and the connection between Aico and his sister became stronger and stronger. 'It was a difficult time for both of us as the fashion industry can suck the life out of you. It reached a point last year where I was advised to do London Fashion Week and then suddenly, advised to change direction and go for Paris instead. But by then I almost knew what I had to do and that was to do neither. I'd made up my mind that I didn't want to do any more straight fashion shows again. Both for my sake and Iefke's. It felt that my work was beginning to be compartmentalized and shaped – made to fit into the commercial requirements of the fashion industry. And that felt wrong. Instead I wanted to focus and develop the influences that had shaped my work such as my background and relationship with Iefke even if that meant moving further into the art world.'
After the Utrecht Museum approached Aico to take part in this years Neo exhibition (offering a solo room for his contribution) he started working on this new direction for his work, 'It was important for me to visualize the dreams, past and stories shared by Iefke and myself. I wanted to create a room that felt like our own world and own dreams but also was recognizable as an illusion, because that's what I feel fashion essentially is. We both had dreams about reaching the top in our professions without knowing all the sorrow, depressions and superficial treatment of people so commonplace in the fashion industry. The reality was very different and a wake-up call. It was not our cup of tea and perhaps that comes down to the Dutch style or our upbringing. My father always told us everything is possible if you believe in yourself but forgot to say that you should always stay true to yourself in the process. The birth of the concept of the room came as an act of love for Iefke. I wanted to include more personal artifacts and elements from our lives' into the room but there was a specific brief from the museum and expanding it too far beyond the actual fashion would not have fitted into the Neo exhibition. I'm currently in talks with a couple of museums (including the prestigious Groningen Museum) to be able to realize my original concept fully – a stand-alone exhibition to further explore the inter-dependent relationship that I share with Iefke and hopefully, finally lay it to rest.'

Saying that, however, this collection would not be here if it wasn't for my relationship with Iefke but I don't always want to work with this concept for my collections. Nor do I want to be known as the silicon kid. These are just stages in my development. I fully intend to explore new materials, sources, methods and platforms for my creative output. I see myself as a multi-disciplined artist and that means creating in whatever form I choose, be it sculpture, photography or even written word. On the one hand, I don't want to let go of the fashion completely but I also want to combine it with poems, statements or even personal images. Perhaps you could describe it as being an individual visionary? Or perhaps I am just lucky I noticed I am an artist and not a fashion designer?
For the immediate future, Aico works to commission, continuing to create unique designs for projects ranging from feature films through to ballet performances. He's also in discussion for another solo museum project although his real ambition is to have exhibitions in locations around the world that have been sources of inspiration in his work. 'Japan is an obvious one because I have drawn so many references from it over the years '. In the meantime, you can see his work as part of the Neo exhibition at Utrecht Centraal Museum, which runs until 4th January 2004.
Neo Exhibition
Date: Until 4th January 2004
Place: Centraal Museum
Address: Nicolaaskerkhof 10, Utrecht, Amsterdam, The Netherland
http://www.centraalmuseum.nl
Text: Ania Markham from Post Panic, Photos: Mark Visser from Post Panic
Additional Photos supplied by Aico Dinkla
[Help wanted]
Inviting volunteer staff / pro bono for contribution and translation. Please
e-mail
to us.