That time of the year has come around again- week worth of excitements on screen and penetrating experience with never seen (and would never see any where else) motion footages. Amongst all the celebrated film festivals out there, nothing is quite this innovative and transformative-welcome everyone, to Resfest 2003.
As festival director Jonathan Wells puts it, Resfest has been the showcase of the latest technology in filmmaking' and in artist's language. Many techniques have premiered on Resfest screen (Richard Linktaylor's 'Waking Life' featured Resfest debut 'rotoshop' technique), and the festival has certainly provided the environment where all the world's art directors are allured in to the audience seat. Other mixes in the crowd are art school students and all channels of creative types galore.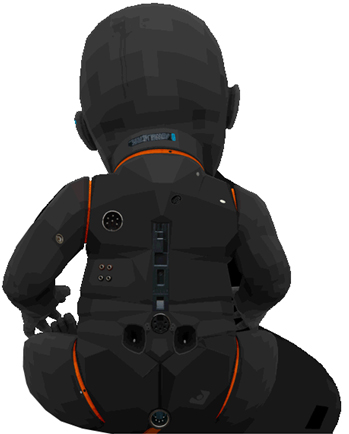 The opening sequences designed by different directors every year seems to be pursued in less and less show-offish manner and they let the beauty of minimalism speak. This year audience was greeted by the robot baby sitting in the lab. As if there was a surgical process required to make this baby'who seems to stand for films created by all the aspiring filmmakers out there. Technology now oh so handy, it has become indeed easy to make a film. It almost felt as if this opening sequence was sending this message out: 'be responsible on your creation, its heart is beating, crying for attention.' So immerse yourself into the ocean of creation, and embrace all the babies out there. Best of 2003 Resfest' must see film picks.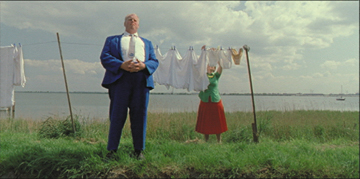 THE WINNER OF RESFEST 2003 (HOLLAND 2003, Dir. Johan Kramer)
Directed by co-founder of acclaimed Amsterdam-based advertising agency KesselsKramer (Kramer also directed 'The Other Final,' the award-winning documentary entered in this year's OFF THE MAP program), this title gives a perfectionist framing of this character at a loss in its own inspiration and ambition. The contrast of character's color distinct outfit and the gloomy Dutch sky adds a charm in storytelling, and keeps the audience's attention in tact. Good example of inner thoughts taking you miles beyond your realm and yet allowing one to land safely on ground.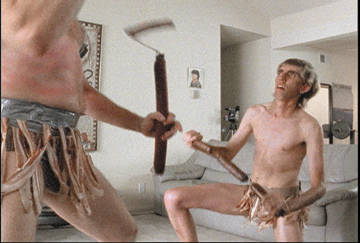 SALAMI FIGHT ASSOCIATION (US 2003, Dir. Douglas Avery)
Who would have thought that bacon could be this sexual? Obviously Avery has. The medium built red headed man enters the non-distinct suburban apartment with supermarket bag in his hand. Pack after pack of bacon comes out of the bag, and every man's fantasy tool duct tape also enters the frame. Then what happens? The greasy bacon is neatly taken apart and one by one stapled onto the duct tape strips. Next moment you realize, the man enters the frame with this bacon frilled bottom fit around his waist. Horrendus sight gets enforced with his parphinelia' a thick firm stick of salami, actually two of them connected, used as a harmful tool to beat the counter part. His skinny fighting pal stirs up the oddity of the situation and the climax comes when he reveals the meatball full of attashcase. No further explanation should replace the impact of meatfull frames, I hope you enjoy this piece of entertainment.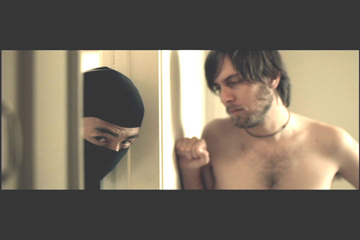 NINJA PAYS HALF MY RENT (US 2002, Dir. Steven K. Tsuchida)
The fascination that accompanies Ninja is beyond Japan's imagination'the supposedly native land of this historical yet mysterious figure. This is a play on the stereotypical idea of Ninja and never ending search for the ideal roommate. Many things happen behind the closed doors. After all, the ideal roommate might be that someone who is there, but only leaves slight proof of its existence.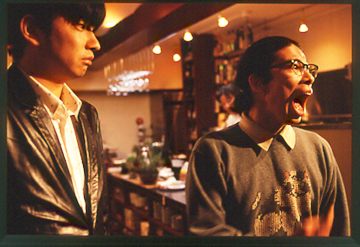 THE JAPANESE TRADITION: RELATIONSHIPS (JAPAN 2003, Dir. Namikibashi as Junji Kojima & Kentaroh Kobayashi)
The return of the favorite duo was greeted with applause. Their 'THE JAPANESE TRADITION: SUSHI' won the audience awards last year and also made it into the DVD 'best of Resfest #3'. The tradition of far east explained in a whole depth and with a native's very own wit. Tons of play with motion graphic techniques accererate the comical statement and leaves us with nothing but joy. Finally someone was able to take themselves not too seriously. Bravo to Kojima (teevee Graphics)'s aesthetics and sharp sense of humor.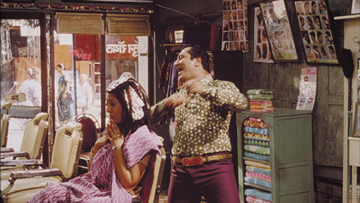 MULIT (US 2003, Dir. Ivan Zacharias)
Hollywood catching up with Bollywood- it is a beauty of production and choreography (good old storyline sang and danced in full emotion) that swipes away your mind first off from the obvious intention of Zacharis'. America's all time favorite mullet rooted in the sad love story of inter-class affair in Bombei. After all, the true aesthetics of that sacred hairstyle can only be explained in the trans continent channeling.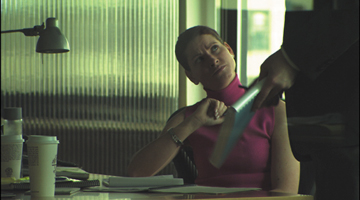 THE M WORD (US 2003, Dir. Rocky Morton)
Merger as the metaphor of life's happiest climax (as many puts it,) adds a healthy insight in two individuals' decision making. The role played out so thoroughly well by a man and a woman in the cooperate cubicle situation is enriched with little props like tall to-go latte cup and highlighter pen. It only takes about a Kinko's-bind stack of documents (mind you, it perhaps was too thick to be stapled together) to walk by someone elses life at all times.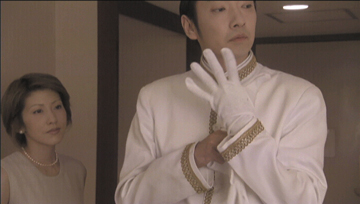 ROOM SERVICE (JAPAN 2003, Dir. Namikibashi as Junji Kojima & Kentaroh Kobayashi)
Another flavorful work by the duo. Sets in generic city hotel, this decadent shoppaholic female guest is somewhat fulfilled by this urban mythical bellboy/professional packer. The rich artificial light in the hotel room represents the vacuumed cell urban individual is forced to live in. The reach out to another can be unconscious yet successful.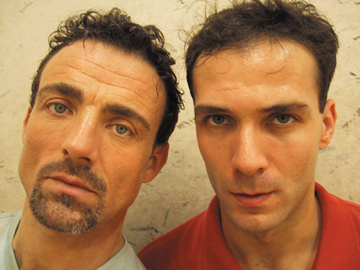 SQUASH (FRANCE 2002, Dir. Lionel Bailliu)
You got to be French to be able to apply boss-employee dynamics into a squash court. The male ego and psychological tactics bursts at a maximum volume under the buzzing florescent light. The actual blood battle follows the climax of the game itself and you probably will catch yourself so drawn into this emotional drama. The secret lethal weapon that was pulled out by the employee sets the game afterall. What is 'Chinese Water Barrell?' anyways?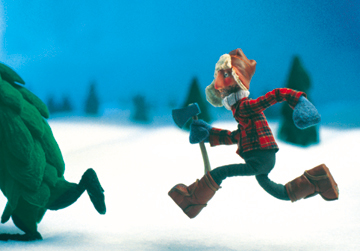 TREEVIL (FINLAND 2002, Dir. Christer Lindstrom, Aino Ovaskainen, Aiju Salminen)
Everything in the world can be explained- the micro cosmos philosophy has exemplified in this puppetmation piece. The hysterical laugh the fur tree releases upon its detachment does not explain why it stops in middle of the paved road, until the gigantic feeted bunny makes its round. Once you become the little sector in a huge function, you are robbed of the freedom to question. But what if you do? Even in this fairytale land, the concept of replacement exists and applies.
FISH NEVER SLEEP (UK 2002, Dir. Gaelle Denis)
A shrine maiden like girl working in a rotating sushi restaurant in a rural fishing town'the floaty animation look with distinctive color selection (white, black and red) gives a daydreaming effect. Narrator's unique accent in English is pleasantly soothing while the universal confusion that any youth will draw is mildly blended into the beautiful story telling.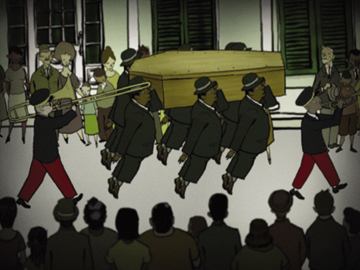 KID KOALA "BASIN STREET" (CANADA 2003, Dir. MONKMUS)
Kid Koala's record sampling magic is equivalent of conducting a full orchestra. Ninja Tune starlet brought in his long time collaborator MONKMUS to this music video. The decadence of New Orleans jazz street is emphasized by director's surrealist animation characters. I personally was appalled to learn other people's gravity also gets cut loose from its feet- like a balloon released into the air.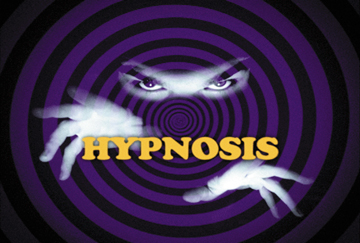 FUNKY SQUARE DANCE "PHOENIX" (US 2003, Dir. Roman Coppola)
This I must say was a goldmine in this year's Resfest. Simple yet so fresh. The Resfest favorite directors are adored of their personal storytelling and this was no exception. The imagery in response to the actual song takes the form of memorandum that scrolls down. It's a win win situation while audience is forced to read the story as it gets typed in, but they'll do so regardless since you could not help being drawn to it. E-mail offer from the band to his sister Sofia's note of two cents, and even to his girlfriend supermodel Frankie Rayder's private kitchen dance'you are literary invited in to director's life for couple minutes. The humble appliance (or just a minimal aesthetics?) of techniques marks the bright and creative future in filmmaking.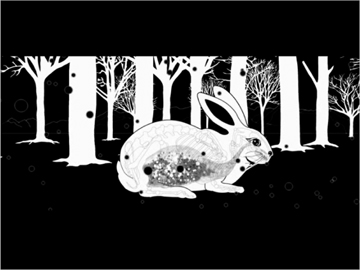 YOKO ONO "WALKING ON THIN ICE" (US 2003, Dir. Mike Mills & Arya Senboutaraj)
Resfest favorite Mike Mills' this year's entry was in animation- the monotone fantasy . For a second you cannot help to wonder if this is really Yoko Ono's voice but then before you realize your main focus has shifted to follow the storyline. The bunny in the book that girl holds and reads on her bed, starts running deep into the forest. The snow starts falling and the bunny eventually gets buried in the snow and its body goes back to the soil. The girl finds the little flower grew on that soil, and inhales the scent. The molecule of the scent contains of little bunnies settles into girl's body while that metaphor applies to the bunny caught in the cage. Then she releases the bunny into the forest'then the story draws the philosophical loop. Applause to Yoko Ono's tasteful decision on director.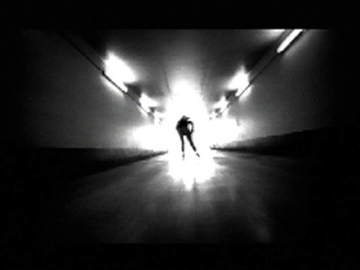 CHAMPAGNE "MILLIONAIRE" (FRANCE 2003, Dir. Phil Dussol)
The visual rollercoaster ride in the actual city of Paris- these modern age bank robbery is portrayed in b/w with plenty of contrast, which charges the full speed effect. The video is cut down from director Dussol's original 23-minute short 'Easy Money,', a film shot illegally over four months. The band, by the way, also provides the electrifying performance on stage- something you should keep an eye for.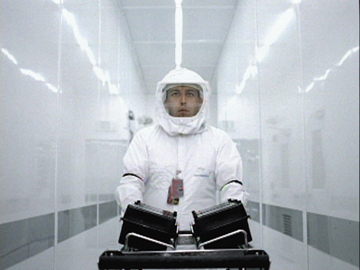 THE POSTAL SERVICE "SUCH GREAT HEIGHTS" (US 2003, Dir. Josh & Xander)
The Seattle residence Ben Gibbard of Death Cab for Cutie and Jimmy Tamborello of Dntel etc. exchanged mail. The project was born in such a manner (Tamborello sent his 80's influenced tracks of instrumental songs to Gibbard to have him add the blissfully trance lucent vocal) that band name just simply explains. That sentimentalism has been interpreted in futuristic lab that human touch no longer exists. The longing look of the character and the way the machine responds to Tamborello's electronic rhythm haunts us with a wonder that one day the touch on another's skin might be a complete history.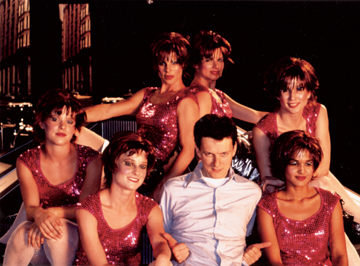 MICHEL GONDRY RETROSPECTIVE
His career as a filmmaker started when he was making music videos for OUI OUI, the band that he played drums in. The full-on 80's piece 'La Ville' is surprisingly fresh in ideas (and you'll find Gondry in there too) and still denotes the masterpiece as it is. Bjork was an early fan of Gondry's work and her approach lead to numbers of collaborations to come. Most recently, his collaborations with the band The White Stripes are adding further caliber in Gondry's creation (Lego-mation was indeed talked about). The fascination towards rhythm as a real life drummer and geometrical aesthetics creates a happy marriage with his tendency to repeat things to infinity. Daft Punk's early hit 'Around the World' was divided into disco keyboard, guitar, bass, and vocal and each section was given its own series of dancers, who were choreographed to be in the same frame, totally making sense. 'The mummy is a tribute to Michel Jackson,' says Gondry with a smile.
The recent line ups were Kylie Minogue's 'Come into my World' and another The White Stripes collaboration 'The Hardest Button to Button.' Former took place in the actual street corner of Paris and as Minogue goes around the intersection, she joins in the frame as 2nd, 3rd, and 4th herself (The excellent digital effect is Gondry's brother Olivier's contribution). The flawless motion and challenging factor of how far can you repeat and add (every element on screen doubled, tripled'as Minogue multiplied) started to make her look cute and creative. (Her creatives certainly had an eye making this video clip into a Resfest entry piece.) Latter, the video with The White Stripes involved purchasing of 32 drum sets ('that's actually not much expenses for major label's music video,' shruged Gondry,) and showed the simple sound and rhythm of the band effectively. Jack White's confused look (intended? Regardless it's just cute) adds the effect too in Gondry's in otherworldly talented creative view.
The 'Drum and Drummer', the footage Gondry himself plays drums in various LA roadside setups is a must see too. The playfulness of Gondry's filmmaking will continue to thrive while he's experimenting new ideas with himself in front of camera.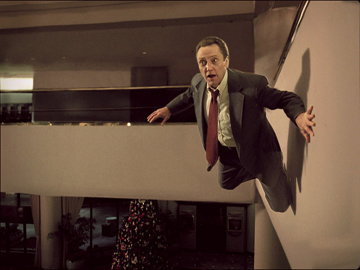 SPIKE JONZE RARITIES
Do you remember the not so hot dance collective in Fat Boy Slim's 'Praise You' video? 'Torrance Community Dance Group' was the proud collective which included Jonze himself as an alter identity Richard Koufer. (The Q&A session with 'Torrance Rises' director Lance Bangs went smoothly without any disrespectful comment revealing Koufer's identity) 'Torrance Rises' is a behind the scene documentary (mocumentary?) of the group, which was one of the precious pieces included in the program. From the rehearsal at the basement of 'meighborhood' community church basement, to the highlight at MTV Music Awards stage at Lincoln Center., the involvement and charisma of Jo'.no, Koufer will guaranteed bring tear to your eyes.
Bunch of other rarities were pulled from his archives. 'The Oasis Video that Never Happened' was the time when Oasis was living the momentum, and decided that they are not really 'feelin' it' about the ideas Jonze presented. Be that a truth or not, these brilliant insight of people on the street was weaved into 'the Oasis video.' The ordinary is where you find the extreme beauty. Jonze's filmmaking aesthetics lives strongly in his honest and confident documentary films.
The last was the making of 'Weapon of Choice' with sir Christopher Walken (that dance move was what Walken actually learned when he was 6 years old. He was so trained to his bone that he easily managed to pull it off after this many years) on wire. The Jonze magic is there, while he keeps breaking people's expectations on what could be done.
Resfest 2003 World Tour
Washingtong DC / Grosvenor Auditorium At National Geographic / 3 – 5 October, 2003
New York / Bowery Ballroom / Tribeca Performing Arts Center / 9 -12 October, 2003
Chicago / Museum Of Comtemporaly Art / 7 – 9 November, 2003
Tokyo / Laforet Museum Harajuku / 21 – 24 November, 2003
Osaka / Nanba Hatch / 5 – 7 December, 2003
Fukuoka / IMS Hall / 12 – 14 December, 2003
Above else, it will be held in more than 10 cities.
Produced by Res Media Group (New York City, NY, USA)
resfest@resfest.com
http://www.resfest.com
Text: Aya Muto from New Image Art Gallery
Images courtesy of Resfest
[Help wanted]
Inviting volunteer staff / pro bono for contribution and translation. Please
e-mail
to us.