"Should you ask us today, who we are, we shall say: We are the people you don't see. The people from the woods. The people with short arms and short legs. The people that visit you at night, that pull the cover over your head, to stop you from breathing. We are the people that send you on a long journey. Should you ask us today, who we are, we shall reply: We are the people that are really always there for you. (Quoted from Foreword in Buro Destruct II)"

Find out more about Buro Destruct who made a cover design for this issue.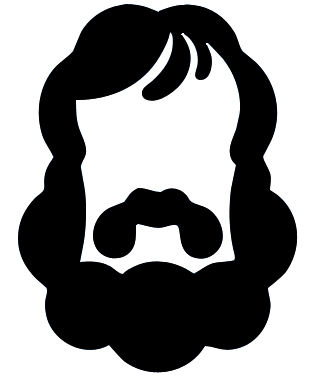 Please introduce yourself.
With the aim to encourage and promote young artists, HGB Fideljus created the Destruct Agentur in 1992. Teaming up with graphic-designer Lopetz in 1994, the "art agency" changed into the graphic design bureau destruct, or "Buro Destruct", as it is known today. The current crew counts 5 members: (MBrunner, H1reber, Heiwid, Moritz and Lopetz). The design work of BD consists to a larger part of print matter with a range from corporate identities, logotypes, ads, books, record-sleeves/cd-covers, posters to flyers… A speciality of Buro Destruct is creating typefaces. They can be accessed on the buro destruct fontfoundry-website called "typedifferent.com" opened in february 2002.
The 1999 book "Buro Destruct", published by "Die Gestalten Verlag" in Berlin, Germany, offers a sort of retrospective on the bureau's work from 1994 to 1999. The ever so popular "Electronic Plastic" book in 2000 is followed up in 2001 by the project: "Narita Inspected" a roundup of contemporary graphic designers in Japan, researched and designed by Lopetz/BD. In summer 2003 buro destruct is releasing their second book with works from the last four years.
2002 Buro Destruct launched "Loslogos.org" an internet project where visitors can upload logos from the streets all over the world into loslogos city to protect them from disappearing.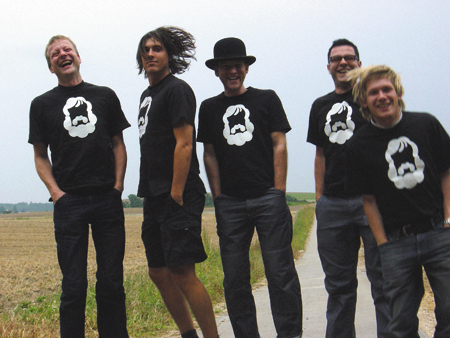 Also in 2002 Buro Destruct opened their small but nice graphic-design-shop called "Buro Discount" in Zurich. An online-shop is ready to follow in 2004.
Even though the Buro Destruct often seems weird and precise enough to be Japanese, they're still located in Berne, the small and unsuspecting capital of Switzerland.
We all have a designer background, means study in the art school and jobbing at advertisement agencies. We were schoolmates and are still all friends, doing what we like.
What kind of activities are you usually doing? Please tell us projects you have recently done.
Recently we released our second Buro Destruct book which contains a collection of our favorite works from the past four years. Now we are heavy rotating with the organisation of the promotion events in Zurich, Tokyo and London… after that we will need a rest and then we will have a workshop and a speech in Ecuador in November. Next year we are preparing the online-shop website for our Graphics-Gallery-Gimmicks-Gadgets shop in Zurich called "Buro Discount". Next to all of that we are swimming a lot in our river that flows around our homecity Bern. It's a good refreshment in these hot summer days. You can call it a "reset your system".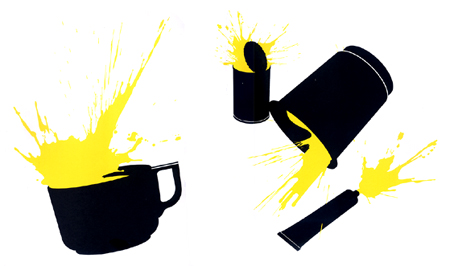 Ereignisse" programme, poster, flyer for art-performace featuring Roman Signer, Client; Kulturhallen Dampfzentrale, 2002
You have just released your second book "Buro Destruct II" from Die Gestalten Verlag on the 20th of August. Please introduce about this new book (i.e. contents, concepts, how and why did you select these works? How long did it take to complete this book?)
The book will have 32 pages more than the first one (1999) and is printed again with special colors. Actually we had about 6 months to compile it with our works. Of course we added again special works which are only published in this book, so add another 1-2 months to the 6 months mentioned above. Since there were high expectations, and critical eyes on our follow up (II) we still felt having great freedom to create volume 2. Many readers will compare it with our previous book and they will certainly find many differences even if the book-layout and the concept is built on the same basic elements from the 1st one. The content of the book is just what we like to see and what we like to do. If you read the editorial text (attached below of the interview) you can get an impression of where we like to go with it. We are happy if the "readers" of our book are well entertained. We like if they can have a laugh or if they feel scared about it. Like a movie, or better a roadmovie…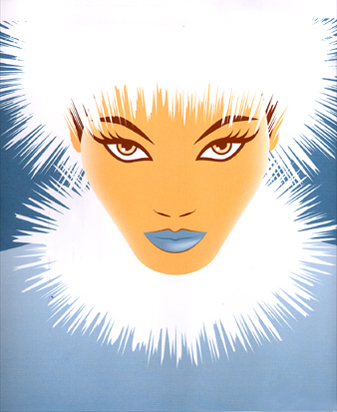 "Sweet&Sexy" flyer and poster; Client: Sweet&Sexy, 2002
What is the greatest point of a book as a media where you can express yourself?
A book is a finished product. Moving- or interactive-media is always an under-construction or an in-motion thing. We like new media, but the real roots of our graphic design are resting on paper.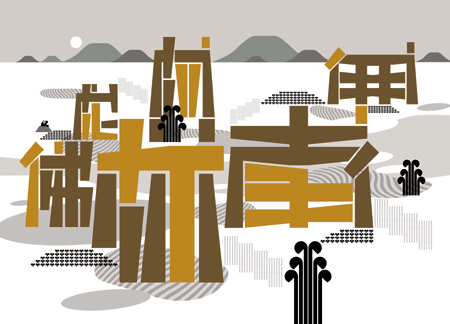 "Tatami Garden"; Client: Design Plex, Minna No Digital Design Magazine, Japan #57/1, 2002
Exhibitions have been holding to celebrate the release of this book and the first one was on from the 14th to the 26th of August in Zurich. What kind of reactions did you receive from visitors? How about the atmosphere there?
The first event was in Bern last friday (8.8.2003). It's like a tradition to celebrate the real release event in our hometown. So our friends come first. Tomorrow evening (14.8.2003 7PM) we will have the official release in Switzerlands biggest design-book store (Krauthammer Zurich). Before that (2PM) we start our exhibition in the discount. In Bern we had 3 big video projections and dia's on the walls and roof. About 500 people were enjoying a wonderfull party with good dj's and BD vj's even if the hot summer temperature was more to sit outside and drinking beer.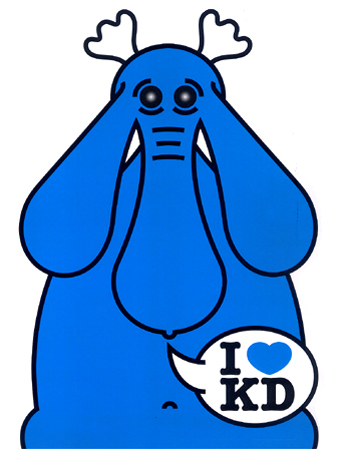 "Extra Terrestrial" monthy programme and poster; Client: Kulturhallen Dampfzentrale, Bern 2003
And the second exhibition "Buro Destruct Tokyo Stop Over" will be held from the 3rd of September at Logos Gallery in Shibuya Parco, Tokyo. What are the contents/concepts of this exhibition? You must be excited, aren't you?
We are super happy, having Junko Tozaki helping us on organising the show in Tokyo! There will be many silk and offset printed posters (from large to small) hanging on the walls of the logos-gallery. 4 of us will sign books and a nice import collection of our Buro Discount goodies* can be obtained during the exhibition.
* Inflateable dolls, posters, postcards, balloons, stickers, t-shirts, discotec-vinyl-single.
I heard that Buro Destruct is a great sympathizer for Japan. When you come to Japan for the exhibition in Tokyo, do you want to go any particular places? Or do you want to do anything special?
For me it is the 4th time to visit japan. Next to Tokyo we did visits to Sapporo and Kyoto. This time we like to visit Osaka and maybe Kyoto again. Of course we will do snowboarding in the skidome again. For us, this is kind of sureal, because we live so close to the mountains were we can snowboarding in the real nature. Also we are looking forward to meet all our friends in Tokyo. To have drinks together and play pachinko or karaoke 😉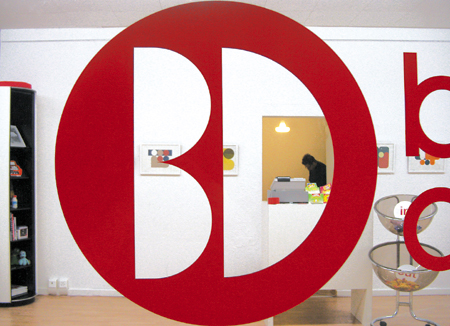 "Buro Discount" Shop design, Graphics-Gallery-Gimmics-Gadgets
Please tell us about the shop "Buro Discount" that you opened in Zurich last year. How was a process from making up ideas to opening the shop?
HGB Fideljus, one of the cofounders of Buro Destruct has got the option to rent a cool shop in Zurich. Then he asked us if we would like to participate to create a bd-shop concept to sell graphic design goods and doing exhibitions with other designers.
Products: inflateable dolls, books, magazines, posters, postcards, balloons, stickers, t-shirts, discotec-vinyl-single, fonts, cds, laptop-bags, sweets, toys and figures.
What kind of customers visits your shop?
Zurich is the best place in Switzerland to have a shop like this. It is close to the main airport of Switzerland. So we have a lot of visitors from abroad. But also Swiss people who are interested in graphic design, architecture or art. Unfortunately I don't have the time to serve in the shop. This is the work from HGB Fideljus and his wife Mina. Maybe you can compare it to Shift in Sapporo. You have a webzine and a coffee house… but you need to seperate the responsibilities. Otherwise you get crazy.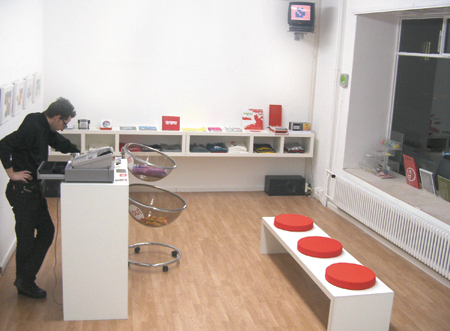 "Buro Discount" Shop design, Graphics-Gallery-Gimmics-Gadgets
From a designer's point of view, what kind of city is Zurich ?
Zurich is like Tokyo for Sapporo-people – Bern is like Sapporo for Tokyo-people. Bern is cosy, and friendly, the city is not too big to get lost. Zurich is busy and a bit proud.
Please tell us your future projects as well as Buro Destruct's dream.
Continuing. Stay small – design big
Please leave a message to readers.
Read carefully page 1 – 224, matane.
Buro Destruct
Address: Wasserwerkgasse 7, CH -3011 Bern, Switzerland
Fax: +41-(0)31-312-6307
bd@bermuda.ch
www.burodestruct.net
Buro Destruct Exhibition
Date: Sept 3rd (wed) – Sept 16th (tue) 2003, Admission Free
Open: 10:00 – 21:00 (close at 17:00 on Sept 16th)
Place: Shibuya Parco Part1 B1F LOGOS GALLERY
Address: 15-1 Udagawa-cho, Shibuya-ku, Tokyo
Tel: +81 (0)3-3496-1287
Contact: dgv Japan (info@die-gestalten.jp)
Text: Sachiko Kurashina
[Help wanted]
Inviting volunteer staff / pro bono for contribution and translation. Please
e-mail
to us.