"Should you ask us today, who we are, we shall say: We are the people you don't see. The people from the woods. The people with short arms and short legs. The people that visit you at night, that pull the cover over your head, to stop you from breathing. We are the people that send you on a long journey. Should you ask us today, who we are, we shall reply: We are the people that are really always there for you. (Quoted from Foreword in Buro Destruct II)"
Find out more about Buro Destruct who made a cover design for this issue.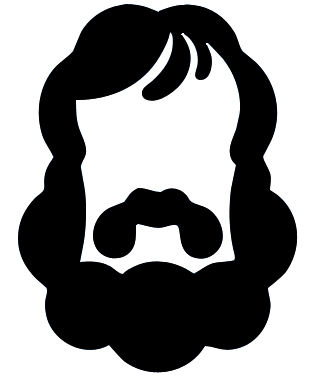 Please introduce yourself.
With the aim to encourage and promote young artists, HGB Fideljus created the Destruct Agentur in 1992. Teaming up with graphic-designer Lopetz in 1994, the "art agency" changed into the graphic design Bureau Destruct, or Buro Destruct, as it is known today. The current crew counts 5 members: (MBrunner, H1reber, Heiwid, Moritz and Lopetz). The design work of BD consists to a larger part of print matter with a range from corporate identities, logotypes, ads, books, record-sleeves/cd-covers, posters to flyers… A speciality of Buro Destruct is creating typefaces. They can be accessed on the Buro Destruct Fontfoundry website opened in February 2002.
The 1999 book "Buro Destruct", published by Die Gestalten Verlag in Berlin, Germany, offers a sort of retrospective on the bureau's work from 1994 to 1999. The ever so popular "Electronic Plastic" book in 2000 is followed up in 2001 by the project: "Narita Inspected" a roundup of contemporary graphic designers in Japan, researched and designed by Lopetz/BD. In summer 2003 buro destruct is releasing their second book with works from the last four years.
2002 Buro Destruct launched "Loslogos.org" an internet project where visitors can upload logos from the streets all over the world into loslogos city to protect them from disappearing.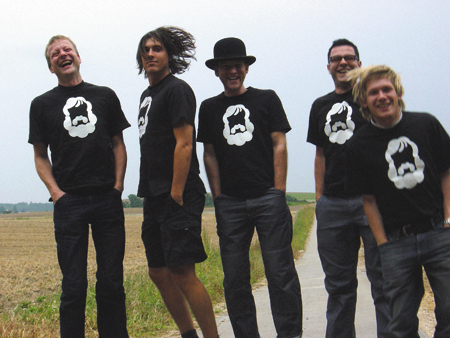 Also in 2002 Buro Destruct opened their small but nice graphic-design-shop called "Buro Discount" in Zurich. An online-shop is ready to follow in 2004.
Even though the Buro Destruct often seems weird and precise enough to be Japanese, they're still located in Berne, the small and unsuspecting capital of Switzerland.
We all have a designer background, means study in the art school and jobbing at advertisement agencies. We were schoolmates and are still all friends, doing what we like.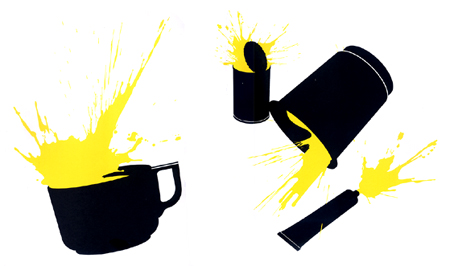 Ereignisse" programme, poster, flyer for art-performace featuring Roman Signer, Client; Kulturhallen Dampfzentrale, 2002
What kind of activities are you usually doing? Please tell us projects you have recently done.
Recently we released our second Buro Destruct book which contains a collection of our favorite works from the past four years. Now we are heavy rotating with the organisation of the promotion events in Zurich, Tokyo and London… after that we will need a rest and then we will have a workshop and a speech in Ecuador in November. Next year we are preparing the online-shop website for our Graphics-Gallery-Gimmicks-Gadgets shop in Zurich called Buro Discount. Next to all of that we are swimming a lot in our river that flows around our homecity Bern. It's a good refreshment in these hot summer days. You can call it a "reset your system".
Read more ...
[Help wanted]
Inviting volunteer staff / pro bono for contribution and translation. Please
e-mail
to us.