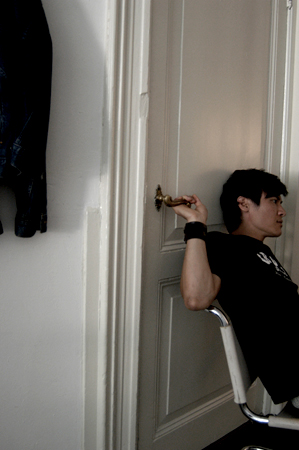 In a serene, light-filled apartment close to the ARTIS sits Garrett Chow, one third of the Amsterdam-based street-art crew known as The London Police. Their purpose? "To put up art in cities for the public to see. We're interested in using public spaces as art galleries". With their distinctive characters and simple graphics, The London Police's work can be seen on city streets across the world including London, Berlin, New York and San Francisco.
Along with fellow members, Chaz and Bob Gibson, Garrett has watched The London Police develop from a homegrown project started by the three friends almost four years ago to an internationally recognised and respected street-art 'brand'.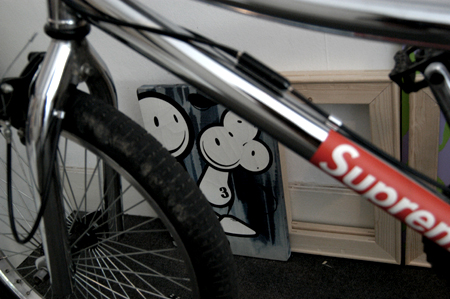 Having met on an Amsterdam street, Garrett joined Chaz and Bob in developing their passion for creating unique graff. "We started drawing on the street for no other reason than it was something we had always been into. There was no other intention other than fun. However we slowly realised that people were recognising our stuff and becoming more and more interested. It was at that point that we seriously thought about starting a project together. The name came about as a nod to us always being on the street, just like the police. And as a graff crew, the name sounds good."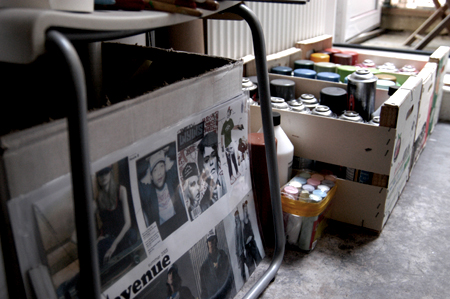 What separates The London Police from other crews is their specific approach to the characters and pieces they create, "I suppose we approach much of our work as if it was a brand. We distill it down so there is always a head, body and feet. And it is always in black and white – for a reason. Working reductively, when you see so much colour around you, enables your work to stand out from everything else around it and coupled with a simple graphic nature, helps draw the eye in to it.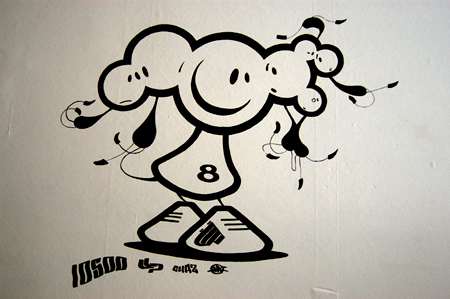 A subconscious sense of branding also helped us center our work on the concept of connecting 'heads' within our characters. These could be vertical or horizontal but they would still be the same characters. It's resulted in making our characters incredibly adaptable so we can address a number of audiences in a wide variety of mediums. It means we don't have to just operate with paint or a spray-can – we can think outside the box and not just limit ourselves to creating a piece on a wall."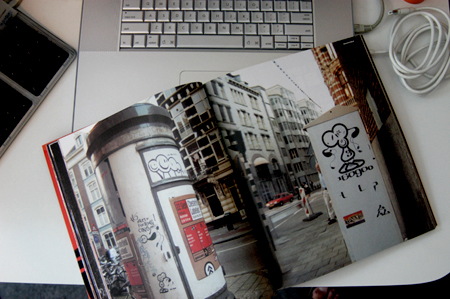 Not surprisingly, their distinctive series of characters 'The Lads' have found homes not only on electricity street boxes worldwide but also on specially commissioned ceiling murals, t-shirts and even basketball court pitches. Instantly recognisable, The London Police's work has developed a dedicated core of admirers and fast-growing popularity.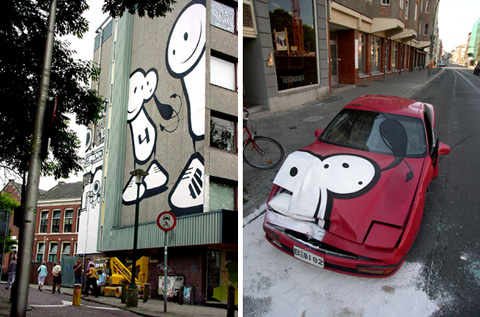 But is there a risk of moving away from the street roots of The London Police, as they become more of a commercial success? "If you speak a lot to one audience, you run the risk of closing doors to another audience. We often turn down projects because the wrong people come to us and they're not serious about what we do. There is no advertising on where our things are sold and everything is done by us – including the website. We operate with people who understand what we do and who are friends, so for every commission that is paid, we are also just as likely to be doing something for free because we believe in it."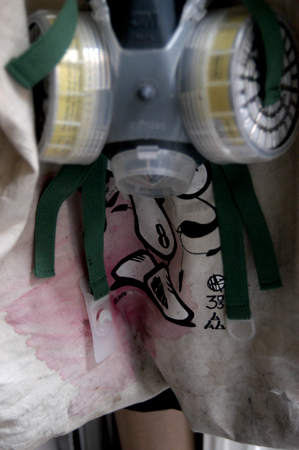 So why Amsterdam? "Well, Chaz and Bob are both from outside London and moved here to get away from big city life and it was a similar story for me too. I'm originally from San Francisco but lived in LA for five years. One day you just want to turn the volume down, Amsterdam is close to everything and it's central enough as a base of operation. It's smaller than many European cities, which was also a great way to launch our work. In London, it takes longer and it's harder. So at the moment Amsterdam suits us really well. We're always travelling around, seeing different energies and bringing them back here but it might be time to move on soon. Chaz is thinking about relocating to Berlin and I'm tempted by London. Bob will stay on in Amsterdam. We're lucky that the three of us can move around and do things independently but still work under the common cause."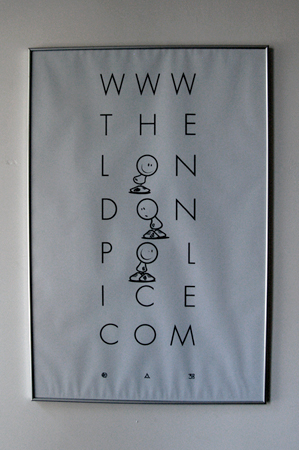 In September, The London Police will be heading out to Japan for their first exhibition in the country. "Last February we had a show at the London 55DSL store in Newburgh Street and met this guy who co-owns a San Francisco clothing label, Upper Playground . He really liked our stuff and said we should come out with them to their sister store in Tokyo. That's how the trip to Japan came about. Normally we travel to new cities unannounced, put up artwork hard and go away. Then go back a few months later and see what the reaction was to our work. We haven't been able to do that with Tokyo because logistically, it's not feasible for us to travel there that often. This time we'll be going to a new city because we're part of an exhibition featuring ourselves and also the work of Shepherd Fairey (Andre The Giant). It's an ideal situation because we get the best of both worlds – an exhibition in a great venue alongside a respected artist and the opportunity to get out and explore the city ourselves. Who knows what will happen over there? It's exciting. And if there's time, perhaps we can make it over to Hong Kong? I'm quite interested in producing a toy based on our work."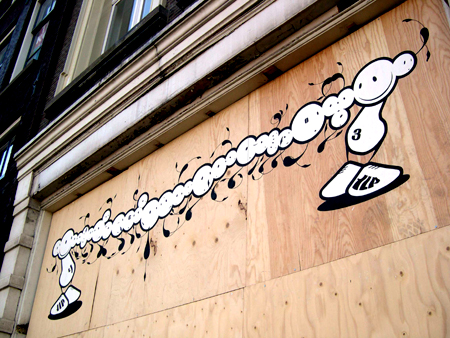 And long term plans for The London Police? "Well, The London Police has become our life. Chaz and me recently quit our jobs and it's made me realise this is what I always wanted to do. It's taking a leap of faith. But whatever happens or develops, The London Police will always be about producing good art rather than making money from it."
You can visit their website to find out more about The London Police and the upcoming exhibition in Tokyo.
Text: Ania Markham from PostPanic
Photos: Mark Visser from PostPanic
Additional photos: courtesy of The London Police
[Help wanted]
Inviting volunteer staff / pro bono for contribution and translation. Please
e-mail
to us.