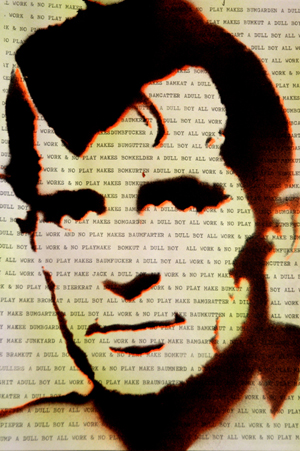 The first Irrational Library was held at De FietsznFabriek in April 2002 and featured a whole range of performers including local respected artist Frans Klerkx reciting poetry alongside his son, Boris (described by Josh as "a young stinky prodigy with an exceptional talent as a performer, artists, writer and musician"). There was live music courtesy of the obscure rock sounds of Danica and some of the founding fathers and mothers of De FietsznFabriek were also present as members of the absurd comedy troupe, Badmutz. A collective of painters, writers and artists (the troupe are aged between 40 and mid-60's), they are led by Piet Zwaanswijk – another treasurec Haarlem artist who is sadly nationally under-appreciated. Their trademark is unpredictability and many of their sketches are completely bizarre, precisely what Josh wanted The Irrational Library to have on offer.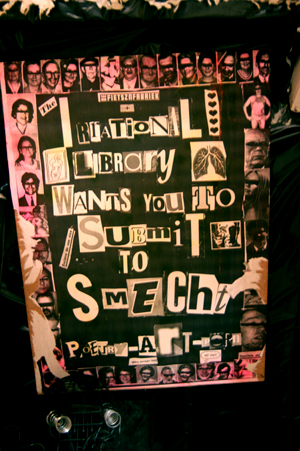 Also developing alongside the live performance night, was The Irrational Library fanzine, Smecht. "It was also born out of the history that me and Martijn share. We both used to like punk fanzines and so it seemed natural to draw inspiration from that source. It's independent publishing at it's most basic. All you need is a typewriter, glue, scissors, staples and good ideas. Smecht goes way back to the Dada movement – it's something new I've started researching. I like the idea of cut and paste – selecting new stuff from reality, taking it apart and creating a new reality from it. Smecht features all the poets and artists working with The Irrational Library but we are always seeking other poets and artists to make it as international as possible."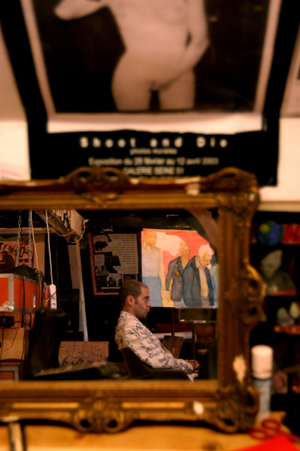 A great success, The Irrational Library quickly developed a name for itself with a loyal following right up to the closing of De FietsznFabriek. It was at that point that Josh decided to look further afield and take the experience into Amsterdam. So far there have been two Irrational Library events, the first at the smaller squatter cafe Bungaloo (close to the Artis) and the second at the larger cultural space Occii (by the Vondelpark). Both were received with great interest, "but it's like any new project you have to develop a name and reputation for yourself. It's a matter of time and desire to develop a project and see what is possible."
So what is the future for The Irrational Library?
"I want to create a seamless evening of diverse musical talent (ranging from jazz fusion, punk right through to Latin) as well as poets, actors and performers, all getting it on together. I like that The Irrational Library can also be a platform for people doing things for the first time (like the poet doing his first ever public reading), open mike sessions and having older established artists who have honed their craft over 50 years. Our next edition of Smecht will be ready over the next few months so that's quite exciting plus we're currently working on both a compilation CD and also a theatre performance featuring all the visionaries involved to date with The Irrational Library. We're hoping the musical soundtrack will be provided by Adriaan Alsema And The Good-Looking Intellectuals. As for the compilation CD, it'll be a Smecht for your ears. It will feature bands that have performed in the past including ska outfit, The Breadcock Specials. It'll also have poems recited by contributors and anything else we can find for it. We're aiming to make it like a sound collage with, of course, a booklet to accompany it. The Irrational Library will also be returning to New York for the summer to scoure the underground for collaborators and comrades. In the meantime, we are all still working to find a new home for De FietsznFabriek and no doubt and once we do The Irrational Library will continue on with a vengeance."
The latest editions of Smecht and other works published by The Irrational Library Publishing Foundation are available from Atheneum Boekhandel in Amsterdam (Spui Straat) and Haarlem (Gedempte Oude Gracht) and also selected independent record stores in Haarlem, Amsterdam and New York.
Text: Ania Markham
Photos: Mark Visser


1
2
[Help wanted]
Inviting volunteer staff / pro bono for contribution and translation. Please
e-mail
to us.