ECHIGO-TSUMARI ART TRIENNIAL 2003
I found a space surrounded by red iron walls in Nakasato Village. This is a park made by an architectural unit from Finland: Casagrande & Rintala. Passing through a corrido with many pebbles and glasses, there was an open space with white graves. Tall and big trees seemed to welcome us and the space gave me a peaceful impression. The concepts of this long and narrow park are nature, agriculture and manufacturing industry. The park was like a Buddhitm garden with a silent and peaceful min. It has humorous points as well by leaving shovels in some places. Casagrande & Rintala chose this place from several candidate sites and brought architects from Alaska, Puerto Rico and France. Many elements are pulled together into this minimal design. Since the design is very simple and neutral, I thought people will love this park for a long time.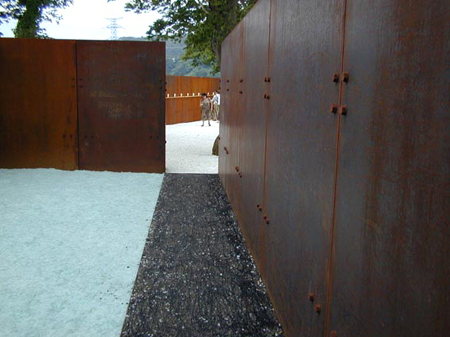 Casagrande & Rintala
Three stages are built as bases for the community development in this year's festival. The eve of the triennial was held at one of the stages: "Matsudai Village of Farming and Snow Culture Center". This chalky stage was located in a paddy field and architectural unit from The Netherlands, MVRDV was in charge of designing it. The building is strong in heavy snow and this is the place where people get together. These functions are designed within this building and the exterior looked very beautiful. Many works, which were introduced in the previous triennial, are still around the stage and new works, such as a brilliant colored flower architecture of Yayoi Kusama and "Boiled fish paste shaped warehouse project" join them. Since it looked like an art theme park, this modern building seemed acclimatized to the paddy fields.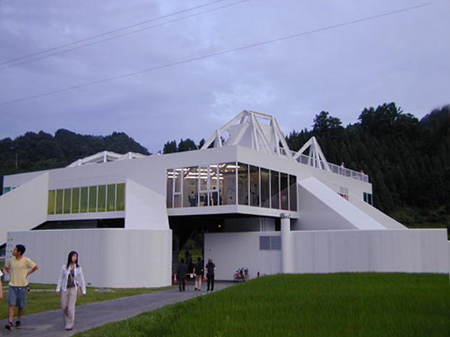 MVRDV "Matsudai Village of Farming and Snow Culture Center"
On the stage, I saw a mirror table and photos at a restaurant designed by Jean-Luc Vilmouth and a hearth designed by Fabrice Hybert, and they work as parts of facilities. However, passages are like a maze and it was hard to reach a room I wanted to visit. Also, it took time to acclimate to loud-coloured lift halls and to understand how to use doors.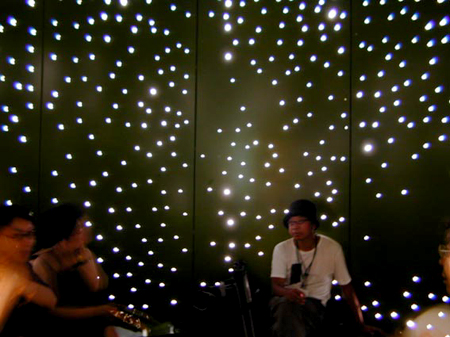 Jean-Luc Vilmouth
"King Lear the Echigo-Tsumari version" was played as the opening of the pilot on the eve. "Should live or die?" Shakespearean "King Lear" was adapted with the theme of depopulation. Elders in Tsumari played this unique contemporary drama.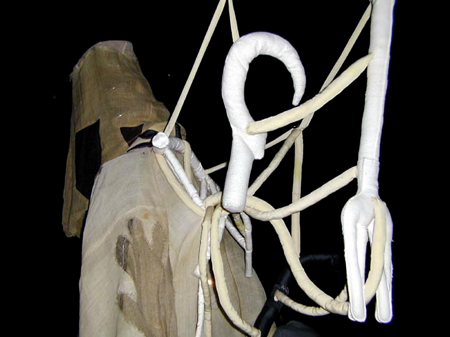 King Lear the Echigo-Tsumari version"
The elders were at the right side of the venue at first but as soon as the play started, they moved to the stage and quietly started to drink and eat. It might be a setting of a Buddhist memorial service (Japanese have a party after this service). A narration of elders about wars and lives in depopulated areas came from speakers. Costumes, which were made of various materials that can be got in Tsumari area, were hanging from the ceiling, and they sometimes were spotted by light like ghosts. A question "what need one?" was repeating again and again. The elders, who were continuing to have a party, looked miserable. And I was wondering where this heavy guilty feeling came.
Read more ...
[Help wanted]
Inviting volunteer staff / pro bono for contribution and translation. Please
e-mail
to us.