Thursday, 11 a.m. No sign of the shifters. I've arranged to meet three staff members of Shift outside the Barcelona Museum of Contemporary Arts (MACBA) but they're nowhere to be seen. I assume they're either lost around Barcelona or else they've melted in the heat, it's fucking boiling and anything warmer than a sleveless top and a pair of shorts is pure suicide. I pick up my pass and head for the festival with my goody bag full of promos, info and generic corporate crap. This year's bizarre item award has got to go to the tobacco brand who's had the dubious taste of giving everyone a blow-up pillow with the words "take a breath" printed on it, a bit sick if you ask me but it'll come in handy when all this is over and I'm lying on the beach trying to recover my shattered senses.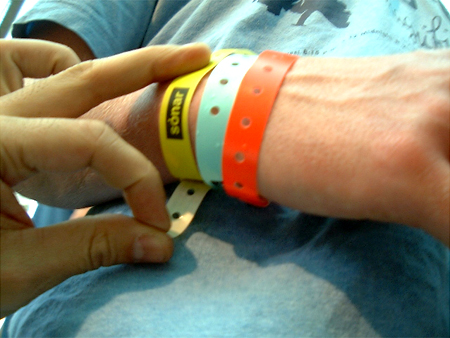 This year Sonar celebrates its 10th birthday, ten glorious years during which it has established itself as one of the foremost electronic music festivals. Just one look at the Rambla and you can tell that the guiris (tourist: typically blonde, fair skinned, sun burnt and wearing sandals with white socks) outnumber spaniards by about ten to one. Sonar's reputation abroad is growing fast and this year more people have come from abroad than ever, perhaps it's because they've been testing the ground outside Bacelona with a little incursion in London at Ocean in Hackney but I reckon it's word of mouth and it's only going to get bigger.
A quick look at the programme tells me one of two things: either I'm getting old and out of touch, or else most of the artists this year are almost unknown. Sure, I recognize a few, but nowhere near as many as other years. Normally there are always enough big names to attract the punters, and you read the programme like a succulent menu of flavours you've always wanted to try; this year we'll just have to trust the chef.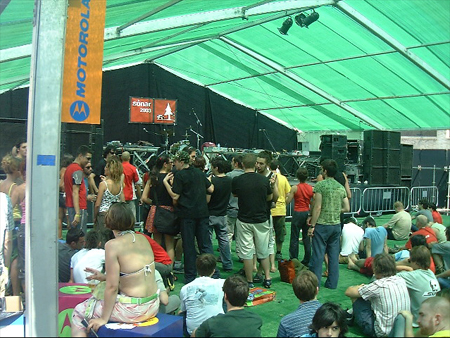 SonarDome
Sonar by day takes off slowly and a little uneventfully. There are plenty of interesting bleeps and beats everywhere you turn but it doesn't quite do it for me, so I take the opportunity to check out the Spike Jonze video retrospective in the SonarCinama as well as Joey Garfield's excellent documentary Breath Control: The History of the Human Beat Box. It's a superb insight into one of the lesser known traits of Hip Hop, from Doug E. Fresh in the 80's to Rahzel today; it's not quite as cool as Doug Pray's Scratch but well worth watching nonetheless. Back out in the sunshine, the SonarVillage has livened up a bit. I believe that when music reaches maturity it turns into jazz. And at the ripe old age of ten, Sonar's embraced the growing jazz influence of electronic music with open arms. And to prove the point Bugge Wesseltoft and On/Off pull off two of the most interesting sets so far as part of Jazzland showcase with a seamless blend of live jazz and slow beats to delight our senses and get the festival going.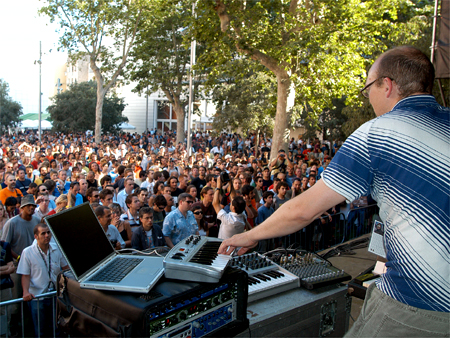 © Advanced Music – Bugge Wesseltoft
Thursday night is usually the best night. It's always gonna be hard to sell out on a thursday so it's sonar's opportunity to take chances and present some of the more experimental and daring proposals electronic music has to offer; but this time there is no sonar as such tonight (at least not as part of the festival package). Instead they've hired the Auditori de Barcelona in "an attempt to reorientate and diversify the festival programme by adopting novel and exceptional musical proposals to new spaces within the city" with Matthew Herbert's Big Band. 20 Jazz musicians accompany Herbert onstage to perform his latest album "Goodbye Swingtime"; four saxophones, four trumpets and four trombones comprise the impressive brass section and Dani Siciliano, Jamie Lidell and Arto Lindsay lend their voices to this truly exceptional performance (the collaboration between Herbert and Lindsay started when they met at last year's festival). I have the feeling this is Herbert's secret dream come true: to have a big band all to yourself to fuck about with.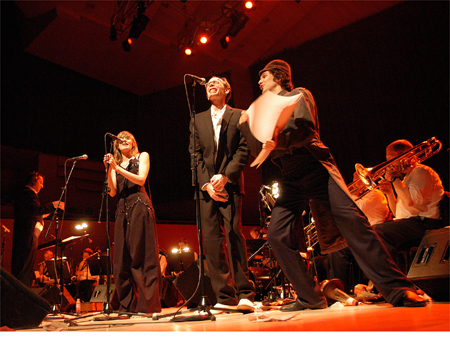 © Advanced Music – Matthew Herbert's BigBand
The band gets on with playing proper music whilst Herbert provides the interference: random knob twiddling, distorting the band's sound with raw noise and generally making a nuisance of himself to make sure that nobody's gonna mistake this for a straight forward jazz big band.
And finally comes the audience participation as Herbert invites anyone with a flash camera to shoot freely "providing that you do it in time" creting a splendid light show and giving me the opportunity to shoot lots of blurry unrecognizable pictures of the show. A standing ovation is the only way this could end, an encore and finally an exhausted Herbert apologises and explains that this is the second show tonight and he just can't play anymore.
Friday turns out to be even hotter than Thursday and even the locals are suffering. I get to the festival site and manage to hook up with the Shifters. I inform Michiko that her name means "my boyfriend" in Spanish but she'd already been told. I'm amazed to find out that today's tickets are sold out, and tonight's sold out yesterday because everyone wants to see Bjork, so I hurry up and get my girfriend one for tomorrow during the day before it's too late. I heard people who'd come from Britain looking for tickets so I'd advise anyone who's thinking about going next year to sort their tickets out in advance.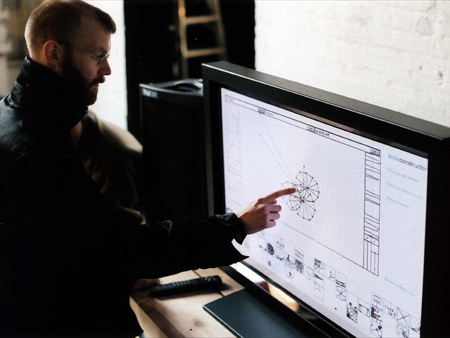 © Advanced Music – Sodaplay
Sonar's not just about music and one of my favourite parts is the Multimedia art exhibition known as SonarMatica. The ten year retrospective brings us all sort of things from an early Gasbooks 5, to Jeff Mills' Metropolis revisited and even a Tomato project made especially for Sonar '97.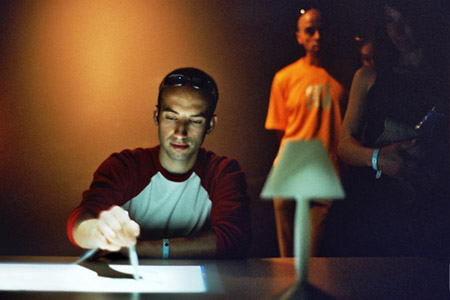 © Beyond Pages by Masaki Fujihata
Sodaplay are back with the excellent Sodaconstructor and so is Masaki Fujihata with his '97 project Beyond Pages which really hasn't aged a bit. But perhaps the most interesting installation has got to be Paul Sermon's Telematic Dreaming which goes as far back as '96 and has everyone mesmerised. A double bed invites us to lie down with the video projected girl and play with her. Far from the coldness that ISDN and video conference technology might otherwise inspire, tickles, caresses and a little tenderness seem a natural reaction to this installation which overflows with humanity and has one user naively offering her his phone number in an attempt to overcome the interface. But she's not having any of that, it hardly seems appropriate. But you can't blame him for trying can you?
[NEXT]
[Help wanted]
Inviting volunteer staff / pro bono for contribution and translation. Please
e-mail
to us.