I have been writing Shift since 1999 and there have been very few times that I wrote about something not related to art, design or culture. In fact, the only time that I wrote about such news was September of 2001. And that was about 9.11.
This winter in New York has been particularly cold. Frigid. Freezing. I have been in New York for about five and half years and this has been the coldest winter that I have experienced here. Part of December, most of January, and now, most of February, the temperature has been below 0 degree centigrade on average. Every time the temperature is above the freezing point, people think it's warm. Relatively speaking, that is.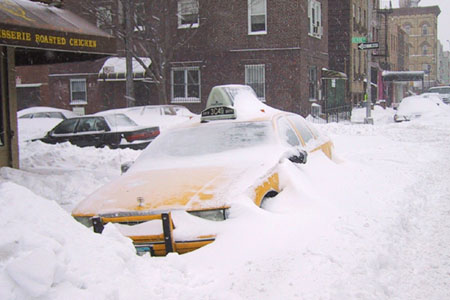 For the editors of Shift based in Sapporo, the northern metropolis of Japan, snow or cold weather isn't a big deal. It probably isn't even worthy of being on news. But when there is 22.5 inches of snow in a day, when the accumulation of snow is the second highest ever in history of New York, that's big news here. This sort of thing doesn't happen often so I decided that it was worthy of being to write about the Blizzard of New York 2003.
On Saturday night, a couple of friends and I went out to catch a movie. The temperature was well below zero, but by now, we were sort of used to this kind of condition. Of course, I would prefer the beach weather of, say, the Caribbean. But it's Mother Nature. There wasn't really anything you could do about the cold weather.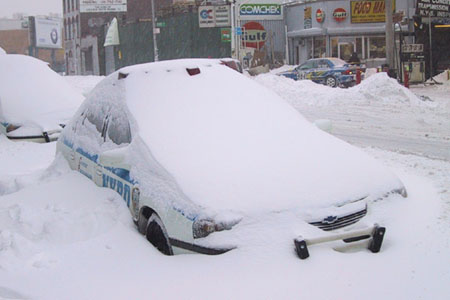 By Sunday night, the news on TV was warning the citizens about the snow blizzard the next day. On Monday, I woke up to the city of complete white. The Blizzard of 2003 had hit the town and it wasn't going to be easy.
A friend who had lived in Vermont, a northern state in the US, was joking how New York City is so incapable of dealing with a couple of inches of snow. In Vermont, he told me, it would take a couple feet of snow before transportation started getting affected. That was very true. One of the airports around the city has been completely shut down due to snow. Trains were barely running.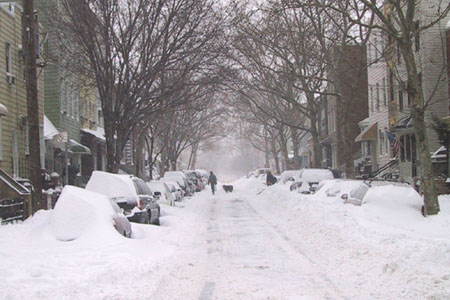 My brother on the West Coast has been telling me that the snow conditions there have been mediocre at best this season. The East Coast isn't known for ski resorts but this year, they are thriving. The Blizzard of 2003 adds that much more to the success.
And for those of us who enjoy winter sports, happy skiing and snowboarding.
Text: Rei Inamoto
Photos: Rei Inamoto

[Help wanted]
Inviting volunteer staff / pro bono for contribution and translation. Please
e-mail
to us.