AMERICALAND PHOTOGRAPHY EXHIBITION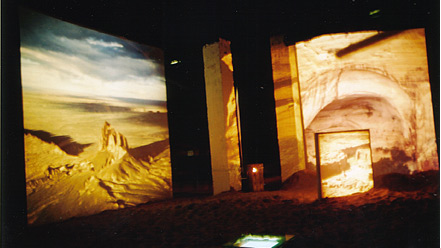 I'm going to speak to you about my 12 March 2003 evening. First, I began by visiting the vernissage of the Americaland photography exhibition with my friends Kantin and Mat. It was organised in the spacious office of the BETC Euro RSCG international advertising agency.

After a long waiting in the queue due to the crowd of visitors, I discovered the Alex MacLean aerial photographies. Photographies were projected on each sides of screens disposed in the middle of a room with a sand covered ground. This aerial photographies seems like abstract paint. Exhibition was designed to feel like the photographer discovering the amazing top view aboard his Cessna 182, in USA.

These photographies are not only aesthetic, but they also show how the human construction reveal the world where we live. They evince how big towns, new spaces like parkings, supermarkets,..etc are inept for individual enjoyment and how these new spaces eliminate public spacs and so exclude community relationship.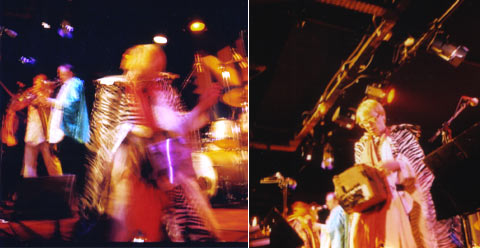 A few drinks and a quick chinese lunch later, I assisted the JimiTenor Show in a famous parisian jazz club : the new morning. Jimi Tenor is a finnish musician who makes great music, cleverly combining elements from jazz, funk, soul and techno into an enjoyable experience. His last LP is "Higer planes" and he is on his european tour.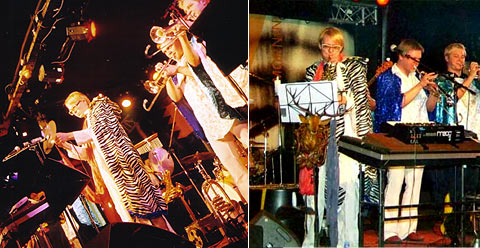 I must admit that I am not a funk fan and that I not realy appreciate the brass and I have always prefered the electronic songs of Jimi. This concert changed my opinion! Jimi Tenor arrived on stage with 12 brass musicians. They were all dressed on white with strass mantles like a melting between gospel band and finish voodoo!
These guys performed a real and raw energy. It was difficult to stay stolid.
Obviously, they used brass but also strange instruments as noisebox and photophone.
After 1h40 of an amazing, joyous and intense performace, our 13 north boys came out. It was the 12 March 2003 evening, and it was a good evening.
Text and Photos: Jerome Lacote from Endown
[Help wanted]
Inviting volunteer staff / pro bono for contribution and translation. Please
e-mail
to us.