FRANCIS LAM AND YASU SANTO "CO-EXISTENCE COMMUNICATION SUITE"
Someone likes exploring the virtual world simply because it's so unreal…but somebody hates it because they want something solid. Co-existence Communication Suite allows you to experience either of them as you like. Co-existence Communication Suite is a co-operative project presented by Francis Lam and Yasu Santo.
Co-existence Communication Suite is an experimental installation which aims to present the concept of co-existence of tangible and intangible mediums so that different individuals in different places can feel each other. The project is the extension of Francis' previous online project called Magic Cube. (The project has just awarded the Honorary Mention in the web division of Canon Digital Creator Contest 2002) This time, the online cube-like interface is linked with the real physical cubes. You can control the sixteen pieces of virtual and real cubes by both touching the physical ones and logging on to the online interface. One can control it on the web while the other can control it in the installation at the same time. 'It is a two-way communication.' said Francis.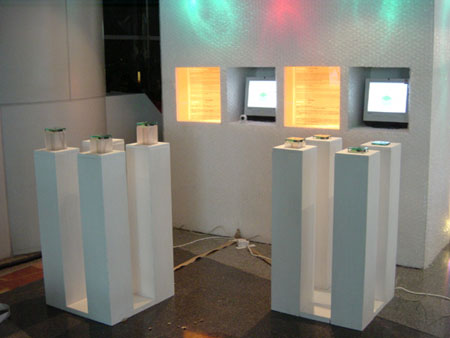 Francis Lam, who holds a first degree in computer science, became a web designer right after his graduation. But his strong passion for design made him go back to school again. Now he is a 3rd year student of the School of Design, Polytechnic University of Hong Kong. While Yasu Santo, with an architectural background, is a full-time lecturer of the design school. He is interested in teaching and further investigating the usage and possibilities of computers and networks in the field of design.
"When I finished my online Magic Cube project, I found that my lecturer, Yasu, also finished a tangible project which looked similar to Magic Cube. I had a desire to see what the tangible form of Magic Cube would be like. Then we started to think about how to put the two works together – how the virtual and tangible mediums co-exist at the same time." said Francis.
"It just spent us several weeks to build up the installation, but we spent about two to three months on developing the idea to link the two mediums together, that's the concept of co-existence."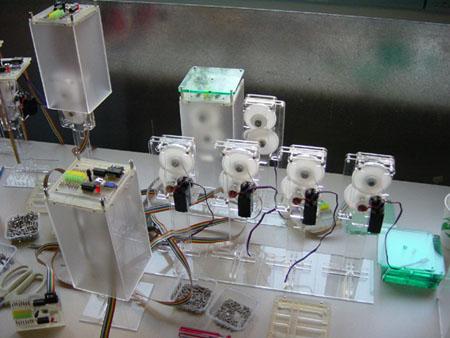 As a web designer, Francis of course has his own website as his own design playground. The playground, http://www.db-db.com, won recognition as one of the worldwide designer community sites and was awarded the Honorary Mention in the Net Excellence at Prix Ars Electronica 2002.
Currently, Francis is working on some interactive projects exploring the possibilities of expressing art and technology in the digital and tangible media. Let's see what more interesting and creative ideas will be coming from him!
Co-existence Communication Suite was exhibited as an independent art piece in the ITU (International Telecommunication Union) Telecom Asia 2002. Prior to this, the project was also once shown in the Microwave Media Festival 2002.
ITU Telecom Asia 2002
Date: December 2nd – 7th, 2002
Place: Hong Kong Convention and Exhibition Centre (HKCEC)
Address: 1 Expo Drive, Wanchai, Hong Kong
https://www.itu.int
[Help wanted]
Inviting volunteer staff / pro bono for contribution and translation. Please
e-mail
to us.