There is a design studio that tries to make Canadian graphic scene an international one. That is "typotherapy+design" based in Toronto. "TEKKO" is an exhibition that displays works of designers, who were chosen from various types design areas and this exhibition works as a bridge between Canadian design studios and the international stages. TEKKO 02 is just around the corner and I interviewed with Stephen Crowhurst, a host of TEKKO. Find out what sort of feedback has he got in the first TEKKO as well as his enthusiasm to this event.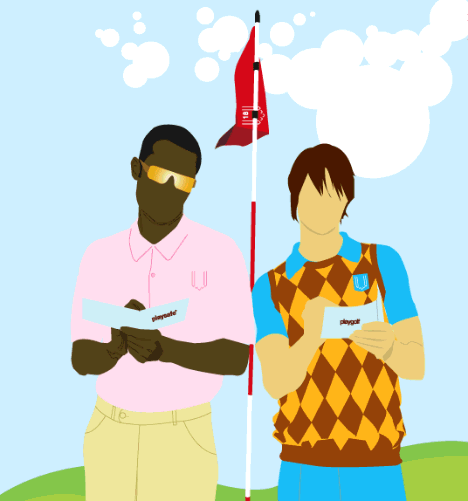 Please introduce yourself as well as "typotherapy+design" that you belong to. What sort of things are you doing in your design company?
My name is Stephen Crowhurst (lead creative / co-principal) at a studio in Toronto, Canada called Typotherapy+design along with Noil Nanton (lead creative / co-principal) and Kate Cassidy (production manager / co-principal).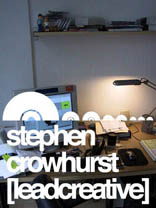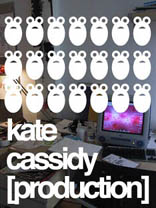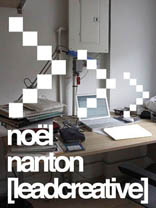 Above all: Studio of typotherapy+design.
Our focus as a studio is mainly in print design and we feel very strongly about the art of the medium and bringing our varied backgrounds of contemporary music and art into our work and it is these key principals that truly seperate ourselves from most of the larger studios in Toronto. We also provide identity building, packaging design, broadcast design, typography and sound design for our clients.
Our clients vary of course but some examples would be Jay Manuel (US), Alliance Atlantis (CAN), Silvanna Metalo (CAN), Neksis Magazine (CAN), NRK Records (UK) and currently we are working with Photonica (US). We tend to gravitate towards Architectural Firms, Interior Design Studios, Film Companies, Recording Labels, Clothing Labels, Publishing Houses, and Art
Galleries all of which allow our studio the most conceptual and creative. Man I am sounding so pertensious, I hate talking about myself so please be easy on me.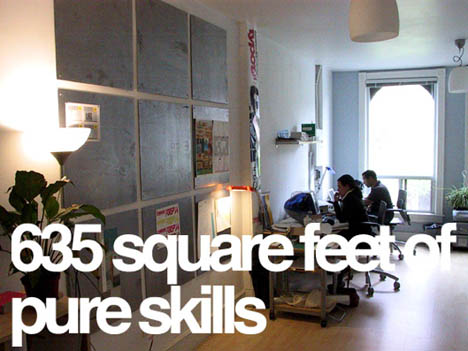 Above: Studio of typotherapy+design.
TEKKO is going to hit its second round in a short time. Shift has been introducing this exhibition since the first exhibition. What triggered you to hold TEKKO?
Well originally I wanted to host a Nisen Exhibition here in Toronto, I loved what they were doing and there was really nothing of the same callibour happening in Toronto that promoted contemporary graphic design as a practice beyond it's market value and Nisen was doing just that. Unfortunatley what it came down to was lack of interest on their part to do something in Toronto at the time and they felt that it would be better for the community as a whole if I started something of my own…so I did and TEKKO would not exsist if it wasn't for the
pep talk I got from the people at Nisen. I still want to do a joint exhibition with the Nisen crew, I think together we could come up with a really interesting show.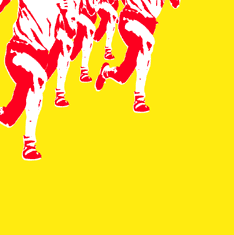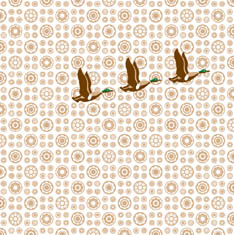 Left: A work of Mud Pub. Right: A work of Rinzen.
What does TEKKO mean?
The name "TEKKO" was at first just a mixing of the right letters together to come up with a strong letter composition that sounded right rocka but soon after I discovered that Tekko is a small weapon of some kind and the name of many Japanese Industrial companies around the world (I promise you I have nothing to do with them or the promotion of children playing with small weapons).
In the first TEKKO, the designers from around the world that were chosen from a genre of design that is both known and unknown and they made posters for the exhibition. What sort of feedback did you get about this exhibition?
Well at first putting together the exhibition was very difficult and it being our first one we really wanted to make an impression and also a strong statement that Toronto or Canada is apart of the global design community. One of the most frustrating situations was with David Carson. Originally David Carson agreed to be in the exhibition and we thought for sure that his name was going to put this exhibition on the map sort of speak…but then the day before the opening I got a call from David and he forgot to do a design for the exhibition…..my life was
over. So I showed up to the exhibition a little drunk and miserable. But from what I can tell David is a good guy and I'm sure he didn't mean to destroy my life for 24hrs. Now I just think back and laugh.
So during and after the exhibition the feedback was far beyond what I could have ever hoped for our first crack at a graphic design exhibition in Toronto. The space was very small and we ended up having to turn people away at the end of the night and lock the doors, no joke. People got a chance to view work by designers they have been following for years and they jumped at the opportunity. I also believe that it gave a well diserved ego boost to the more unknown design studios to be exhibiting alongside studios like Buro Destruct and Planet Pixel. The biggest problem we had was people trying to steal the posters at the end of the night, maybe we shouldn't have served scotch.
I also have to say that the international design community was extremley supportive and we are slowly feeling more and more apart of the community. It makes us feel all warm and fuzzy inside.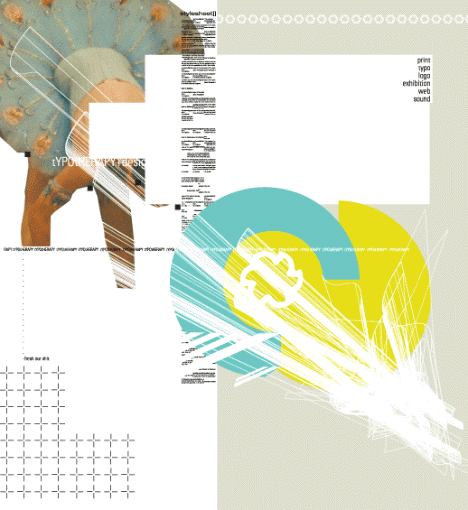 A work of typotherapy+design.
Please explain the contents of the second TEKKO specifically. Could you please tell us your feeling as an organiser of this event now?
TEKKO 02 consists of 8 international design studios exhibiting a 9 by 9 foot printed "mural". The content for each work was totally up to the individual studio. This particular exhibition is non-thematic by consensus.
I heard that the scale of the exhibition will be wider with displaying murals in this time. Did artists come to Canada to produce their murals? It sounds interesting that the artists, who are in the forefront of designs, participate in this event, such as Buro Destruct, Matt Owens, Rinzen and others. Have you got any special reasons for choosing them?
Actually the murals in the end had to be printed instead of being painted straight to the walls. The costs were far too great, so no….nobody came to Toronto to produce their work. It was all done on a large format digital press by a company called moveable. Each design is 9×9 feet and broken up into three panels that are 9×3 feet.
In answer to the second half of that question…I have spent a lot of time building positive relationships with everyone involved so to me it is no surprise that the studios I have picked want to be apart of TEKKO. So I guess the real answer is I seek out studios I like and try to build a personal relationship first, if that goes well then I ask them if they want to be in TEKKO.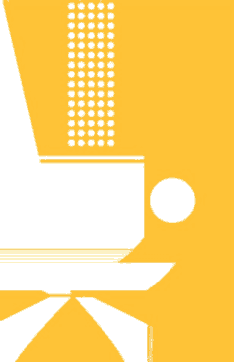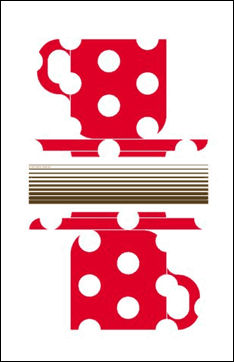 Left: A work of typotherapy+design. Right: A work of Buro Destruct.
"Tekko is a free place where designers can express their thoughts and work", isn't it? Do you think the significance of TEKKO is getting deeper every time it hits its new round?
God I hope not, I really don't want this exhibition to turn into a Bruce Mau Manifesto. I mean the real point is that our daily interaction with design is in a market value context and TEKKO is an opportunity for studio's to forget about all the crap they get from clients and see themselves and their work in a different context. I want it to stay fun and intelligent as possible but at the same time I do not want to put on exhibitions that stink of "clientesque" work. That's the feeling I get when ever I go to a Bruce Mau exhibition here in Toronto, it just
looks like expensive client work and not contemporary design or even contemporary art (of course this is subjective and my personal opinion). Sorry BM.
I also heard that one of the aims of this exhibition is to lead Canadian graphic designers to the international stage. Could you please tell us the current design scene in Canada?
The current design scene in Canada is hard to describe, it really is. I think there is a definite generational gap happening that is not allowing younger design studios with contemporary ideas to flourish. Corporations in Canada are still fairly conservative and seem very afraid to let a studio with new ideas to run with them. On the bright side I also see this changing ever so slowly. Canadian culture is being influenced more and more by Europe so I believe this influence will force Canadian Corporations to become more stylish and less conservative.
The actual design scene is very seperative, I think it would be less this way if design conferences like IdN would come to Canada or if Canadians started our own. Maybe TEKKO will???? But there are some very good studios here like Helios (excellent work), Mud Pub, Conformist, Bloc design, and Q30 surprises me once in a while.
What do you want visitors to feel in this exhibition?
I want people to learn more about international design studios and to realize that it's not just Advertising Agencies that embody the creative makeup of our visual culture. I also want them to feel overwhelmed by the massive size of these works to the point where they have to realize and accept that these studios exist. Saying things like this may not be relevant in Europe or Asia but Canadians need to hear it…believe me.
Please leave a message to Shift readers.
Check out www.tekko.ca on July 12th and you will be able to see the designs for TEKKO 02. Better yet come to Toronto on July 12th and see the exhibition for yourself.
Watch out for TEKKO 03 next April, think motorcycles.
Watch out for TEKKO Quarterly Report , a graphic design magazine we are currently working on.
TEKKO Annual Report submission info will be posted on the tekko.ca site in a months time. It is a graphic design book we are also going to be putting out once a year.
typotherapy+design
Address: 569 King Street West, 2nd Floor, Toronto, Ontaro, M5V 1M1, Canada
Tel: +1-416-260-6284
studio@typotherapy.com
http://www.typotherapy.com
Tekko 02 Mural Exhibition
Date : 12th July – 25th August
Place: The Museum of Contemporary Canadian Art
Address: 5040 Yonge Street, Toronto, Ontario M2N 6R8, Canada
Tel: +1-416-395-7430
http://www.tekko.ca
Text: Sachiko Kurashina
[Help wanted]
Inviting volunteer staff / pro bono for contribution and translation. Please
e-mail
to us.