We are in the time of digital media. Designs, movies, music… Creators are now able to create anything with a desktop. This is fantastic progress in terms of "efficiency" and it makes me feel the future is waiting for us with good things. However, are all aspects of digital media really good?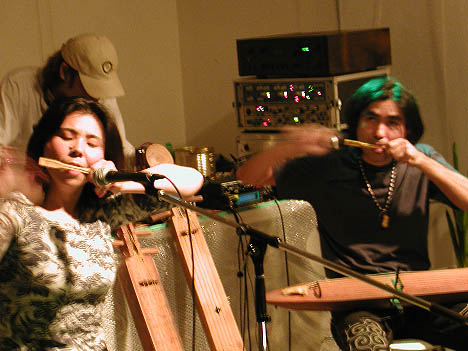 Dot Soso hit its third time. This is a monthly creative DJ style event by inviting various types of guests at "Soso Cafe," produced by Shift. Asahikawa City-based musician Oki Kanou, who is descended from Ainu, had a concert and Sapporo City-based furniture designer Nanae Hara's furniture was placed. As usual, Nordform Crew directed the lounge-like space with the electronic taste.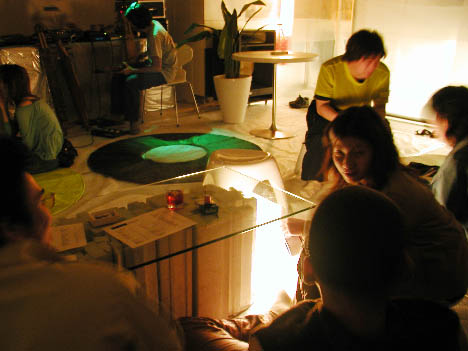 Audiences were asked to take off their shoes at this time. Going through the tunnel with vinyl curtains, there was a concert space. No chairs and no tables. People were sitting on the floor that was covered with a safety vinyl sheet. A comfortable and pop atmosphere was created by using with the vinyl products in various ways and Nanae Hara's original carpets "Yen mat" and "Locking chair." A club space tends to give you a feeling of coldness but this venue was not like that. I felt a warm and tender atmosphere there and the audience seemed to be enjoying drinking alcohol, having meals, the electronic DJ play and chatting with friends.
Oki Kanou appeared in front of a DJ booth after 10pm. I would like to briefly introduce his history here. After graduating from Tokyo National University of Fine Arts and Music, he went to New York and had been taking part in film making there. Now, he holds concerts as well as writing picture books as a part of his artistic activities. If you want to find out more about him, please visit his site. I felt the same atmosphere from him as we have as well as friendly atmosphere even though he was in an ethnic costume with a beard. Also, I felt a special aura from him as an artist.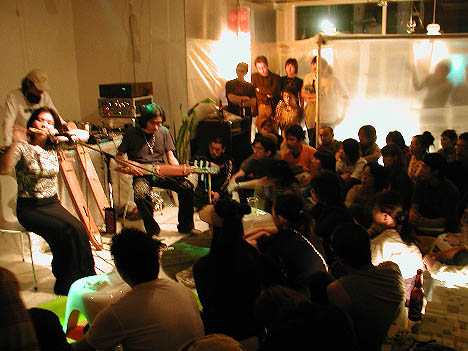 I could find Tonkori in his hands. This is the only stringed instrument of Sakhalin Ainu. The body is long and thin and looks like a stick base guitar. The Tonkori has five strings, but it is impossible to change tunes by holding them as you play a usual guitar. The sound is very simple because ticking five strings is the only way of playing this instrument.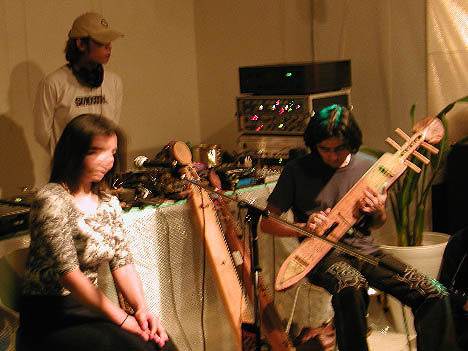 A lady next to Oki was supporting him by singing Upopo (means a song in Ainu language) and playing Mukkuri (a mouth harp). I guess it was the first time to experience the sound of Tonkori for almost all audiences.
The concert started with the audiences' great attention. After the lady sang Upopo and played Mukkuri several times, Oki's Tonkori joined. The timbre of it was simple but created very expressive sound even though it is basically able to create five sounds because of a shape of it.
According to fans of Tonkori, these unstable sounds are one of the attractions of it. I had a fresh feeling as I experienced high quality art unlike feeling a stressed after listening to techno music at a nightclub or a virtual ambient relax feeling. In addition, I felt embarrassed because I had no knowledge about this music that was born in Hokkaido where I was also born and grown up.
Digital is a method that allows to show only "0" and "1" as a result. It has made a creative environment simple but I think there is something we lost. I could not help but think about this while listening to the attractive Tonkori timbre.
OKI LIVE
Date : (Sat.) 1st June, 2002
Place : SOSO CAFE
Address : 1F Sansei Bld. S1 W13 Chuo-ku Sapporo, Japan
soso@shift.jp.org
http://www.shift.jp.org/soso/
Text and Photos: Shinichi Ishikawa from Numero Deux
Translation: Sachiko Kurashina
[Help wanted]
Inviting volunteer staff / pro bono for contribution and translation. Please
e-mail
to us.